How do I begin to describe The Homestead? For those more accustomed to ski trip accommodations at premium chain motels or conventional condominiums, the choice to stay at The Homestead will present an opportunity to step into an alternate dimension of unmatched elegance. Entering the Great Hall to approach the check-in desk, first time visitors will be dazzled by a stunningly gorgeous Victorian décor. That same grandeur and grace has brought a smile to the faces of 22 visiting U.S. presidents over a 239-year history as one of the premier resort/spas in America.
Tucked in a quiet mountain hollow about 200 miles from Washington, D.C., you will wonder what ever brought George Washington and Thomas Jefferson to this rugged corner of southwestern Virginia? Back then it was the therapeutic thermal waters of Bath County and rudimentary Colonial hospitality. Today visitors are drawn from far and wide by sheer elegance and virtually every manner of cultural, culinary, and recreational diversion known to humankind.
My family arrived at The Homestead on a quiet Thursday night. Only a sprinkling of well dressed guests, young and old, shared the distinguished quarters with us. Within 20 minutes, however, the refinement of the place had my children requesting to don their dresses and sport coats. This is a shocking new kind of peer pressure a parent can easily tolerate.
Under the cover of a dark, winter weeknight, The Homestead presents an imposing, multi-winged structure of mystery and awe. About 60 minutes into our spontaneous self-tour of spa, pool, fitness center, bowling alley, theatre, library, wine room, game room, shops, the dining room, restaurants, parlors, grand ballrooms, great halls, etc., etc., the topic came up with my youngest daughter: which is larger - Tyson's Corner Mall or The Homestead? The resort complex is that enormous!
After some family ping pong and foosball competitions in the game room we finally turned in about midnight, still on Friday morning my two youngest and I awoke early with childlike anticipation. The three of us tiptoed down the long hallway to the large, classically decorated indoor pool, circa 1902. It is filled with the famed local waters moderated to about 85 or 90 degrees, a little warm for laps, but perfect for a few lazy strokes and some stretching before hitting the ski slopes.
As an avid - maybe even rabid - skier, the sumptuous distractions of The Homestead presented me with a delicious dilemma. Making a visit here and spending every possible daylight hour on the ski slopes is like boarding the Queen Mary 2 and swimming laps in a topside pool the whole cruise. At one point a gentleman, with family in tow, saw my daughter wearing ski clothes in the elevator and remarked, "they have skiing here?" At The Homestead there are just so many other fascinating things to see and do. Nonetheless, Jim Kenney is my name and recreational skiing is my game. After the swim and a continental breakfast in our splendid room on the 15th floor of The Homestead's signature Tower, we finally headed out to ski the mountain at mid-morning.
The ski area is located a couple of fairways (The Homestead's three 18 hole golf courses are WORLD class) uphill from the resort at a base elevation of 2,500 feet. The vertical rise from the base to the top of the one and only double chair is 700 feet, quite respectable by mid-Atlantic standards. The double chair appeared to be roughly 3,500 feet in length. At the time of our visit one main slope was open from the top with three or four interweaving side runs. These trails provided several run combinations of about 4,200 feet in total length; again, not too shabby by southern skiing standards, but more variety would be welcome.
From the top, the runs are suitable for intermediates with a few short plunges that will quicken the pulse of advanced skiers. Mid-station offloading from the double chair provides a long, lower mountain run for advancing novices. The main slope reminded me of the width and difficulty of Minuteman at Pennsylvania's Ski Roundtop, only considerably longer. All the terrain we skied was well covered with The Homestead's multimillion dollar Wizard snowmaking system that was installed the season before last.
The ski operation also includes a very benign beginner area and a small terrain park with several rails. Both are served by dedicated surface lifts. There is an Olympic-sized ice skating rink and small snow tubing park adjacent to the base area. The snow scene is completed by a skier's Mountain Lodge with roaring indoor and outdoor fireplaces and a commanding view of the slopes.
On Friday the ski area belonged to us and just a few dozen others. Give me 700 feet of vertical, quality snowmaking, and an empty chairlift and I am good to go for an extended period. But my 12-year old daughter Suzy has become something of a snow tubing addict of late. After a lunch break in the ski lodge we headed over to the tubing area for a hilarious two-hour fix. Old men lose all their skiing grace the moment they plop on an inner tube, while zooming, rubbery-limbed kids seize the day.
Suzy's age group was represented in a surprising additional manner at the ski area. Friday afternoon we noticed a group of children loading onto a yellow school bus from nearby Alleghany County. They had just completed an afternoon ski session and were heading home. Don't tell me skiing is out of reach for all but the elite. Even within the confines of one of the toniest resorts in the country, a place was made for local children to sample the pleasures of snow sports. I heartily commend The Homestead for sponsoring such programs.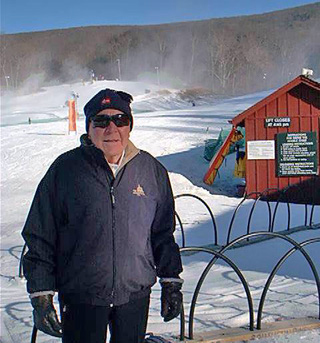 Later on Friday I had the honor of chatting with a legendary figure in southeastern skiing, Sepp Kober, Skimeister Emeritus and Mountain Ambassador at The Homestead. Originally from Igls, Austria (scene of Franz Klammer's 1976 Olympic Downhill victory), Sepp came to The Homestead in 1959 to start the first ski operation in the South. I marveled as this Father of Southern Skiing reeled off the names of people and places from the 18 ski areas he's had a hand in designing or developing from Tennessee, North Carolina, Virginia, and West Virginia.
Still vitally engaged in current skiing events and area operations, Sepp was conversant on everything from the status of Maier and Miller on the World Cup circuit, to the nuts and bolts of The Homestead's powerful new snowmaking system. Even more impressively, he skis like most of us breath and was all over the slopes giving children ski lessons both days of my visit. At age 84, the man is a god and had me thinking of his late, great golfing counterpart at The Homestead, Slammin' Sammy Snead.
After our first day on the slopes my newly refined children were eager for finger sandwiches and sweet goodies at the popular afternoon tea in The Homestead's Great Hall. If only this newfound interest in culture could permanently displace video games? My wife and I saved our appetites for an early seafood dinner at Elliot's, a delightful little eatery in the town of Hot Springs at the base of the resort grounds.
After dinner the kids took another soak in the indoor pool while my wife and I strolled down the many halls of The Homestead to soak in the historic ambiance. Thursday's quiet elegance had given way to a family-friendly Friday night as the Grande Dame of the Mountains came to life with President's Weekend guests. Many adults were enjoying a sophisticated evening of dinner and dancing in The Homestead's stylish dining room. We joined the younger set for a fun magician/juggler act in the theatre at 9 p.m.
Saturday was the kind of ski day I live for. Friday's intermittent wind gusts had totally subsided, the temperatures reached into the 30s, and the sun shone brightly. I roused my two oldest children for an morning ski session before our mid-day check-out. We and a couple of ski patrollers were among the first to ride the chairlift while The Homestead snowmakers shut down their tower-mounted snow cannons one-by-one as we headed up to the summit.
Friday's conditions had featured a good groomed machine-made snow surface, but the calm, cool temperatures on Saturday morning made for some of the softest, lightest manmade snow in Dixie. It was like two inches of untracked talcum powder on top of a nicely groomed base, the kind of white stuff that inspires a foolish old Virginian to let out a few rebel yells.
My kids and I cruised uninterrupted for the entire morning, finding little jumps and terrain features that made each run fun and different. We particularly liked a sweet little blue/black plunge called Nose Dive that had a blind drop off, then a fun compression at the bottom, followed by a fast runout. Though more people gradually hit the slopes on Saturday, we never waited more than a couple of minutes for the chairlift before our noon departure. Ski and snowboard instructors from The Homestead ski school were out in force.
We were sorry to see the magnificent Homestead reflected in our rear view mirror as our visit came to a close on Saturday afternoon. So many more great events were on the weekend schedule including a torch light parade and fireworks display that night at the ski area. But my family received an exquisite taste of some of the finest culture Virginia has to offer and after nearly 40 years of skiing resorts world wide, I had finally made tracks at one of the most prestigious right in my own backyard.
Details
Driving: After our wonderful stay we had a relaxing three and a half hour return trip home to northern Virginia on Saturday evening. About 80% of the 200 mile drive from the DC area is on Interstates 66 and 81. The country highways between Staunton and The Homestead resort at Hot Springs, Virginia contain a few twists and turns, but a good stretch of this roadway (Route 42) parallels a relatively straight, flat train bed.
Prices: We are talking about some of the finest accommodations in the country. I encourage you to consider The Homestead's many specials and promotions. Packages at this classiest of resorts range from "If you have to ask, you don't want to know" to March Gladness now through March 31, 2005 starting at just $99 per person, Sunday - Thursday. See www.thehomestead.com for more info.
Justification: Ladies, this is the place to extract revenge for all those moldy ski country motels you've been subjected to over the years. Gentlemen, this is the place to score major style points with your significant other. Elegance is irresistibly romantic. Kids, mind your Ps and Qs and do your homework and someday you might make The Homestead guest list.
One final thing: Each ride up the double chairlift stirred my soul. You see the ride ends about 500 or more vertical feet from the true summit of a long, high ridge that steepens sharply while rising to a peak elevation that must be close to 4,000 feet. If the resort management team ever decided to further challenge our fickle Virginia winters, this place could host a ski area with 1200' of vertical, wicked steeps, and a variety of runs rivaling anything south of New York State!
Ever since Homestead got into the ski business in a serious way, I've been curious about the place. I stayed there once in the summer, but the winter intrigues me more. With a 700 foot vertical, Homestead definitely seems worth the trip.
I've always counted the runs at Homestead and moved on to other resorts. However, it sounds like a great place to visit some day when I have a significant other...
Very fine and interesting article Jim. I am quite fond of Homestead, and the other Va. areas. Especially the ones with the beautiful views of the Blue Ridge Mountains. I must spend more time at all of them.
Keep up the good work. Yours, Connie Lawn
I've stayed there but not in the wintertime... guess I have to give ti a try in the winter. Thanks for the great report... The Homestead is the type of place where one can dispense with the prosaic and enjoy the true spirit of a grand dame of resorts, away from the tedious vulgarity of McDonald's and Taco Bells... and sampling what a true hotel's standards can be.

By the way, just to the North of the Homestead is the site of the Jefferson Pools, built by Thomas Jefferson and still standing. Although closed in the dead of winter, a Spring through Fall visit is worth it. The bath house is still operating and stands as a tribute to the excellent handicraft of the builders.
Thanks for a great review on my second home. Even though its not exactly on the cutting edge of things, The beauty and Ol ski town feeling keep me coming back. The people are so nice, and you rarely find a crowd. I couldnt encourage visitiing this place more. It is secluded from all its surroundings, and if you look behind you when you near the top of the double, the view is awesome. If you are looking for a quiet getaway to an old fashioned ski town, The Homestead is the place.
Great article, Jim, as always. You leave me curious, though. Is skiing at The Homestead offered to overnight guests only, or is it possible to just spend the daytime skiing at The Homestead and sleep in your own bed at night?

Woody
You can buy lift tickets at the Homestead without staying there.