Time Out Skiing & Snowboarding in Europe 2005
(London: Time Out Guides Limited, 2005)
Photos, Maps, 160 pages, ISBN 0-903446-97-9, $16.00.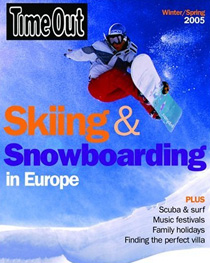 The Time Out group is well known for its New York and London entertainment magazines as well as its expanding list of guides to popular destination cities across the globe. The audience for this burgeoning media empire is the young urban professional ready to take on the world, but with a limited budget.
For 2004-2005 season, Time Out unveiled its first ski and snowboard guide ever: a 160-page magazine format overview of the top 74 ski resorts in Europe. For each resort covered, the guide offers 1-2 pages of basic information on ski slopes, restaurants, and accommodations. In some cases, a difficult-to-read piste map is included and in others, a photograph taken from the resort's web site. A sidebar column contains some information on ski pass prices, transportation services, lessons, and useful web sites and telephone numbers. The sidebar also rates each resort by snow quality, suitability for various ability levels, off-piste possibilities, scenery, resort charm, and apres-ski.
In addition to its "destination" overviews, the guide contains several feature articles on such subjects as discount airlines serving London, off-piste safety, and Europe's best terrain parks. There's also a chapter on hidden gems and skiing in Scandinavia, Eastern Europe, and Andorra. Like many English language ski guides of Europe, the Time Out guide caters to a UK-based audience, which is generally more price sensitive than the American audience and also on the lookout for shorter weekend getaways.
In terms of overall usefulness, this new volume is less informative than Where to Ski an Snowboard Worldwide: The Reuters Guide, edited by Chris Gill and Dave Watts. Whereas The Reuters Guide contains a lot fresh content about a resort written by real skiers, the information in the Time Out Guide reads more like a ski resort brochure. In it, you can find boilerplate information, but critical insights and fresh knowledge are rare. In some cases, I doubted if the writers had ever visited some of the resorts described. It discusses St. Mortiz, for example, without mentioning one of its greatest culinary institutions: the Chesa Veglia restaurant in Badrutt's Palace Hotel. When describing St. Anton, it does not provide readers with even a basic understanding of the mountain's layout and how best to avoid crowds and bottlenecks. Ischgl, one of the largest resorts in Austria, only receives a page of discussion. If that were not enough, the guide is full of grammatical errors and typos.
These shortcomings suggest that the guide may have been rushed to production. For next season, I suggest that its editors call a "time out," and re-evaluate this guide from the ground up. Skiers and snowboarders can always benefit from more guidebooks, but success in this competitive market demands fresh ideas, new illustrations, and better writing.
There are no reader comments on this article yet.