Firsthand Report: Seven Springs, January 20-21, 2005
24
The first two weeks of January brought nothing but warm weather to the Mid-Atlantic. Frustrated and anxious to make some tracks, I decided a week ago to book a short trip to Okemo, Vermont, for the inauguration weekend. I was just about to pack my car and drive 8.5 hours to Okemo when cold air and natural snow caused me to suddenly change my mind. Rather than trying to ski in -7 degree Fahrenheit temperatures with a wind chill of -35, I thought a short trip to Seven Springs would be much more pleasant. I was not disappointed.
Seven Springs has one of finest snowmaking systems in the world. At maximum capacity, its 976 snow towers and multiple portable canons can produce 12 inches of snow on 54 acres in just five hours. In less than a week's time, Seven Springs went from just a few slopes open to 100 percent. On Thursday, the resort offered 28 trails of skiing and by Friday morning, it had all 31 trails open plus some gladed and open space terrain between the trails.
In past trips, I had always stayed at one of the roadside chain hotels in nearby Somerset, Pennsylvania. The Days Inn offers rooms for just $37 a night - a tough deal to beat. On this trip, however, I opted to splurge and spend a night at resort's main hotel. Seven Springs is a dry land cruise ship. To get the full experience, one must stay at the resort. The Hotel and connecting lodges offer just about anything a vacationer would want - a multitude of dining options, swimming, hot tubs, live entertainment, bowling, and even roller skating. Indoor passageways connect all these amenities together so one never has to put a coat on to eat, swim, bowl, or watch a football game on a big screen with a lot of Steelers fans (go Pats!). We even saw kids walking around the halls in their pajamas. It's these off-slope activities along with some of the best skiing in the region that make Seven Springs one of the Top Five Resorts in the East according to Ski Magazine.
But I'm a skier and that's why I came here. Thursday turned out to be a gray, cold day but the snow proved excellent and in the end, that's all that counts. For the first day, I focused on the Front Face slopes. The Front Face is the oldest part of the ski resort, which was founded in 1932 by a German immigrant from Pittsburgh named Adolph Dupre and his wife Helen. The slopes on this side are a bit shorter than those on North Face, but they are almost as steep and ski much bigger than they appear on the map. I particularly enjoyed the black diamond Avalanche slope. At Seven Springs, the further one travels away from the main lodge, the quieter the slopes become. There can be a mob at the Polar Bear Express, high-speed 6-pack and no lines at some of the older triple chairs. The secrets of the Springs are always found in the wings.
My wife and I skied non-stop from 2 until 8 p.m. when our legs finally gave out. At Seven Springs, there is no difference between night and day since 95 percent of its terrain is lit. I usually arrive at 1 p.m., purchase a twilight ticket, and ski until I collapse. Lifts don't close until 10 p.m. during the week and 10:30 on weekends. Lift tickets, by the way, were almost half the price of Okemo's: just $34 for a midweek twilight or day ticket.
Dining at Seven Springs is cruise ship style. Buffets rule! There is a daily breakfast buffet for $9.95 and a seafood buffet on Friday nights featuring all the lobster, crabs, scallops and other treasures of the sea you can eat for just $37.50 a person. Hint: hungry day-trippers might want to load up on the breakfast buffet, which runs from 7 to 11 a.m., and then skip lunch.
On Thursday evening, we ate a la carte at the Slopeside Grill - a wood paneled venue featuring panoramic views of the slope. My wife ordered the ribs, and I tried the crab cakes. Both entrees were delicious. We then took a long stroll around the third floor of the main lodge: the resort's "Lido deck." I introduced my European wife to the joys of pinball, and then we sat around the roller rink, watching kids going nuts to sounds of "Smells like Teen Spirit" by Nirvana: "With the lights out it's less dangerous; here we are now; entertain us."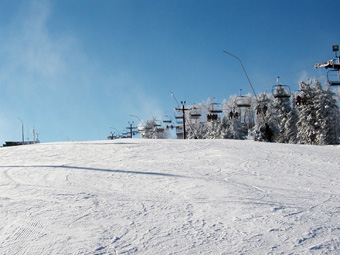 At Seven Springs, entertainment is job one. One can ski, dance, and party until you drop. The focal point of après ski is the Foggy Bottom bar in the skier lodge, but later on in the evening, the party shifts to the Matterhorn Lounge on the third level of the Main Lodge and does not stop until 1:45 a.m. I have traveled to ski resorts around the world and the only après ski scene I have witnessed that rivals Seven Springs is the one at St. Anton in Austria.
Friday turned out to be an epic Blue Bird day. Seven Springs dropped the ropes on my favorite slope on the mountain: Gunnar. Gunnar is on the far left wing of the North Face and is a tree-lined trail full of twists, turns, dips and run-outs. Arctic air allowed Seven Springs to blow extremely light, dry snow on Gunnar, giving it a natural snow feel and a perfect texture for high-speed cruising. We could have skied this trail for the entire day but there was so much more terrain to explore. The wide North Face and Giant Steps slopes offer bowl-like skiing similar to what one can experience in the West or in Europe. At Seven Springs, if you can see it, you can ski it: only a small percentage of acreage on the North Face is designated out of bounds. With limited midweek crowds, I enjoyed carving huge arcs on the Giant Steps trail and throwing rooster tails of dry snow into the air. Conditions on the North Face Slope were not as perfect - one had to watch out for the occasional death cookie zones - but the blue skies, the scattered spruce trees, and huge open feeling of that slope reminded me some of the lower trails of Lech, Austria.
I left Seven Springs on Friday wishing I could have stayed longer. The much-anticipated natural snow on Saturday promised further great skiing. This year, Seven Springs also is managing Laurel Mountain - a resort with 21 trails and a 1,000-foot vertical. Your Seven Springs lift ticket is always good at the new "Springs at Laurel Mountain" and Seven Springs offers a shuttle service between the two resorts. Additionally, the Laurel Ridge State Park and the 100-mile long Allegheny Highlands bike trail offer a myriad of possibilities for cross-country skiing. If that were not enough, one can always visit the Carnegie Museums of Pittsburgh, including the world-renowned Warhol Museum.
Photos provided by John Sherwood.
You can't understand how big 7 Springs is until you ski it. Good report. You're right on about Avalanche & Gunnar and the comparison w/cruise ship tells you everything you need to know about the Lodge. Glad you had a good time.
Excellent report John! 7 Springs has always been my favorite for all the reasons John explained so eloquently. May not have the vertical or challenging runs such as Snowshoe but it handles the crowds better and skis great.
Did anybody hear or see anything about the 7 springs expansion? When I was their last year i was on the Turtleneck Trail and I saw some thing that said the Great Western something. Is that open? If it is not does anybody know when this area will open? Also, I hope 7 springs would put a high speed quad on the north face because it takes a long time to get to the top.
There's still a sign for the Great Western visible from the Lost Girl Trail and as far as I know, the project is still a go.

As for the new high speed on North Face, it got delayed this year because of the Laurel deal. 7 Springs did not want to stretch itself too thin by installing a new lift AND trying to manage The Springs at Laurel Mountain.
Nice article John. There are many ways to enjoy an extended weekend and Seven Springs sounds like an excellent choice. I didn't realize their snowmaking arsenal was that great.
Seems liek the expansion is being held up by a land swap deal with the state and if rumors are true, the attempt to make a "dry" township "wet". Also the new high speed six pack is in the works to replace the gunnar lift this year.
Seems liek the expansion is being held up by a land swap deal with the state and if rumors are true, the attempt to make a "dry" township "wet". Also the new high speed six pack is in the works to replace the gunnar lift this year.
So 7 springs is taking the triple lift on gunnar out and replacing it with a second high speed six pack? And if the would do this would they take the Giant Steps triple out? Does anybody know if 7 springs is going to light up the other side of the North Face that now has no lights on it?
Very interesting. I have mixed emotions about that new lift--it will forever end the SECRET of Gunnar, my favorite trail. But it will also open up a new chapter in the history of one of my favorite resorts in North America. At 7 Springs, progress is unstoppable and that's what makes the place so great. It's going to be very hard in the future for any resort in the region to match 7 Springs for lifts, apres ski, snow quality and QUANTITY, lodging, etc, etc.
I just hope they get a little more creative on the Great Western trail layout than on the rest of the mountain. The place definitely produces in the snow department and the lodge is definitely a family pleaser. I just can't get into the wide, straight trails there. I'm with you John about Gunnar. That and Gunnar chair line are definitely my two favorite there since they're nice and narrow. They do have some fun glades too like Turtleneck.

Hopefully they'll have some narrow, winding trails and add some more fun glades on Great Western. Maybe they'll clear the whole thing and add those cute little baby pines like they did on that blue trail between North Face and Giant Steps. :) I can't believe those things have lived all these years. They're usually just about burried in snow and people run them over all the time.
Does anyone know where Great Western goes? Are they west facing slopes from the same peak as the North Face or are they another mountain over facing north. Anyone remember White Mountain Ski Area. Its on the topo map here http://www.terraserver-usa.com/image.aspx?T2&S12&Z17&X804&Y5539&W3&qs%7csevensprings%7cPA%7c
in the bottom left corner.
It's the land on the west side of Lake Tahoe.
The Springs is a great place to ski on weekdays, it gets crowded on weekends. Hidden Valley is only 10 miles away. Yes it doesn't have the challenge of 7springs, but it's uncrowded and a great place for family skiing and has 10 km of groomed xcountry trails. Farther afield (45 min to 1 hr) is Wisp and Blue Knob. Thus there is the possibility of skiing 5 resorts
One of the owners of 7 springs is Herman K. Dupre. Hence, they use HKD snowguns - I'm pretty sure that he was the one who pioneered the "big tall metal stick" design type of snowgun. I think that they are kind of ugly looking, but they make great snow and lots of it. Many ski areas seem to like them because they can just install them on the trailside and never move them. They cost much less to buy and run than other types.

Most areas are phasing out the tripod-type ones that were popular 15 years ago - they require about 4x the amount of compressed air. I don't see as many of the fan-type ones these days, either, but at least they are efficient. The HKD tower/pole guns make more snow, more efficiently, and they don't blast in your face if in use during skiing hours.

7 springs can make lots of snow very quickly, and I guess that having a guy who invents efficient snowguns must help.

East coast ski areas (especially mid-atlantic) depend on great snowmaking to survive - most of the technology is invented right here. In other parts of our country/the world, no natural snow simply means no skiing.
I thought the HKD guns were ugly too but they look better than what they have here in Ohio. The 2 places I've been have had high pole mounted fan guns. It looks like 15 747's crashed here and the cleanup crews just left the engines hanging in the trees. :) They do a heck of a great job covering the hills though. Its crazy they can afford to line the slopes with those things. I think Mad River can actually blow snow on all of their terrain at once basically only using fixed fan guns. They go from 0 trails to 19 in a little over a day or 2. Its amazing.

I've heard that fan guns are actually more efficient energywise than either HKD guns or tripod guns. I don't know how true that is but it seems to make scense since I've personally noticed places adding the fans more often than towers. Wisp uses 100% airless system and it works pretty good. Besides the efficiency, you don't have to install air pressure lines along all the trails along with water pipes. The trade off might be the temp you can make snow at isn't as high. I'm not sure though.

I've heard they have a "snomaking test area" at 7 springs and I've read an article in a magazine about Mr. H.K.D awhile back. He's supposedly quite the genius. He's probably pretty well off since you see those towers pretty much everywhere on the east coast.
HKD guns can make lighter, dryer snow than fan guns and also operate at higher temperatures. However, the fan guns are more energy efficient because they do not require compressed air--just water and electricity.
You are absolutely right that there is a snowmaking test area near Seven Springs. If you are looking at the mountain from the main road you can see the test area off to the east of the villages. There are two slopes that run from Lake Herman to about half way down the mountain. I would guess this area has an independent snow making system since they seam to blow snow over there as soon as they start blowing snow on the main slopes.
I remember reading that 7 springs was going to build a cliff's terrain area with a lift some place. Does anybody know if this will happen and if it does were will it be located on the mtn?
I don't prefer 7 springs because there isn't anything very steep there. I can see how a lot of people like it, though, and the snow is almost always the best around (unlike Blue Knob, which has great terrain, but only with perfect weather plus perfect natural snow conditions).

I can also agree that 7 springs has slopes with a wide-open Euro kind of feel (despite the lack of a 4000' vertical drop), and staying at the 7 springs resort is the only way to go. Even though they don't have any sick/straight down kind of skiing, I would have a hard time not enjoying a three day weekend there.

I'm a single guy, so I have different priorities. If I had my own family to entertain, I would think that 7 springs or Wisp would be the best local places for a 2-3 day ski vacation.
Too bad you didnt make it to Okemo, during the warm spell we had 3 weeks ago I took off on a 10 hr drive from Wheeling WV to Ludlow, Vt. I used my Seven Springs pass to get half off on midweek day tickets. Okemo was sweet, very well groomed advanced intermediate runs that were like adding Gunner to the top and bottom of Giant Steps and throwing in North Face for good measure. With 107 trails open and high speed quads every where going to the top of their 2200ft vertical, it was the most fun I had all year, oh, did I mention I saw maybe 5 to 6 skier on the way down on each run!....
I hope Seven Springs only puts in a high speed quad on Gunner. Another 6 pack would be
another joke, trying to organize 6 people to get on a lift is difficult to do, especially with out
a full time attendant directing traffic.
I had a great weekend at Seven Springs mid-December. Uncrowded and the snow was great! I like everything about the place with the exception of the attitude of the people in charge. Funny how a couple of cranky old ex-military types can make you feel like you don't want to come back. . .and I'm mid-fifties with a family.
Question: Considering a first time trip to Timberline or Seven Springs for 3 nights this President's Weekend. Lodging at both places seems to be near sell out. Since I am not familiar with the areas - just concerned about insane crowds. Sounds like lifts are slow at Timberline and Seven Springs seems large. If lodging is booked will the slopes be deangerously packed? Taking 2 children that have only skied/boarded on wide open western hills. Does anyone have any insight towards a better pick of these 2 resorts?
Ashley, you might want to take this question to the DCSki msg forum. I like both those ski areas, but both could be extremely busy this 2006 Pres weekend. That is always a peak weekend, but those two have markedly better conditions right now than a number of areas closer to DC, making them an even more favored choice for the upcoming holiday weekend. I guess if I had to choose between them I'd pick Seven Springs because of all the handy non-ski things to do if staying at the base. Bryce Mtn VA or Hidden Valley PA might offer a more stress and crowd free environment that weekend for beginners, but not as much open ski terrain for advanced skiers.