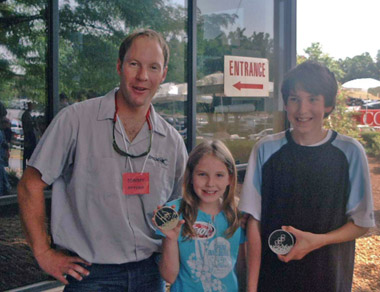 When is a retail sale so big that it becomes a newsworthy event? I'm not exactly sure, but I know it when I see it. I caught the annual summer Ski Chalet Warehouse Clearance Sale for the first time in about eight years. It was held from August 20-23, 2004, and it has definitely become an Event. I arrived at the Dilly in Chantilly (as promoted by Ski Chalet) about 15 minutes before the starting bell at noon on Friday, August 20. Already there were hundreds of winter sports enthusiasts milling around the front of the store, among them Olympic Champion Tommy Moe, numerous representatives/displays from ski clubs, resorts, equipment manufacturers, and even a team from DC 101, a local radio station. The bright sun and hot temperatures might have suggested just another Dog Day of August in the D.C. area, but thanks to Ski Chalet, the Chantilly, Virginia store location took on the flavor of a winter carnival sending thousands of D.C. area skiers and boarders into a four-day preseason buying frenzy. I brought two of my kids with me and the first item on our agenda was to meet Tommy Moe and get some pictures and autographs. Tommy, representing Spyder ski clothing and accessories at this event, was super gracious and must have signed a half dozen items for us including hats, Polaroid photos, and posters (he furnished the latter). We talked for a moment while my kids manhandled his medals. Still looking boyish at 34, I learned that Tommy grew up skiing the Big Mountain, a well known powder hole in northwestern Montana. As a teenager he moved to Palmer, Alaska. Since his Gold (downhill) and Silver (superG) medal-winning performances in the '94 Olympic Games in Lillehammer, Tommy has settled in Jackson Hole, Wyoming as a ski Ambassador.
Next order of business was to get Dad a new pair of ski boots. Last season's duct tape job on my faithful pair purchased about the time Tommy won his medals was not going to contain a growing number of stress cracks for another year. The Ski Chalet triage system at this sale would do a MASH unit proud. They bring in dozens of sales people and factory reps from around the region to work in all departments. Customers like myself interested in boots, are sized and then assigned an individual sales assistant. Despite the assembly line set-up, I had no trouble leisurely poking around for about 90 minutes before choosing a comfortable pair of Tecnica boots that were marked as "half price."
The big reductions at this sale were primarily on adult equipment and after my boot purchase, it was time for us to head out for a weekend trip to the beach. Before we left the premises, however, the kids and I were able to score goodies such as movie tickets, lift tickets from Wisp Resort, eats, posters/stickers, and get the scoop on the new six-pack high speed chair going in at the Highlands section of Wintergreen. My kids thought the Dilly in Chantilly was a lot of fun even for those just there to browse.
If you missed this Event, check the Ski Chalet website. They may have additional preseason sale items at their various store locations. Their website includes other good stuff, like info on discount lift tickets and the dates of their $2 lift ticket Demo Days coming this winter at area ski resorts.
There are no reader comments on this article yet.