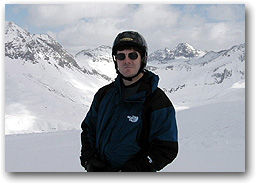 Jet-lagged yet unable to sleep, I nervously donned my ski clothes, grabbed my skis, and walked a few blocks from my hotel to the Nasserein gondola at St.Anton, Austria. This is the place where alpine skiing was born! But…would I be able to make it down the mountain? The gondola ride from 1304 to 1850 meters did not inspire any confidence. Below me lay the Kandahar Trail, last year's World Cup Downhill course, complete with bare spots and ice caused by a record warm spell. As the new Doppelmayr gondola made its quick ascent to the Gampen station, the ground became whiter and whiter until all we saw was hard-packed snow. My confidence improved measurably. Rather than trying to make it down the black Kandahar run, my wife and I decided to grab a high-speed 6-pack to the top of Kapall, 2330 meters (7664 feet). Kapall turned out to be just what I needed: a bevy of groomed intermediate trails. I took my first run on Fasch, a blue trail (easy according to the European rating system). Since there were no trees at 2330 meters, I followed the blue markers down the slope, and skied slowly to avoid going off trail. At this altitude, skiing off trail could mean going off a cliff or into a crevice! Fasch turned out to be a blast: a 1574 foot vertical trail complete with a headwall, undulations, double fall lines, dips, and chutes-in short, the works. However, this was supposed to be the equivalent of an American green trail and I felt like I was skiing a longer version of Cupp. It was going to be a long day! My wife, always the bolder skier, wanted to try a red (intermediate) trail next. Determined not to appear wimpy, I reluctantly agreed to ski Gstans. Gstans was a steep drop with only two run-out areas, but not much more diffcult than Fasch. In fact, we noticed throughout the day that the only real difference between blacks, blues, and reds was the width of the trail and the number of runouts. Most trails at St. Anton had areas with 60 percent pitch or steeper. Furthermore, blues were often tougher than blacks by the end of the day because of the heavier ski traffic they received.
A rather unpleasant surprise awaited me at the bottom of Gstans -; a dreaded T-Bar. I had not ridden one of these silly contraptions since I was a child. I stopped my wife and asked her for instructions. Her words of advice: Just let it pull you by the butt, but hold on for dear life if it stops! Sure enough, the darned thing stopped at the steepest possible point and we started sliding backwards. I held on. Sure enough, the rope eventually caught and stopped our descent. It then jerked us forward when the lift started up again.
Glad to be off the T-Bar but tired since it does not allow you to relax for a second, I recommended that we ski down to the restaurant at the Gampen mid-station for a break. The food at the numerous Arlberg slope-side restaurants and Huttes was far superior to the usual lodge fare we get in the states. Most restaurants offered extensive salad and soup bars plus a choice of 2-4 main entrée such as roast chicken, sausage, or lasagna. Today, we split a large salad, a goulash soup, and a slice of Sacher Torte. I washed down the meal with an alcohol-free beer. One can barely tell the difference between a real beer and an alcohol-free one in Europe. Throughout the trip, I would stick to alcohol-free when skiing and have the real thing after my last run.
Fortified and ready to roll, we made our way across the mountain to the other large mid-terminal known as Galzig. St. Anton upgraded many of its chair lifts for the 2001 World Cup, and built a new gondola at Nasserein. As a result, lift lines were always bearable. Generally, we took a gondola or tram from the village up to a mid-station. From there, we road high-speed, Doppelmayr detachable chair lifts with pull-down wind/snow shields to access higher terrain. There is a Ying and Yang quality with respect to lifts in the Arlberg. On the one hand, the resort boasts some of the newest trams, gondolas, and chairlifts in Europe; and on the other, one must occasionally ride a T-bar or poma (a single rear end puller) to access certain terrain. Some Europeans, however, love the pullers almost as much as chairs. As my wife, a Slovak, put it: "You get to ski up the moutain as well as down!"
The snow at Galzig also was good so we decided to take a shot at Schindler (2660 meters/8727 feet). The first part of the trail down from Schindler peak was a narrow, steep black with some bumps and lots of human hazards. I carefully traversed this section and then made some GS turns down the fall line once the trail (Ulmerhutte) turned red. The headwall of the trail looked intimidating, but ended up being easy to cut into. In general, higher altitudes always offered better snow than lower, village level trails. In fact, one day, we even skipped the low level trails altogether and took the Nasserein gondola back down to town. On steep sections, I just kept reminding myself, "Stay forward on the skis, maintain shin contact on the boots, and cut wider turns."
The ride from Schindler down to St. Anton covered 1356 meters (4448 feet) of vertical -; that's almost 4.5 times the vertical of Timberline. We made that thigh burning run twice, and then did a few shorter blues near Galzig. All in all, I ended my first day of skiiing in Europe greatly impressed. The record warm temperatures in Europe had not hurt conditions above 1800 meters. Furthermore, snowmaking allowed St. Anton to maintain several trails back to to town. Finally, lift lines proved manageable and only got better as the week progressed.
Rather than devote more space to my trip, I will now provide profiles of the 3 major Arlberg ski areas, a brief discussion of food and accommodations, and some practical information for those contemplating a future trip.
---
St. Anton / St. Christoph / Stuben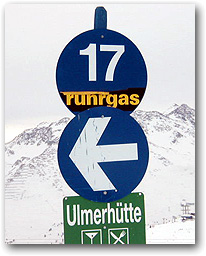 The largest of the Arlberg resorts, St. Anton offers the best expert skiing, and the most lively apres-ski scene. It also boasts the largest number of hotels, and resturants, and is the only Arlberg village with its own rail station. Kapall, Valluga, and Schindler peaks provide skiers with close to 5000 vertical feet of action. Experts will enjoy diamond-marked, less frequently groomed ski routes such as Schindlerkar and Mattun. If you are interested in an extreme experience complete with alpine climbing, hire a guide and ski the backside of Valluga (2811 meters) down to Lech or explore the almost infinite number of off-piste routes in the area with the help of a guide. Rendl, a separate area on the other side of town, is more suitable for Mid-Atlantic intermediates. It also gets the late afternoon sun. Many people end the day at the Rendl Beach-a lively outside bar with a sun terrace and daily tea dances. Intermediates will also enjoy Stuben and St. Christoph. Alpe Rauz, near St. Christoph, has one of the finest cruising trails in the region-a 2680 foot vertical slope that takes one all the way from Ulmer Hutte to Stuben. Slope-side apres-ski action can be found on the Zammermoos trail just above St. Anton. The two hottest spots, among the wildest in Europe, are Krazy Kangaroo and Mooswirt. A more subdued apres-ski scene exists in the numerous pubs and cafes in town. The cafes also offer wonderful, a-la-carte meals. Amalis Cafe served one of the best Wiener Schnitzels in town as well as wonderful salads and deserts.
Finally, St. Anton is the only Arlberg village with a pedestrian zone. This is a great place to stroll after a day on the slopes. The ski shops start stocking next year's skis in February at prices one third to a half less than U.S. ski retailers.
Pros:
Best expert skiing.
Largest number of trails of any Arlberg resort: 6 linked ski areas, each bigger than your average Vermont resort.
Most amenities of any Arlberg resort.
Most reasonable hotel rates of any Arlberg resort, and the largest selection of accomodations.
Best apres-ski. St. Anton is the friendliest, least pretentious resort in the Arlberg. People will talk to you at cafes and at the slope-side restaurants and friends are easy to make. This is a great resort for single people.
Pedestrian zone with a large number of shops, restaurants, cafes, pubs, and discos.
Train station with direct links to large European cities.

Cons:
Very little beginnner and lower intermediate terrain. Trails marked easy in St. Anton may be tougher than Mid-Atlantic black diamonds. Beginners will be compelled to ski diminutive bunny slopes near the town.
St. Anton has the lowest elevation of the Arlberg villages. During warm spells, many village level trails will be closed and those that stay open may have bare spots. However, ample snow-sure skiing exists at higher elevations accessible by gondolas and trams originating in the village.
The party scene may be too loud and intense for some.
Lift lines are longer than at Lech or Zeurs, and trails get more traffic.

Net Assessment: The largest resort in the Arlberg. Experts and confident intermediates will love it.
---
Zuers
At 1,720 meters, Zuers is one of the highest base areas in the Arlberg. As result, it is colder and snowier than most other villages. Intermediates will love the nicely groomed red trails on both sides of the village. Because of its small size, almost every hotel is within a stone's throw of a lift, and lines are virtually non-existent.

Both the Trittkopf and Seekopf sides of Zuers have loads of daily groomed, confidence-building, intermediate runs. The Trittkopf Tram takes skiers up to 2324 meters, allowing them to plunge down 600 meters of vertical (about 2000 feet) back to the village on the Balmen trail. Another greater cruiser is Muggengrat-2400 feet of vertical with a steep headwall at the beginning. Finally, don't miss the Hexenboden trails, yet another wonderful intermediate area.

Those looking for even more challenge can try skiing to Lech on the Madloch ski route, and then return to Zuers via the easier Monzabon-See trail from Ruflikopf. Extreme skiers can hire a guide and ski from Valluga in St. Anton down to Zuers.

Trittalm and Seekopf mid-station area both contain excellent restaurants with large, sun-baked outside decks. A typical apres-ski activity at Zuers would be to buy a small bottle of champagne and watch the sun slowly set Kaltenberg (2896 meters) from Trittalm with your significant other. Zuers's small size means limited apres-ski. Most visitors take their dinners at their hotels, and then sit by the fire in the nicely appointed hotel lounges for a game of backgammon and a snifter of cognac. Couples and families will love Zuers, but singles should probably stay at St. Anton.

Pros:
Best intermediate skiing in the Arlberg.
Shortest lift-lines and loads of high-speed lifts.
A cold, snowy, intimate village.
Centrally located-a short, shuttle bus ride to either St. Anton or Lech.

Cons:
Sleepy: very little apres-ski.
Not much beginner or expert terrain.
The most expensive and exclusive Arlberg resort.
Not much shopping and few restaurants other than those found in hotels.
---
Lech
Those seeking a less extreme version of St. Anton, both in terms of skiing and apres-ski, will love Lech. The westernmost Arlberg resort, Lech offers easier skiing than St. Anton or Zuers but with similar Alpine scenery and top quality snow.

The main area above Oberlech contains numerous, blue groomers and ample chairlifts to serve them. More confident intermediates will enjoy the steeper, red trails served by the Steinmahderbahn. Lech is connected with Zuers by the Ruflikopf tram, and strong intermediates will have no trouble negotiating the blue Monzabon-See trail Ruflikopf down to Tritalm in Zuers. Confident experts can make their way back to Lech via the Madloch ski route or by simply taking a shuttle bus, which runs every 15 minutes.

Unlike Zuers, Lech has all the amenities of a full-size Alpine village: discos, restaurants, cafes, etc. It is not, however, as lively as St. Anton. Don't expect to see people doing line dances through the pub after a day on the slopes. Instead, expect people to be sitting on restaurant decks in Oberlech sipping their liter-sized glasses of Weissbeer, laughing, listening to music and enjoying the fabulous snow conditions, and short lift lines of Lech.

Pros:
Best Arlberg resort for less advanced skiers.
Great restaurants and other village amenities.
Short lift lines.
Quiet.

Cons:
Very little expert terrain.
Limited nightlife.
No train station in the village.
Many of the hotels are accessible via tram.
---
Practical Information
What it will cost:
Air fares to Europe during most of the winter months (excluding Christmas and New Year's) are cheap. If you book early, expect to pay $500.00 or less for a round trip, non-stop flight to Zurich or Vienna from Washington, Dulles.

Hotels range from $50.00 per person per day for a clean room with a bathroom to $150.00 for a more deluxe, 4 star hotel with half board (breakfast and dinner).

A 6 day ski card good at every Arlberg resort is $150.00. The ski card is a chip card similar to a Metro Smartcard. Simply get the card anywhere in the vicinity of a reader and the turn-style lets you through. There are pilot programs in effect which will allow you to use the card to buy meals, rent skis, and conduct other transactions around the resort. Save your receipt when you buy a card because lost cards can be canceled and a new card issued at any Arlberg ticket office.

Meals will range from $12.00 to $20.00 per person per meal
Getting there and getting around:
The best route for Washingtonians is to fly non-stop from Dulles to Zurich on Swissair, and then take a train or a weekend shuttle bus to the Arlberg, roughly 180 kilometers away. An alternative route is to fly Austrian Air non-stop to Vienna, and then take a 45 minute Tyrolia Airways jet transfer to Innsbruck. From there, grab a bus or a cab to the train station and then take the hourly train to St. Anton or Langen for Zuers and Lech.
One does not need a car in the Arlberg. All resorts are linked by an efficient shuttle bus service. Buses run every 15 minutes between areas. However, if you need a car for explorations further afield, be sure to have your rental car company explain all the surcharges: Value Added Tax (VAT), airport fee, winter fee, highway sticker fees, insurance, additional driver fees, etc. Even if you decline collision insurance, fees can add about 50 percent to the cost of a rental. Finally, it is cheaper to rent a car in the U.S. through Hertz or Avis than through a local company.
Accommodations:
Hotels in the Arlberg are rated by stars. 5 star hotels generally have a pool, numerous restaurants, and other amenities. 2 star hotels offer just the basics: a clean room, and a continental breakfast. We stayed at a 3 star hotel in St. Anton which featured cable TV, a clean room with a large bathroom, and a buffet breakfast every morning. At Zuers, we stayed for two days at a fancier 4 star hotel. This hotel offered half board: breakfast, an afternoon snack, and a 5 course dinner. It also had an apres-ski lounge/bar. The Austrian Tourist Agency has an excellent web site which describes all hotels and other lodging possibilities (such as appartments) in the region: www.tiscover.com. You can book a room directly through them or through a U.S. company such as Ski Europe: www.ski-europe.com.
Food:
The best and cheapest food can be found at the cafes in Lech and St. Anton. Vegetarians and those seeking to avoid the pork-intensive Central European cuisine will find numerous choices at these establishments. Some cafes also feature ethnic food such as Middle Eastern, Italian, or Japanese.
Restaurants are more traditional. Those desiring a large, multi-course European meal of schnitzel, goulash, and strudel complete with authentic Austrian atmosphere will love these establishments.
Your final dining option is a half-board plan offered by many of the 3, 4, and 5 star hotels. For those staying at Zuers, St. Christoph, or Stuben where restaurant options are less plentiful, a half-board plan is convenient and reasonable. However, some may find the daily 5 course, candle-light dinners to be a bit pretentious. After a day on the slopes, a pizza at a casual cafe might be more appealing than a long, formal meal.
Lunches are eaten at the numerous slope-side huttes and restaurants. These establishments offer essentially the same excellent food as cafes. Many are self-service, but those with waiters are equally fast and efficient. A big part of skiing in Europe is sitting outside under a space heater soaking in the mountain views and enjoying a fabulous pastry and tea right on the slopes. Lunch is the main meal in Europe. Don't skip it!
Weather:
During our early February vacation, we experienced temperatures ranging from 50 to 19 degrees Fahrenheit. However, most days were in the 30s in the morning and low 40s in the afternoon.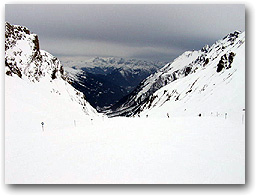 It snowed twice while we were there. On one snowy morning, we skied in waist-deep powder, but by the afternoon, moguls had formed, turning an average intermediate red trail into a double black diamond affair.

Far and away, the worst weather condition is fog, which usually occurs just after a snowfall. Leaving the middle station at Stuben on one foggy day, I accidentally skied off a trail embankment, which scared the heck out of me. Fortunately, some thoughtful veterans noticed that we were having a tough time seeing the trail markings, and decided to guide us down to Alpe Rauz. Some trails actually have netting to prevent people from skiing off cliffs. Others have balls with red and green half-circles. If you are on the green side of the marker, you are on trail. The best advice about fog came from an experienced German skier we met at Stuben. He advised us to relax in the hutte until it burned off. Except on very snowy days, severe fog rarely lasts beyond 1 pm. Fog is also a good excuse to sleep in or go shopping.
Clothing:
I generally wore just a Gore-Tex XCR mountain shell and a Capaline nylon shirt. I found any more layers to be cumbersome and hot. Gore-Tex (preferably XCR) is a must for the hot-and-cold transitions inherent in European skiing. You sweat on the tram and then step out onto a cold, windy upper slope. Being dry and comfortable the entire time makes the experience that much better.
Shopping:
St. Anton has one of the largest collections of ski stores in Europe. Competition between them is fierce and good deals abound. You can save yourself up a bundle by purchasing skis here rather than in the U.S. Furthermore, stores allow you to demo skis for free for three days to help you decide what's best for you. Giant slalom race skis are popular with locals but most recreational skiers will prefer more flexible, all-mountain skis. When purchasing any gear, be sure to request a VAT refund form. Austria offers travelers a value added tax refund on all purchased merchandise-an extra bonus which will save you another $75.00 or so on your purchase.
Ski Rentals:
If you don't wish to buy skis, save yourself the hassle of hauling your skis across the globe and rent skis. State-of-the-art demo skis can be rented for about $28.00 a day. As for boots, bring your own or better yet, buy a new pair at a steep discount.
Additional Gear:
Motorola Talk-Abouts: As much as I detest these things, they are very useful in a place as large as the Arl.berg. No Europeans had these radios so I suspect they are not sold in Europe, and may not even be legal. However, no one stopped us from using ours and they did save us from being separated at least once a day.
Backpack: A backpack is great for carrying water, an extra top layer, and snacks. European off-trail packs made by Ortovox are long and narrow-perfect for chairlift rides and almost unnoticeable while skiing. Off-piste skiers may want to purchase or rent additional specialized equipment (which fits perfectly in specially designed compartments on the packs) such as a back country first aid kit, a collapsible avalanche shovel, and a telescopic probe.