The West is the Best, Get Here and We'll Do the Rest"
-Jim Morrison
Jimbo has is right. The West is the Best. For the second time in two years I've had an opportunity to ski in Colorado. Last year I skied for three days at Telluride. Telluride is a picturesque ski town with tremendous beautiful mountains and a breathtaking landscape. In fact, that's what I remember about Telluride, virtually nothing about the actual skiing and everything about the surrounding countryside. Like a deer in headlights, I was too transfixed to really notice the skiing. But I knew I needed to have more of whatever it was, so this year I helped plan a week long trip to another famous (or should I say infamous?) Colorado ski resort -; Crested Butte!
Crested Butte lies approximately five hours by car, south and slightly west of Denver. It is known for its off terrain or "extreme" skiing. Beyond driving, it's a fairly easy and inexpensive flight into Denver followed by a connecting flight to Gunnison Regional Airport. Both United and American service the region and there are three or four daily flights to choose from for the intrepid ski traveler. But watch out -; a canceled flight put me into Gunnison a day later than I planned. But at least United paid for my hotel room in Denver.
Once you have landed at Gunnison, you'll need to check-in with Alpine Express for your pre-arranged shuttle bus ride to Crested Butte, with is about 30 miles to the north and east. If that doesn't float your boat, Avis or Hertz will be more than happy to rent a vehicle to you for the duration of your stay.
No matter how you travel the last 30 miles to Crested Butte itself, I think you'll find the surrounding snow covered pastures and mountains quite beautiful and scenic… Gunnison itself seems like a nice small town and is somewhat scenic as well but you don't have time to dally too much, there's skiing to do!
A "butte", which literally means a standalone hill that abruptly rises from the surrounding terrain, has, unlike other buttes, a pointy top or crest. So without much imagination in names, Crested Butte Mountain rolls into view -; its jagged southern face revealing little of ski-able terrain.
As you pass around the southern side of the mountain you will enter the Town of Crested Butte (approximate permanent population: 3000.) It's small, remote and retains a certain charm that other larger resort areas never had.
After passing through town to the resort itself, you'll first notice the Crested Butte Cemetery on your right followed by the start of resort homes and condos. Picturesque, the cemetery always made me contemplate the fate of skiers gone wrong.
After a few more gentle switchbacks, a smattering of resort homes, and perfect rows of condos, you've made it to the top of the resort area. The shuttle stop is there, the Club Med down a bit, and the Sheraton is across the way, hiding the original Manor Lodge. Over by the small coffee stand near the shuttle stop sits Kate, ready to make a nice hot cup of cocoa using Ghiradelli chocolate and engage one in some interesting small talk: "Oh, I've seen President Carter skiing here. Sure…" Don't forget the whipped cream Kate, it's the best part! And in Rafters, the bar at the bottom of the lifts, Heidi waits to fill your order -; "So that's one Fat Tire Ale and a side order of 'poppers', anything else?"
But that's all for later because it's 8:30 a.m. and it's your first day on the slopes. You and your friends arrived safely the night before, figured out who was sleeping where, and tried to get some sleep. Awaking early, you made it to the first lift…
And you and your friends are getting ready to start skiing. The lifts open at 9 a.m., and the parking lot closest to the lifts just took seven of your greenbacks -; that is if you didn't ride the shuttle up from town or you are lodging slopeside. The shuttle starts at 7:30 a.m. everyday and runs every 15 minutes till about 5 p.m. around the town and resort area -; it could be the way to go if you cannot walk across the parking lot from your hotel or condo in your ski boots. Doesn't matter.
At the bottom lift with your friends, you tighten your boots, put on your suntan lotion, lip balm, gloves, hat, sunglasses and clip in, all in anticipation of the 9 a.m. starting bell. You even have the small bottle of water shoved into your jacket, along with the camera, not to mention the trail map and two-way radios. You'll need the water for sure as the low-humidity will be noticeable.
On your first day you'll probably start on the lift called Keystone. Keystone takes you up to some gently rolling green slopes and provides access to more of the lower north-side of Crested Butte -; although once you've oriented yourself you'll find ways to get around without going up Keystone. From the top of the lift, there are plenty of green runs to choose from and a few blues too, a couple of which are bumped up so watch out. Many of the greens lead back to the base but some don't and send you off in different directions.
The trail map at the top is a little confusing at first so you head down "Mineral" -; a "green" with a few surprising pitches and off-camber turns it. This runs into another lift: Painter Boy. Painter Boy is a small three-person lift to the top of some very short blues between pretty Aspens growing in tight formation. Riding up a ski patroller with a heavy German accent asks about the stock market but you remind him that it's Sunday and he laughs and says, "oh it's Sunday? How silly, I forgot." Take the opportunity at this point to look over your shoulder and notice the beautiful view of Crested Butte Mountain behind you. You'll be looking over your shoulder a lot on the lifts out here, so get used to it.
At the top of Painter Boy, you decide to go down Gold-link lift area for first tracks. It's still just barely past 9 a.m. and no one except the lift operator has been down it yet. You descend Cascade, a short, beautiful and wide-open groomed run. The air is cold and crisp, and the sun peaks above the Butte behind you, lighting and warming your way. No one seems to be skiing today; do you have the place to yourself?
At the bottom the lift operator scans your ticket and says "hi." She says you're her first skiers of the day. You're likely to hear the same thing tomorrow. And you smile and go back to the top. At the top, the warming hut beckons with hot drinks and muffins but you take a swig from you water bottle instead, perhaps tomorrow? As you study the map at the top, you consider your options, more Gold-link runs or on to bigger and better things?
Finally making the decision to try something new, you head down the connecting trail nearby. "Gunsight Pass" gently takes you to Teocalli Lift, an odd name for an odd lift. Getting on the two person lift with the bar in the middle is awkward and somewhat slow but it does the job. As you seemingly creep up the lift, the large half-pipe looms, and skiers and snowboarders provide tricks for your personal entertainment. From the top you head straight down to the bottom on freshly groomed snow but instead of stopping at the lift again, you hang a right and follow this to Red Lady and on into the East River Lift area.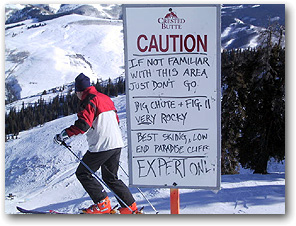 East River has longer blues and blacks, many groomed, some not. From the top, you try them, Treasury, Florista, Black Eagle, long fast blues -; cruisers. Your friends egg you on and you try the bumped up black run Resurrection directly below the lift. It's start off flattish and then hits a steep section over a lip, which is fun until you slip and fall and slide about 30 feet upside down with snow spraying everywhere. No harm done though except to your pride.
At "Double-top Glades" you almost check your sanity at the door as you find yourself maneuvering between widely spaced trees. You should have learned your lesson on Resurrection as an edge catches, sending you sprawling. You pick yourself up and continue until trees reveal a seemingly impossible mogul field over the lip of a drop off. Carefully picking your way to the bottom, you stop and look up at your handiwork before returning to the East River lift for another go around. It's time for another try!
After exploring East River, you hang a right at the top of the lift and follow the large blue banner to the Paradise lift area. Suddenly you realize other folks are skiing too as you meet your friends for some chow at the Paradise lodge. The sun is shining bright and the outside benches beckon. After lunch, your full belly takes Paradise Lift to Paradise Bowl. From the top you've got blues and blacks, bumps and groomed, and things in between. It's even possible to start at the top of Paradise Bowl and end up at the bottom of East River lift -; if you do this, your quads will really let you know they are there!
After a few runs you finally notice the North Face "Poma" lift off to one side of Paradise Bowl. At the head of the Poma line, as you wait for the green light to give you the signal to grab the bar, you may wonder what you are doing here, heading off into the extreme terrain. Spellbound, Pinball, and Phoenix bowls all await your exploration. Your friends are there and know all about it. But you aren't sure and follow them down through the glades. The top is easy but this belies what's to come as there are too many moguls, trees, and large rocks to maneuver for your abilities. But your friends have been all back in there and love it. They say the snow is a little thin and you have to be careful, and offer to help you out. Finally at the bottom you breathe a sigh of relief and head out to the Paradise area -; you were definitely out of your league on that one.
Back in Paradise Bowl, you move over to the "front" by taking the "yellow brick road" trail across the mountain, and down the blue Silver Queen run to some greens and back down to the resort base. Keystone is there but the Silver Queen Lift is right next to it. It's been a full day of skiing so far, but there's still hours to go before the lifts close at 4 p.m., so you hop on Silver Queen Lift. The long ride affords plenty of time to rest and look at the terrain below. The Aspens and pines stretch below, and you notice tracks in the snow below, some old, some new but over stuff you're not sure you could walk down. To the right the Crest itself looms and you see some telemark skiers perilously making their way down in the Banana Chute below it. You aren't sure but the looks of concern on their faces give you pause to reflect for a few moments before the lift reaches the top.
Skiing down, you start with a steep blue run Keystone to Upper Park to some fast greens to the bottom. These are cruisers and fun.
Another run up and you hit the black diamond Jockerville that is really steep and tough to set an edge on. After that you move over one more run to the steep bumped up black runs, you look for a way out, and decide Crystal and Twister to International are the way to go. There are others in there two, little gladed runs, lots of bumps and things unmarked so be careful, you might end up over in a chute by mistake!
On one of the runs from Silver Queen you notice the short right turn near the top that takes you down to the t-bar "High Lift". If you take this all the way you'll be at the Headwall -; not for the faint of heart. Or you can hike up to the crest to "Upper Peel" into the Banana chute and try your luck. But the snows is a little thin this time of year and the trail is not open. Which makes your decision to get off the High-lift halfway up, snap some pictures and head down a short black run back to the Silver Queen trail the best option for your abilities.
Nearing exhaustion, the clock strikes 4 p.m. and the lifts all stop. You and your ski friends head up to Rafters for a beer, and Heidi takes the orders. A few days later, in town at the Black Whale Pub, the same Heidi takes your order again and you both laugh at coincidence. After relaxing and recalling the day, you and your friends head back home and get ready for dinner.
There's lot's of good eats in town: Crested Butte Brewing Company, Wooden Nickel, Bachannal, and Donitas to name a few. But tonight you decide to meet a local acquaintance at the Swiss Chalet and it's right there at the resort area. Inside, Kate -; who made your delicious cup of Ghiradelli hot chocolate earlier in the morning -; surprisingly greets your group at the door. You gotta love small towns!
And so it goes as the week goes by. After awhile you settle on your favorite runs and explore the mountain more fully. You'll eat at different restaurants and try different pubs -; Endo's is another.
Willie Nelson leaves and President Carter arrives but you never see either one. One day it snows and you really enjoy the powder for what it is. It's not three feet but it's vastly more than anything you're normally used to. On another day the brilliant clear blue skies are replaced by wind and cold, the lifts temporarily close, and you realize you're short one pair of heavy long underwear. But you ski on.
As the days continue to pass, your quads are sore, your body aches but it's the best skiing you've ever done and you can't stop. Not yet anyway. On the last day, exhausted, the early lunch break brings a familiar German accented voice to the table. As you greet your skiing friend, his recognition makes you both laugh together at the coincidence. And so it goes.
The next day your trip is done, the trip of great skiing and small town coincidences. And as if to reinforce the fact, the flight out of Gunnison has mechanical problems and is delayed, the travel difficulties to and from Crested Butte forming perfect reality check bookends to all the fun in-between.