Firsthand Bike Report: Canyon Rim Trail and West Fork Trail, WV
3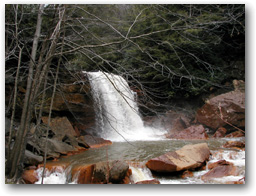 A roaring noise stopped me in my tracks right after I started pedaling up the Canyon Rim Road. I turned around and peered down into the Blackwater Canyon. Among the trees, I spotted a powerful cascade of water. This was not my first time on this trail, but I had no idea there was a big waterfall just outside of Douglas, WV! Amazed by this discovery, I resolved to check out this hidden wonder and take some photos on my return trip. The waterfall is just one of the many treats offered by the 9 mile long Canyon Rim trail. This trail, also known as the Olson Tower trail, is rated intermediate because it requires a reasonable amount of climbing, and fording of several streams. Much of the trail follows an abandoned road, full of large rocks, ruts, potholes, gullies, and other obstacles. The major climbs fall at the beginning and end of the journey. The ride back to Douglas is all downhill. What I liked about the Canyon Rim Trail, besides the great views, is its difficulty level. The trail falls somewhere between rail grade and single track in the mountain biking continuum. In short, it is a good way to get your feet wet (literally and figuratively) without worrying about extreme challenges of many single track trails in the West Virginia highlands. My wife loves this trail, and she is no Sue Haywood (a national champion mountain biker from nearby Davis). During last year's exceptionally dry summer, I even did the uphill portion of the trail on a cyclocross bike. I have to admit - it was a struggle. I ended up taking US 219 back, fearing that my rims (and my behind) would get bashed up in the descent. Based on that experience, I would advise people to stick to mountain bikes for this trail. This time, we tackled the trail on Trek Fuel 90 mountain bikes (that's what Sue Haywood rides too!) and had no problems going over baseball size rocks and small streams. We stopped for lunch at the promontory near mile 7 and watched falcons circling above the canyon. I brought my handy MSR stove along so we had a hot meal-freeze dried chicken with rice! After eating, we endured the toughest climb of the trip: the final one mile slog up to Olson tower. The one redeeming aspect of this leg is that it is on a graded Forest Service road rather than the mottled Canyon Rim road. The reward for the climb is an unforgettable panoramic view of the region from the top of the fire tower. Next day (Sunday, April 28, 2002), we managed to get a short, 5 mile ride in between the storms on the West Fork trail. The West Fork is a rail-trail conversion that runs from Glady to Durbin along the West Fork of the Greenbrier River. The trail is a well-maintained railroad grade path, suitable under dry conditions for any bike with wider tires, including basic hybrids. It ascends gently from north to south and stretches over 24 miles.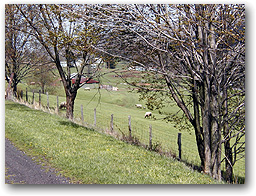 Right after we started at the southern end of Glady, the path led us by a picturesque sheep farm. Frolicking baby lambs and their demure mothers grazed in bright green meadows. Wild geese and ducks swam in small ponds. One would have to think hard trying to imagine a more pastoral landscape! Darina remarked that it reminded her of her family's farm on Polana Mountain in central Slovakia. As we pedaled farther, the countryside started to change from farmland to woods. We found ourselves in a birdwatchers' paradise. There were warblers, blue birds, hawks, and many other birds of various sizes, shapes and colors that we can't identify yet. We are working on it. But not all was merry on the West Fork Trail. Mud and water from recent rains made for a slow and tiring trip. Frequent gate crossings were yet another snag. Usually, one could bike around these gates, but at the entrance to the trail, we actually had to dismount and climb over. I guess these gates have several purposes - they let the cattle get safely to their pastures and they keep the motor vehicles off the trail. West Virginians are very fond of dirt bikes and ATVs. If not for the gates, slow movers like us would have to share the trail with these noisy, stinky, erosion-causing contraptions. So think positively - these gates are just a minor inconvenience to pay for a smooth, quiet, well-graded trail. Dark, foreboding clouds and a distant thunder forced us to cut our ride short just a few miles outside of Glady. We plan to explore more of the West Fork trail later this year. What little we saw of it made me yearn for more. On our drive back to our Timberline condo, the clouds turned green-a sure sign of rough weather ahead. The usually sedate Dry Fork outside of Harmon was nearly over flooding its banks. It boiled with mud and white water. As we entered the Canaan Valley, piles of hail greeted us. We spent the next few hours in our condo watching more hail come down and feeling fortunate that we did not get pelted with the nasty little white stuff while riding! How to find these trails:
To get to the northern trailhead of the West Fork Rail-Trail, turn off CR-22 in Glady, WV. Take Glady Fork Rd (CR 27) past the post office, and through entire town. Park in the lot in front of the gray Forrest Service Game Warden's house which is across the road from the cemetery.
To locate the eastern end of the Canyon Rim (Olson Tower) Trail, take Douglas Road (CR 27) from Thomas, WV through villages of Coketon and Douglas. Where paved Douglas Road ends, dirt FR 18 starts its ascend - this is the Canyon Rim Road. When parking, make sure that you don't block any gates or private pathways. Don't confuse this trail with the Blackwater River Trail located at the bottom of the canyon.
great article John! and excellent pictures too! Now I want to head back up to the wild and wonderful state for summertime activities!
Thanks. WV truly offers some epic mountain biking--definitely worth a trip.
Hey, Great picture of Glenn Keren's sheep, grin. I was just there this weekend fishing etc. It's my uncle's farm in Glady, Mark