A flex day on Friday, January 4th, allowed me to get out of town for a couple of days of skiing in West Virginia.
I woke up early Friday morning and drove to Canaan Valley with a brief stopover at the Wal-Mart Super Center in New Creek for provisions. When one is in a hurry to get to the slopes and wants one-stop shopping, Wal-Mart reigns supreme. Skiers will appreciate the $5.00 children's snow pants, inexpensive long underwear, and very reasonable grocery items.
I continued to the land of milk and honey on 93 via Scherr. Having received a warning by the West Virginia State police for exceeding the speed limit two weeks before, I kept my speed in check on the virtually empty 93. As I climbed up the Allegheny front, I was happy to see some snow on the ground. Canaan Valley received approximately 8 inches of natural snow the week before and cold temperatures kept some of it on the ground.
After stopping by my condo at Timberline to throw dinner ingredients into the crock pot, I was off to the Canaan Valley ski resort. In contrast to the roar of Timberline's numerous fan guns, the snow guns at Canaan Valley were silent. Lack of water compelled the resort to halt snowmaking operations several days earlier. This meant that the resort could offer just two ways down from the top of Weiss Knob: the Canaan Curve and Valley Vista for intermediates, and the Timber Trail for beginners.
I chose to start out on the intermediate terrain. I skied Canaan Curve from the top of the summit quad to the beginning of Valley Vista. This trail allows intermediates to bypass the steeper Weiss Drop trail, and access the broad expanses of the Valley Vista bowl beneath it. Valley Vista reminded me of the North Face of 7 Springs except it was longer and had more gentle drops. The two drops proved enjoyable even though they were icy in spots. Ample recovery zones, however, meant that confident skiers could blow over the ice and still have plenty of machine groomed snow on which to make turns.
I made several runs on Vista before checking out the Timber Road. Timber Road had virtually no steep areas so it was holding snow better than the blue terrain. The top section of trail weaves through snow covered spruce trees, giving it a Vermont-like ambiance. The trail then curves and takes a very gradual descent down Weiss Knob. Like Salamander at Timberline or Paradise at Blue Mountain, the Timber Trail serves a very important role at Canaan: it allows beginners to ski the highest sections of the mountain and soak in all the great views of nearby Bald Knob and the Canaan Valley without any steeps.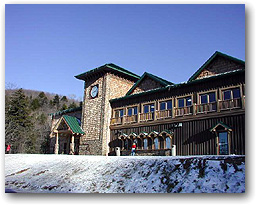 Before I departed, I ventured into the new Canaan lodge. The lower section consists of a rental shop, a store, and big, clean bathrooms. Upstairs one will find a spacious but rather Spartan cafeteria. Painted concrete floors and a lack of wall decorations gave the place a cold feeling that the fireplace in the rear could not mitigate. The new lodge does not have a bar. The pub is in the Weiss House - a factor which makes the new building seem even emptier. Successful lodges usually integrate the bar and food areas to create a vibrant aprés ski scene. Bob Bennett, the Canaan Mountain Manager, explained later that the lodge was built in just 120 days and is still not finished. Therefore, its interior décor and layout may change. Bob also mentioned possible plans to create a magic carpet to whisk skiers from the new lodge up the small rise to the summit quad - another welcome improvement.
Note: I spoke to Bob at 3:15 pm on Sunday, January 6th. He said that 6 inches of snow had already fallen today and 6+ are expected to blitz the valley overnight. This snow should help fill Canaan's water storage ponds, and also put some fresh pow on the mountain.
Day 2: Timberline, 5 January 2002
I had hoped to focus exclusively on the Canaan Valley resort for this report, but my skiing at Timberline proved so epic on this day, that I cannot resist commenting on it. Mountain Manager Tom Blanzy and the snowmaking team at Timberline deserve accolades for their efforts between 31 December 2001 and 5 January 2002. When I left Timberline earlier in the week, it offered just one top-to-bottom trail. Now there are 3 top-to-bottom trails with over a 60 inch base on each trail. Not only did this expansion allow for a separation of ability levels but it also spread traffic out, and led to a dynamic day of skiing.
I awoke early as always for first tracks at 8 a.m. Pete, the Thunderdraft weekend lift czar, greeted me with a smile, but told me that the lift would not be opening today for another 20 minutes. He explained that the National Ski Patrol (NSP) spotted a wheel that needed to be replaced. Every day, NSP members, many of whom are volunteers, inspect every lift and every trail of every ski resort in the country for possible hazards. My hat goes off to the attentive NSP member who spotted the damaged wheel. While Pete assured me that no one would have been hurt by the problem, the faulty wheel could have caused extensive damage to the lift if not detected early.
Even though a line had formed by 8:15, I still had White Lightning to myself for first tracks. The freshly groomed and empty trail allowed me to make low, shredder type turns on my Volkls - yummy!
I took two runs on White Lightning and then skied back to my condo to get my friends Rachel and Steve up and onto the mountain. Rachel had only skied once before and Steve had never skied. They enrolled in a group lesson with another couple, and by the end of the day, Rachel was enjoying the Salamander trail, and Steve was content in the Woods Hole beginners area.
With Rachel and Steve in the hands of an instructor, I made my way back to the Thunderdraft chair for more adventures on the mountain. Once on top of Herz mountain, I looked over to Dew Drop trail, where intense snowmaking had occurred during the last few days. To my utter delight, there was no closed sign anymore. I skied up to the patroller and asked, "Is Dew Drop open?" He said, "Yes, have fun, you'll be one of the first skiers on it for the season." I bashed the slope out and continued to the bottom on Lower Almost Heaven. Dew Drop is a perfect intermediate run. It has a nice steep turn in one spot and good intermediate pitches for almost the entire run. I skied White Lightning twice more during the day, but when it got icy in spots and my muscles got sore, it was nice to return to the comfort of Dew Drop for my last 3 runs.
For next week, expect snowmaking to continue on Thunderstruck and Upper Almost Heaven. With about 12 inches of natural snow on the way, Timberline should open additional trails soon.
I hope to see you on West Virginia's slopes!
Correction:
Tom Blanzy is the General Manager
Amos Bennett is the Mountain Manager.
Amos is out on the mountain constantly during ski season making sure all operations are running smoothly and effeciently. We are much in dept to his efforts for the good skiing experience of our customers.
Sorry for the confusion Tom. However, you deserve some credit too for the super skiing everyone had last weekend.
I was wondering if anyone from Canaan Resort can give an update on Canaan's snowmaking fiasco, and whether they will be able to save their season to cover their slopes this year, and have plans to deal with similar drought conditions in future years. I had a terrible experience skiing there on New Years eve due to the lack of open terrain and no snowmaking, and right now am not making any future plans to return to Canaan resort.
I tried to broach the water subject with Canaan Mountain Manager Bob Bennett, but he is new to the resort and could not comment. Rumor has it that the state of West Virginia has authorized the construction of a new lake for snowmaking purposes, but when, where, and how remains a mystery.

The situation at Timberline is more hopeful. Currently, that resort has more water resources (namely Spruce Island Lake and the Blackwater River) than Canaan. Furthermore, General Manager Tom Blanzy would like to double snowmaking in the next 2-3 years. Increasing snowmaking, however, is not simply a matter of buying new guns. New pumping facilities, pipelines, electrical wiring, holding facilities, etc., also need to be constructed. In short, dont give up on the valley, just be patient.

Personally, Id like to see the two resorts become more integrated not just with respect to water and snowmaking issues but also with lift tickets. The Ski the Valley ticket is a good start but it generally only applies to the midweek. You also can't buy that ticket at the resorts themselves. You have to go to the Davis tourist office, Ski Barn, or Exxon to get them. The option of an integrated lift ticket for weekends (at a higher price than a single resort ticket) would allow folks to ski one mountain in the morning and the other in the afternoon, and make the valley feel like a medium Vermont style resort. On Saturdays, crowds could also be distributed more equitably between the two mountains.
There is no more peaceful place to ski and stay than the Canaan Valley areas. Alas, neither area appears owned and operated by "deep pockets" like Snowshoe and Seven Springs. Look at the current situation: a snowmaking disaster at Canaan and a lift capacity disaster at Timberline. If only the ski slopes could be owned and operated by a major outfit, for there is tremendous potential for a wonderful ski cirque by combining and expanding the areas. Timberline has the best fall line slopes in the area, but its no fun when you stand in line for 40 minutes on a busy weekend because of an inadequate lift capacity - talk about needing a high speed quad! Thanks for the tip-off that Canaan Valley Ski Area is having serious snowmaking problems. With their mickey-mouse website slope reports one cannot figure out whats happening and must wonder why more slopes are not opening. If only the areas could reach their potential. But don't hod your breath as long as the state owns Canaan Valley...while there is no question a new lodge was needed...a ski area without snow isn't. I still love skiing there. One day I saw more than 100 deer on the short trip from Canaan Lodge to the ski area.
The lift situation at Timberline has greatly improved since last year. The resort did extensive work on the Silver Queen double this summer.

Both lifts were operating on Saturday and I never waited in line for more than a couple of minutes despite a healthy crowd of people.