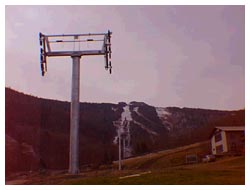 Across the country, ski resorts are beginning to open with limited terrain. After a false start in early October, Vermont's Killington Ski Resort has been offering a mile of skiing for the past week. A return of milder temperatures in Vermont has put a hold on snowmaking operations, though, and Killington admits the snow is soft.
That snow may get softer this weekend: rain is in the forecast for nearby Rutland, Vermont. The picture shown to the left was taken at Killington on October 31; a lift under construction can be seen in the foreground. By the time mid-November rolls along, temperatures should be low enough for Killington to remain open, although El Nino may play games with weather this winter. Once Killington opens, they usually don't close until June.
Colorado's Keystone Resort has fared somewhat better, owing some thanks to the recent blizzard that swept through Colorado and much of the midwest. Keystone is offering four runs with an 18" base. The Loveland ski area, also in Colorado, has two runs open with a base depth up to 20". Just think: you could be on a plane tonight and skiing on one of those two runs tomorrow. (Granted, much of the population of Denver will be concentrated on those two runs.) Most of the ski resorts in Colorado plan on a late November opening.
Closer to home, an American Online user with the moniker "WillyJ2714" contributed his own daily skiing report for the state of Pennsylvania. On the newsgroup "rec.skiing.alpine", he had this to say:
"Greetings from the dry state of Pennsylvania, where the leaves turn colors and the precipitation never gets white. Weather Report: Snowmaking will start in two months."
Sadly, if last year is any lesson, he may be right.
There are no reader comments on this article yet.