It's a good thing ski conditions in the Mid-Atlantic are as good as they are right now. Otherwise, it would be difficult to find the motivation to ski locally after spending a week at Winter Park, one of the largest ski resorts in Colorado.
Winter Park offers an expansive 2,886 acres of skiable terrain. Owned by the city of Denver, operating profits are fed directly back into the resort. Twenty-two lifts, including eight high-speed quads, are strategically placed throughout four interconnected mountains, including Winter Park mountain, Mary Jane, Vasquez Cirque, and Vasquez Ridge. Winter Park is in its 60th year of operation.
Winter Park is a non-pretentious, down-to-earth, family-oriented resort. You won't find the glitz and glamour of Aspen or the Disney-like atmosphere of resorts like Vail. What you will find is incredible skiing at an affordable price, and a resort that has a lot to offer in just about every area.
This detailed trip report includes a complete look at Winter Park. First up: getting to the resort.
Location and Transportation
Winter Park is located 67 miles northwest of Denver, making it the closest major ski resort to Denver. As a result, the resort is popular with locals, earning the motto "Colorado's Favorite." Although Winter Park is primarily a destination resort, many Coloradoans make the trek to Winter Park on weekends. As a result, expect lift and cafeteria lines to be longest on Saturdays and Sundays. By Monday, locals have gone back to work and lift lines disappear.
To reach Winter Park, fly into Denver International Airport (DIA). DIA replaces the older Stapleton Airport and has an interesting architecture, with the ceiling in the main terminal designed to mimic the peaks of the nearby Rocky Mountains. DIA is located far outside the city limits of Denver; the trip from DIA to Winter Park is 85 miles. Airplanes shuttle into three separate concourses; each concourse, as well as the main Jeppesen Terminal, are connected by an underground "people mover" subway system.
Local artwork is displayed throughout DIA, including the "Kinetic Air Light Curtain" by William Maxwell and Antonette Rosato, a grouping of propellers located along the wall of the subway tunnel. As a train passes by these propellers spin, reflecting light from blue fluorescent tubes and the train itself. Trains arriving at stations are accompanied by a series of musical door chimes modeled after songs such as "She'll be coming 'round the mountain."
Glitches in an automated baggage handling system delayed the opening of DIA a few years ago; thankfully, these glitches seem to be ironed out. As a bonus, the baggage claim areas include a separate conveyer belt designed specifically for skis.
Upon arrival at DIA, there are several options for getting to Winter Park. Rental cars are available at DIA from all major rental car companies. We chose to take the Home James Shuttle (800-359-7535), which makes regular trips between DIA and Winter Park at a rate of $37 each way or $74 round trip. The Shuttle dropped us off at the door of our condo, and the driver offered interesting anecdotes on the trip up to Winter Park. The third option for getting to Winter Park is the most unique: via train. Amtrak's Zephyr Express services the town of Winter Park daily. Alternatively, each Saturday and Sunday at 7:15 a.m., the Ski Train departs Denver's Union Station, making a stop directly on the ski slopes of Winter Park.
Within Winter Park and the nearby town of Fraser, a free local shuttle named "The Lift" ferries skiers between the slopes, condos, and shopping areas. It may be necessary to switch buses to get to your final destination. The free "Smart Shuttle" runs on Friday and Saturday nights between 10:30 p.m. and 2:00 a.m., taking passengers from local restaurants and bars right to their doorstep. Some hotels and condos also run their own shuttles. For example, we stayed at the Iron Horse Resort (970-726-8851), which runs its own free shuttle throughout the town. With the transportation options available, it seems unnecessary to rent a car unless you plan on visiting other areas near Winter Park. There's a good chance roads will have some snowpack, so if you do rent a car, you might consider getting four wheel drive.
Unlike other resorts in Colorado, Winter Park does not include a built-up base area. The main ski area, containing a handful of restaurants and retail shops, is two miles from downtown Winter Park, which contains more extensive food and shopping options. The base of Mary Jane mountain also includes restaurants. The new Zephyr Mountain Lodge is currently opening in stages at the base of the main ski area, providing ski-in, ski-out lodging as well as additional shops and restaurants. The town of Fraser is a short hop down Highway 40, and is home to a Safeway supermarket, a popular destination for condo dwellers.
Lodging
There are numerous lodging options available at Winter Park, from traditional condominiums to European-style lodges, mountain inns, hotels, and bed and breakfasts. Prior to the opening of the new Zephyr Mountain Lodge, the Iron Horse Resort (970-726-8851) offered the only slopeside lodging, although a free shuttle provides transportation to the slopes from popular lodging spots. We stayed at the Iron Horse, which has condos ranging from studios to 2-bedrooms. Each condo includes a Murphy fold-down queen bed and queen sofa bed, in addition to any beds within bedrooms. So, a studio can comfortably hold two adults. A 1-bedroom condo ran $199 per night; prices are higher later in the season. (Be sure to ask for the 15% AAA discount.) Each condo has a fully-equipped kitchen, and facilities at the Iron Horse include a heated indoor/outdoor swimming pool, hot tubs, and an on-site ski shop, great for getting rentals or storing your skis overnight. Iron Horse also operates a free shuttle that will take you wherever you want to go within Winter Park or Fraser.
Winter Park Central Reservations (800-729-5813) is the central booking agency for the resort, handling reservations for lodging and also air and rail tickets, rental cars, airport transfers, lift tickets, lessons, equipment rentals, and more.
Adjusting to the Altitude
The base of Winter Park is located at 9,000 feet, so if you're arriving from sea level, plan on feeling effects of the high altitude for the first couple days. These effects can range from mild headaches and shortness of breath to less common but more serious conditions, requiring medical attention or moving to a lower elevation. One popular option is to spend the first night in Denver before heading to the slopes; that will give you a chance to ease into the high elevation. If you head straight to the resort, I would recommend taking it easy the first day and waiting until the second day to ski or board. To combat the effects of elevation, drink plenty of water while avoiding excessive alcohol or beverages with caffeine, which can actually cause dehydration. Taking an aspirin each night can also help.
Colorado is also very dry, particularly in the winter. You might see if your condo has a humidifier available. If not, I've found that placing a pan of water near a heater can help, or simply running a hot shower for a few minutes. And again, drinking plenty of water (before you're thirsty) helps prevent dehydration.
Snow Conditions
Once you arrive at Winter Park, you will immediately appreciate the region's beauty. Winter Park is set into the Vasquez Mountains of the Arapaho National Forest, framed by the Continental Divide. We picked an excellent time to visit Winter Park; the resort received several dumps of snow in the week prior to our arrival, but each day of our trip began with blue sky and bright sunshine.
About that bright sunshine: be sure to wear plenty of suntan lotion, the higher the SPF, the better. The high elevation, bright sun, and white snow cover are a triple-whammy that will result in a not-so-healthy sunburn if you're not careful.
Colorado resorts suffered from a weak start to the season, with a lack of natural snow and uncertainty over Y2K. The month of January has been redeeming in terms of fresh powder. To date, Winter Park has received 183 inches of snow this season, with over 7 feet falling in January. Base depth currently ranges from 50 inches at mid-mountain to 56 inches at the summit.
Temperatures early in the trip were chilly, with the thermometer registering below zero as the lifts started running. Temperatures gradually warmed throughout the week. The dry air of Colorado takes the bite out of the cold, and wind was only a factor on one day of the trip. Proper layering (starting with thermal underwear) is key to a comfortable day on the slopes, with occasional stops at lodges or warming huts located throughout the resort when necessary.
Snow conditions ranged from phenomenal early in the week to excellent later in the week. (Locals might refer to the conditions as "not bad," but they probably haven't skied in the Mid-Atlantic the past several years.) On the heels of several snowstorms, cold temperatures early in the week kept the snow in pristine shape and there was plenty of untracked, fluffy powder in the trees. As the week progressed and temperatures rose, the snow began to soften somewhat during the day, freezing at night. This gave untracked powder a slightly crunchy surface by the end of the week and resulted in hard pack conditions on some slopes, although it remained easy to carve on all slopes.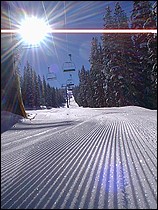 The snow is light, dry, and fluffy - perfect Rocky Mountain snow that squeaks underneath your feet as you walk on it. Many trails at Winter Park are perfectly manicured each night by a fleet of snow cats, while others are left to bump out. Particularly early in the week, the snow was absolutely forgiving: hesitatingly steep slopes that would be nearly impossible with the frozen granular conditions of the east became trivial to carve down.
Trails and Terrain
Winter Park Resort consists of four main mountains: Winter Park mountain, with a vertical drop of 1,700 feet; Mary Jane, topped off by Parsenn Bowl, giving a vertical of 2,610 feet; Vasquez Ridge, with a vertical of 1,214 feet; and Vasquez Cirque, with a vertical drop of 1,500 feet. This gives Winter Park a combined vertical of 3,060 feet. Starting at the top of Parsenn Bowl and ending at the base area of Winter Park, you can make a 5.1 mile run. All said, there are 134 designated trails at Winter Park, but those trails make up only a fraction of the total skiable terrain. There are plenty of trails for skiers and boarders of all ability levels. 9% of terrain is rated beginner; 21% intermediate; 13% advanced, 54% most difficult; and 3% expert.
Winter Park mountain has plenty of wide, well-groomed runs, including the popular Cranmer and Lower Hughes. A terrain park and halfpipe are also available for snowboarders or daring skiers. The Discovery area is ideal for beginners, separated by a fence and serviced by its own, unintimidating lift. Most skiers and boarders begin their day on the Zephyr Express high-speed quad, rising up to an elevation of 10,700 feet. On weekends, the line for Zephyr Express can grow quite long, but it moves quickly. By Monday, lift lines of a few (or even no) people were the norm even at heavily traveled lifts such as the Zephyr Express.
Mary Jane mountain goes by the motto "no pain, no Jane," and contains enough challenges to keep even the most expert skier satisfied. Located to the left of Winter Park mountain, Mary Jane is particularly well known for its bumps, but intermediates will also find plenty of groomed cruisers. Above Mary Jane lies Parsenn Bowl, a wide-open, above-treeline bowl peaking at 12,060 feet and reminiscent of the Back Bowls of Vail. The Timberline double lift climbs up Parsenn, making for a cold, slow ride in windy conditions. The Timberline lift can become quite crowded on weekends, but as with other lifts, lift lines are usually nonexistent during midweek. This above-treeline lift is prone to closures during extremely windy conditions, and did close one afternoon during our trip due to heavy winds. Also note that loose powder on the exposed Parsenn Bowl can be blown away, leaving behind hard pack (or, in really windy conditions, bare rock!)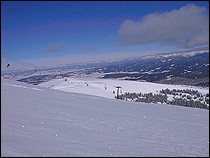 Vasquez Ridge is located to the right of Winter Park mountain. It is the least populated area of Winter Park, with lots of great intermediates that receive plenty of afternoon sunshine. Even on weekends, you're unlikely to find crowds at Vasquez Ridge. The bottom portion of Vasquez Ridge contains some flats that snowboarders will not enjoy; it's wise to pick up your speed at the bottom of runs to make it to the Pioneer Express lift, which travels from the bottom to top of Vasquez Ridge. Some bump runs at the top of Vasquez Ridge are a good option for intermediates looking for a new challenge.
Finally, the Vasquez Cirque, accessible off the backside of Parsenn Bowl, offers 600 acres of backcountry skiing specifically for expert skiers. Intermediates or low experts need not apply. Vasquez Cirque offers extreme skiing opportunities within the boundaries of the ski resort. Vasquez Cirque was the only section of the resort that had not yet opened; 120 of the 134 total trails at Winter Park are currently open.
With 2,886 acres of skiable terrain, there is a wealth of terrain suitable for every level of skier or boarder. Bumps, groomed cruisers, tree skiing: Winter Park has it all.
Favorite Jaunts
After six days of skiing, there's still some trails I didn't have a chance to explore. But I did find some trails that kept me coming back again and again.
At the top of the list and a must after a snow storm: take the Timberline lift to the top of Parsenn Bowl. After taking in the view, carve down the right side of the bowl and dip into the trees. You'll be entering one of the best kept secrets of Winter Park: some incredible glade skiing from the top of Mary Jane to the bottom of the Sunny Side lift. Shortly after a snow storm, skiers and boarders will make hundreds of paths winding through the evergreens; connect these paths to make your own route or carve through the powder to start a new path. The pitch isn't too steep and the trees are thin enough to make this an option for upper intermediates and above, but don't head into the trees alone.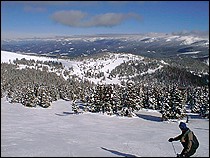 After bouncing around in the trees, you'll want to stretch the legs on some intermediate cruisers. The Mary Jane trail is a long, wide, fairly steep intermediate that starts near the top of Winter Park mountain and ends at the base of Mary Jane. Note that flat lighting conditions can exist on this trail by late afternoon, and powder can be scraped away by a day of skiers and boarders.
Starting at the top of Winter Park mountain and heading straight down to the base, Hughes is a blue/black that is great for cruising. It is steep enough to give intermediates pause, but conditions were always amenable to carving.
Cranmer is a very wide intermediate that is perfect for practicing turns. Allan Phipps, located next to Cranmer, has less of a pitch.
You can also spend a lot of time skiing off of the High Lonesome Express lift. Numerous green trails snake their way down from the top of Mary Jane to the bottom of High Lonesome, including Switchyard, Hobo Alley, and Lonesome Whistle; for extra fun, make a side excursion into the trees as you make your way down these trails.
Take advantage of great afternoon sunshine over at Vasquez Ridge. We enjoyed pretending we knew how to ski bumps on black diamonds Aces and Eights and the Pioneer Express trail. The bumps were less imposing than the famed bumps of Mary Jane, and there were less crowds to watch our failed attempts to ski the bumps with grace.
There's lots of fun intermediate and beginner cruisers off of the Olympia Express lift. For more of a challenge, ski off the Summit Express lift at Mary Jane and head down just to the left of Sidetrack, where you'll find a short section of trees and bumps. You can then head down Sleeper, a blue/black cruiser that drops you back at the bottom of the Summit Express lift after curving around Tie Siding.
Although Parsenn Bowl has some bumped steeps that will appeal to experts, the great view isn't off-limit to intermediates or even upper beginners. Forget-me-not is an intermediate, groomed section of Parsenn Bowl just to the right as you get off the Timberline lift. For an easier path down, take a path along the top of Parsenn Bowl to the right as you come off the chairlift. Primrose takes a gentle path along the top of Parsenn, offering great views all along the way and ending up at the top of Switchyard.
There are some unavoidable flats at Winter Park; you can try to keep your speed up to get through them if you know about them in advance. Flats at the bottom of Vasquez Ridge are inescapable and might frustrate advanced skiers and boarders. Beginner trail Wagon Train is the entry point to Vasquez Ridge, and is essentially flat. Fresh snow on this trail would result in a cross-country, highly aerobic experience.
If you want to head to trails such as Jabberwocky from the top of the Zephyr Express lift, you'll also have to traverse some flats.
Corona Way, an intermediate that wraps around the left side of Mary Jane, also has some flats to deal with. Keep your speed up but keep an eye out for skiers dropping onto Corona Way from the numerous black diamonds at Mary Jane.
If you want to get from the bottom of Mary Jane to the base area of Winter Park, the best option is to take the Mary Jane trail and then cut to the left on Corridor once you reach the base of Mary Jane. Other trails, such as Corona Way, end up too far to one side of the Mary Jane base, and you'll have to deal with climbing up a short hill.
Comfortable, fast high-speed quads are spread throughout the resort. Summit Express covers Mary Jane mountain, although you'll find yourself spending a lot of time on the Sunnyside triple if you like the trees at the base of Parsenn. Eskimo Express is a new high-speed quad this season; in the words of a ski instructor, the ride is now too short to hold a discussion. There are also a couple "magic carpets" for beginning children and adults.
Filling the stomach
After skiing or boarding all day, you will get hungry, and there's lots of dining options at or near Winter Park.
At the base of Winter Park mountain is the West Portal Food Court, serving an all-you-can-eat breakfast buffet from 8-10 a.m. daily. For lunch, you'll find the standard burger and fries, a salad bar, a pasta bar, a deli, and more. Expect to spend $10 per person on lunch. As you munch on your lunch, enjoy watching skiers and boarders carve down the slopes. The West Portal Food Court can be a zoo on weekends; on Saturday, we had trouble finding an empty seat, but plenty of prime seats were available midweek. Another option at the Winter Park base is the Derailer Bar, offering pizza, nachos, and the typical bar fare.
The Club Car at the base of Mary Jane mountain is a great lunch option. The sit-down, indoor restaurant has a creative menu. You'll pay a couple dollars more but it's worth it for the upscale menu and a chance to rest the legs in a quieter setting. A Food Court is also located at the base of Mary Jane.
You don't have to make a trip to the base to grab lunch; several spots on the mountain beckon hungry skiers. The Lodge at Sunspot is a beautiful mountaintop lodge at the top of Winter Park mountain, home to two restaurants. The Provisioner has a grill, homemade soups and salads, a potato bar, carving station and in-house bakery, but plan on spending $15 for a solid lunch, which you can eat at tables inside the lodge or at picnic tables outside the lodge. A full-service Dining Room offers pastas, salads, sandwiches, and a kid's menu. On Thursday, Friday, and Saturday nights, a number of chairs on the Zephyr Express high-speed quad are replaced with gondolas, shuttling visitors to the Sunspot for an intimate, five-course dining experience. New this year, the resort is also offering a "Sunspot Sleigh Ride BBQ," including a Zephyr Express gondola ride, BBQ dinner, and sleigh ride on Thursday, Friday, and Saturday nights.
The Lunch Rock Café is located at the top of Mary Jane mountain, with a menu including stew in a bread bowl or hot dogs. The BBQ chicken sandwich is delicious and reasonably priced, at about $5. You can save money on drinks by using free cups and a drinking fountain.
The Sundance Café at the top of Vasquez Ridge was closed during our visit, but did have a working water fountain and plenty of free cups. Skiers and boarders could sit inside the facility to warm up and eat a brown bag lunch.
If you're staying in a condo, be sure to make a trip to the Safeway in the town of Fraser, a couple miles down the road. The Safeway has everything you could want and unlike grocery stores at most ski resorts, the prices aren't elevated.
Between the town of Winter Park and Fraser, there are a lot of options for eating and aprés ski. The Kitchen and The Shed offer Mexican-style entrees, while Gasthaus Eichler specializes in German dishes such as Jagersnitzel, spaetzle, and rouladen. Fontenot's has zesty New Orleans-style Cajun meals, and tender ribs can be found at Smokin' Moe's Rib House and Saloon. The Divide Grill specializes in Colorado meats, pasta, and fish.
Local watering holes include Deno's Mountain Bistro, The Winter Park Pub, and the Crooked Creek Saloon. There are also several fast food joints, including Arby's, McDonalds, Pizza Hut, KFC, Taco Bell, and Subway.
Other Activities and Loose Ends
Skiing and snowboarding are two activities that are likely to fill your time at Winter Park, but there's plenty of other things to do. The Winter Park Tour Center offers daytime and nighttime snowmobile rides, snowshoe tours, and scenic snowcat rides. We went on a daytime snowmobile ride and it was a blast. (Look for an article on snowmobiling in the near future.)
Other options include ice skating, sleigh rides, cross-country skiing, dog sled rides, and the Fraser Tubing Hill, which is open on weekends for some nighttime tubing fun.
To brush up your skills, you might take advantage of Winter Park's excellent Skier & Rider Improvement Center. Several $20-37, 2.5-hour clinics are offered, including Parallel Breakthrough and Intro to Bumps. The Snow Blade Clinic introduces skiers to Salomon Snow Blades, another option for carving down the mountain. When Vasquez Cirque is open, Cirque Adventure Tours offer three hour guided tours through the resort's most challenging terrain.
Winter Park is also home to the National Sports Center for the Disabled, the world's largest adaptive ski program.
A number of Children's Center Programs cater to the young fry, from a non-ski Child Care program through skiing programs for varying age levels.
If you need equipment rentals, you can get them at the base area or at ski shops located throughout Winter Park and Fraser.
Wrap Up
Winter Park showcases all the great things about Colorado skiing: incredible conditions, terrain, and views. And it does this at an affordable price, with proceeds going directly into improvements at the resort. Winter Park's reputation as "Colorado's Favorite" reflects its popularity with locals, but after visiting Winter Park, it's likely to be one of your favorite resorts, too.
There are no reader comments on this article yet.