Quick: which eastern ski resort has more terrain open right now than any resort south of northern New England?
The answer? West Virginia's Snowshoe Mountain Resort, currently offering skiing and boarding on 55 (out of 56) slopes.
That shouldn't come as a surprise; Snowshoe's location at an elevation of 4,848 feet (higher than any resort in New England) ensures cold temperatures and plenty of snow. In fact, the Pocahontas County resort often receives up to 200 inches of snow each season, while taking advantage of every opportunity to make snow, opening slopes early in the season and keeping great conditions well into March.
The promise of skiing on 55 trails (even after some brief warm spells in the Mid-Atlantic) was enough reason for my sister, brother-in-law, and myself to make a trip to Snowshoe - an "inverted" resort where the lodging is located on the top of the mountain. This article provides a "midway" trip report. We arrived at Snowshoe Sunday night and plan to stay through Wednesday.
Since purchasing Snowshoe several years ago, Canada-based Intrawest Corporation has invested $72 million in the resort, adding new trails and high-speed lifts, expanding snowmaking capacity, and beginning an aggressive effort to develop a world-class mountaintop village. Keeping up with the improvements and new programs is challenging, and the enhancements aren't limited to the winter season alone. This past summer, Snowshoe invested nearly half a million dollars in the development of a new Outdoor Adventure Program, supplementing its already popular mountain biking programs with activities such as a climbing wall and BMX track.
However, our thoughts were centered on snow-based activities as we headed to the resort. From the Baltimore area, Snowshoe is a scenic (but lengthy) 6.5 hour drive. The trip begins on I-66 headed west, followed by I-81 south, followed by a jaunt through back roads of West Virginia. If traveling at dawn or dusk, be alert for deer on the roads, and watch out for sudden "speed zones" through small towns - out-of-state cars with ski racks are undoubtedly a good catch for the local sheriff.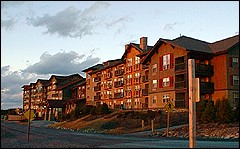 We arrived Sunday night and checked into the brand new Rimfire Lodge, which opened this past summer. Rimfire Lodge offers great accommodations with some nice amenities, such as an underground, heated parking garage and gas fireplaces. Rimfire will soon be joined by other buildings as Intrawest builds its new mountaintop village, including the Highland House, currently under construction. The slopes are a short walk from Rimfire, and several dining options are within walking distance (including the on-site Eli's Tavern).
After grabbing a late night snack at Auntie Pasta's, we settled in for the night.
Monday morning, a glance out the window provided a compelling reason to sleep in: Snowshoe was draped by clouds and a steady drizzle fell on the ground. It looked like a Gore-Tex day, but the snow report called for the rain to end by mid-morning. We had a late breakfast at Aunti Pasta's (the French Toast and omelettes are particularly good), and by the time breakfast was over, the rain had stopped and the clouds were beginning to clear. As we hit the slopes, the sun was poking through the clouds and blue patches of sky began to expand.
We were fearful that the rain would have turned the slopes to slush, but to our surprise the surface conditions were very good and, as an added bonus, any weekend crowds had left and we often had the slopes to ourselves. (On Monday, we never waited in a lift line.) If you can make it to Snowshoe midweek, that's a great time to go.
We spent a couple hours at the Snowshoe area before crossing the road and heading over to the Western Territory, where you'll find Cupp Run and Shay's Revenge (the latter a new addition as of last season), both offering a 1,500 foot vertical and a challenging mile-and-a-half descent. Conditions on both trails were great; any thin areas were well marked and easily avoidable. The Western Territory skis very much like a western resort, and last summer's installation of the Western Express high-speed quad means you will probably spend more time skiing down the slope than riding the lift back up.
Arbuckle's Cabin, located at the base of Cupp Run and Shay's Revenge, provides a great place to relax and warm up. Seating is available on a large deck (with a view of skiers as they swoop down the bottom of Cupp) or inside the rustic cabin, which is heated by a wood-burning stove. Arbuckle's features stew, barbecue sandwiches, and beverages to fill your stomach and quench your thirst.
After wearing out our legs in the Western Territory, we headed back to the main Snowshoe area and finished the afternoon with a few runs, admiring the puffy white clouds dotting the blue sky - quite an improvement from the rainy start to the day.
Next, it was time for dinner, and we knew just where to go. The brand new Eli's Tavern, located in Rimfire Lodge, is a nicely appointed restaurant with some great views to the West. Serving both lunch and dinner, Eli's has a selection of casual contemporary cuisine with an emphasis on regional flavors. A complete review of Eli's will follow in the next couple of days. Arrive around 5:30 p.m. to avoid crowds, and don't forget dessert: the Chocolcate Decadence and warm Apple Crisp are both good choices.
After dinner, we were content to retire to our room and call it an early night, although we hope to make it to the Silver Creek area Tuesday night for some nighttime snow tubing (and skiing, if we have energy after spending a day on the slopes). One thing is certain: there's plenty to do at Snowshoe from dawn to dusk.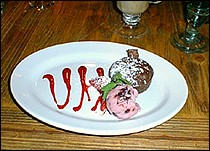 In fact, that may be one of the nicest things about Snowshoe. The resort is isolated, offering a scenic retreat to the mountains of West Virginia to "get away from it all." At the same time, you'll find a mini-city on top of Snowshoe mountain, with over a dozen restaurants to try out, night clubs and pubs, winter activities ranging from skiing and boarding to snowmobiling and snowshoeing, and lots of shops. There's always something to do, but it's also perfectly acceptable to spend a quiet night in front of a fire reading a book. Snowshoe is a place to relax and recharge, and thanks to continued support from Intrawest, it's a fair bet that each visit will find new activities and enhancements to discover.
As our trip proceeds, we're continually impressed by the improvements made to Snowshoe. I visited the resort last year and have seen Rimfire Lodge go from framing to a finished product. My sister had not been to Snowshoe for many years, and finds that Snowshoe is a completely different resort. Check back in a couple days for additional reports as our trip winds up.
There are no reader comments on this article yet.