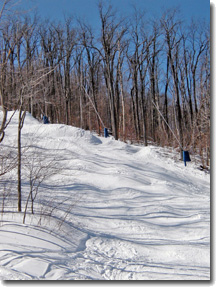 I traveled to Timberline over the weekend for two final days of skiing this season. Saturday turned out to be perfect: a genuine West Virginia blue bird day. An inch of new snow overnight created mainly packed powder and machine groomed conditions. Relatively cool temperatures in the 30's allowed the groom to hold for much of the morning, giving us ample opportunities to make tracks on Thunderstruck, Almost Heaven, and White Lightning. It was a day that even my friend Fabrizio D 'Aloisio of the St. Moritz tourist board would have loved - a carver's paradise.
The highlight of the day, however, was making two runs on Off the Wall with a skier named Marty from Elkins, West Virginia. By three in the afternoon, the moguls were just soft enough to make the trail accessible to skiers like my wife who generally shy away from Timberline's double black terrain. As Marty remarked, "we only had to sidestep in a few places." The next day, more spring-like temperatures in the 50's softened the bumps even more: I nearly skied the trail non-stop on 188 cm skis with no sidestepping. Only the big drop near the end of the trail convinced me to let caution prevail and rest a few moments before making my last turns down the run.
My only complaint was enduring long rides on Timberline's old lifts. The Silver Queen upgrade from a double to a triple chair has actually slowed the lift down, especially when it is hauling skiers up the mountain at capacity. The new triple chairs are also smaller than standard triple chairs, causing people to bang their heads when the safety bar is being closed or worse yet, slip off the chair. I have personally witnessed two people fall off that lift in the last two weekends I have skied at the resort. Chucky, the ever-alert lift attendant at Silver Queen, always manages to stop the lift just in time and pick up the bodies, but his nerves and patience must be wearing thin. Even my ever-tolerant wife is beginning to grumble about the situation. "If local resorts in Slovakia," where she grew up, "are putting up high-speed detachables, why can't Timberline?"
Money, or rather lack thereof, has always been a limiting factor at Timberline, but a robust real estate market has recently given the resort a windfall in the form of new lot sales on the western side of the mountain. It is my hope that the ownership of Timberline will invest some of these profits back into the mountain in the form of a new lift. Only through such action will it finally begin to stem the decline in skier visits, and once again emerge as the: "the Ski Capital of the Mid-Atlantic."
Good snow and great natural terrain have always been Timberline's strong suits, but another advantage will soon be access. On the way up, I drove the new 14-mile stretch of Corridor H between Baker and Moorfield, and could not help getting excited about the future. At one point, a sign said, "Davis: 43 miles," and as if to prove the point, Darina pointed out the smokestacks of the Mount Storm power plant in the distance. Using this road combined with the Dulles Toll Road shaved 15 minutes off my drive. When an additional 7 miles between Baker and Wardensville opens later this year, I'll save even more time. After that, the next push appears to be from Moorfield to Forman.
The blue skies, Deer Valley style grooming, and perfect snow on Saturday made me recall my earlier visits in the season to St. Moritz, Ischgl, and Sölden in Europe. Overall, I skied 25 days this year, and I enjoyed each one in its own way. This past Saturday was my favorite day at Timberline, where I skied 14 days this season. My favorite run had to be my last run in Europe on a black trail at Lagalb in St. Moritz but I also enjoyed my first run of the season on Seven Springs' North Face Slope. The more I ski, the more I enjoy just being outside in the winter. To me it's just as thrilling to ski Seven Springs in early December as it is to ski the Madloch trail above Lech after a big storm. Skiing is more than big mountains and epic snow; it's what you make of it. It's the smile on Marty's face after skiing Off the Wall on a sunny day; it's seeing two teenage girls burst into laughter after they've wiped out trying to disembark from the Thunderdraft chairlift; and it's watching Fabrizio carve his way down Piz Nair like a Baryshnikov on skis. Is there more to life than sitting on a chairlift? I doubt it. Skiing is believing!
Photos provided by John Sherwood.
I also skied the valley this weekend,but at canaan.I & my wife have skied up the east coast & out west & it has been 2 years since we had been in the valley.I echo your sentiments,seeing the best the us has to offer has not dampened my love for the area....fix those damb lifts!!PS. I must have seen a million deer this weekend & stepped on piles of droppings...Is this west va's master plan for raising the elevation there?
John,

Nice article and pictures. Is your first picture the bottom of Off the Wall? Maybe the Drop? If so, the difficulty of slopes never seems to translate well on film or video. (But with my limited knowledge of T-Line it could be the bottom of the bunny slope for all I know.)

I still haven't gotten a digital camera; ski buying came first this year. Hopefully I'll get one by next ski season. The pictures add a lot to the articles; looks like it was beautiful weather last weekend.
Author: Sherwood

Subject: Picture of OTW

Comments: John:

I try to take most of my pictures early in the morning on sunny days when the light is best. Unfortunately, that is also a time when trails like Off The Wall are extremely hard, and unpleasant to ski.

I took this picture of OTW at about 1000 near the confluence of OTW and Salamander. I didn't ski OTW until 1500! By that point in the day, I had ditched my camera. There's no sense in skiing double blacks with a camera--that's a good way to ruin your camera or a rib. I also do not like to stop and take pictures on OTW because there's not much room on that slope--anyone stopped is just another obstacle for skiers above them. Also, the easiest lines right now are on the sides of the slope near the woods--just the place I would stop for a picture.
Nice comments John! I think Mother Nature smiled on me, looks like there will be several inches of freshies in the valley next monday and tuesday!
Jarrett:

All eyes will be on this web site tomorrow morning:

http://www.whitegrass.com/report.html

Chip's daily report is the best way to figure out exactly how much snow the valley received. Sadly, it looks like it has been mostly rain....
I too skiied everything at timberline last weekend and will do so until they shut the lifts off on the 4th. I complain as much as anyone about the lifts and the upgraded double and a half. However, if you ski the drop and off the wall ALL day, the lift ride does give your quads a chance to rest and recoop. Getting 20k vertical on those runs does tire one out at 50.
John, thanks for the link. I forgot about the Whitegrass reports!