Condition Update: Latest Resort Opening Details
4
It's opening day for several resorts in the Mid-Atlantic, including West Virginia's Snowshoe Mountain Resort, Maryland's Wisp Resort, and southern Pennsylvania's Seven Springs Resort. And what an opening day it is. After a long stretch of sub-freezing temperatures, perfect for snowmaking, Mother Nature has added some accumulation of her own, to the tune of 6-8 inches at mountain resorts stretching from Hidden Valley down to Snowshoe. This translates into the best opening day conditions in recent memory, and will allow many other resorts in the region to grab pre-December opening dates.
Several resorts close to D.C. are shooting for an opening date this Friday or shortly thereafter, including Liberty Mountain Resort, Ski Roundtop, and Whitetail. All three resorts are owned by Snow Time and have begun snowmaking operations. Eric Flynn, President of the Ski Liberty Operating Corp and Whitetail Resort, states that they are hoping to open at least one, and possibly all three resorts this Friday, November 24.
"No one wants to open more than we do, and we will push as hard as we can!" Flynn stated. Flynn noted that even if only one resort opens on Friday, pass and card holders at any of the three resorts will be able to receive privileges at the open resort.
Western Maryland's Wisp Resort opens today at 8:30 a.m. 3-5 trails should be open, including Bellyflop, Muskrat, Grouse Way, Boulder, and Squirrel Cage. Average base depth is 18 to 30 inches with packed powder conditions. Possum, Wisp Trail, and Chipmunk openings should follow shortly, as snowmaking continues. Hours of operation are Wednesday 8:30 a.m. to 9 p.m.; Thursday 8:30 a.m. to 4:30 p.m.; Friday and Saturday 8:30 a.m. to 9 p.m.; and Sunday 8:30 a.m. to 4:30 p.m. Lift tickets will be $20 Wednesday and $35 (adult) / $25 (youth) Thursday through Sunday.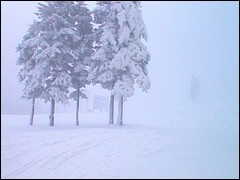 West Virginia's Snowshoe Mountain Resort also opens today, with a 24 to 36 inch base on 13 open trails and fresh snowfall covering the trees. Trails ready for opening day include Gandy Dancer, Spruce Glades, Skidder, Cross Cut, Yew Pine, Powder Monkey, Tail Tree, Whiffle Tree, and Gangway. Temperatures will be chilly at the 4,800-foot high resort, with highs around 12-14 degrees and lows in the single digits. The terrain park will be opening late Thursday or early Friday with limited features. Snowshoe has been so swamped with phone calls to its new toll-free reservations line that the resort is recommending that people make reservations on-line if they have difficulty getting through.
Seven Springs starts running the lifts today and expects to have 7-9 slopes and trails open. Lift ticket prices on opening day are $25 for adults and $20 for children age 11 and under. The resort is open from 9 a.m. to 5 p.m. today and tomorrow, from 9 a.m. to 10 p.m. Friday and Saturday, and 9 a.m. to 6 p.m. on Sunday. After November 26, the resort will be open for the day session mid-week.
In the Poconos, Jack Frost expects to open on Friday, Nov. 24. Shawnee Mountain is also shooting for a Nov. 24 opening date.
Opening details included in this article are subject to change; always contact a resort directly before making a trip, particularly in early season.
I thought I'd better check DCSKI today. These cold morning temps in DC mean serious snowmaking conditions for ski areas. Would like to know soonest when Ski Liberty/Roundtop/Whitetail open and what their lift prices will be for early season.
As soon as Ski Liberty makes a decision for opening, it will be on their website - www.skiliberty.com . Also, there are 2 e-mail newsletters - an opening announcement and daily snow report which will send this info.
See that on Wintergreen's website they have moved their opening day up from next weekend (Dec. 2/3) to this Saturday (Nov. 25). Granted it will probably be limited terrain, at least they are not sitting around and letting the cold weather go for not. Also, if the weather holds maybe they can get some more advanced terrain open by mid December and make it worth a trip up there before Christmas (they claim they increased their snowmaking capacity in the highlands by 50% - time to put that investment to use!!!)
Unofficial/unsanctioned reports have Liberty opening at 9am Friday after Thanksgiving. Limited terrain planned (i.e., no backside), so lift ticket prices SHOULD be lower. Rumors are that Sneaky Pete, Lower half of Dipsy, and the snowboard park are scheduled to open first. Might want to call the area before going up.