On Saturday evening, I decided to drive up to Whitetail for my first trip of the season. Whitetail reopened on Friday morning after a week of solid snowmaking, and had a run open from the top of the Whitetail Express high-speed quad, along with all beginner trails. The snowboarder terrain park was open with a few hits, although snowmaking had not begun on the halfpipe.
I had some concerns that conditions might be icy, as they often are at night, but I was hopeful that the recent cold daytime temperatures had prevented the "freeze-thaw" cycle that is often responsible for icy nighttime conditions.
The drive up to Whitetail was scenic, with the sun setting along the way, producing a beautiful sunset. I-70 seems to be more crowded than it was several years ago, but the traffic wasn't too bad.
It was dark by the time I arrived at Clear Spring. The short drive from I-70 to the base of Whitetail is always a pleasure, with some up-and-down "roller coaster" hills and the reassuring sight of Whitetail's lit slopes in the distance as you turn a corner past Clear Spring. Be certain not to drive above the speed limit, though - doing so is dangerous and a nuisance to the residents, and the local police are cracking down on speeders.
Upon arriving at Whitetail, I found a great parking spot close to the slopes, undoubtedly produced moments before by skiers departing from a long day of skiing. Only the close-in parking spots were full; there were probably no more than several hundred skiers and boarders at Whitetail Saturday night, keeping the handful of open slopes uncrowded and lift lines nonexistent, except for the double chair that serves beginner terrain, which appeared to have a line a few people deep at times. The lack of crowds made Whitetail a quiet and serene place.
One line was open at the ticket counter as I arrived, resulting in a few minute wait. Regular season pricing is in effect.
For my first run, and skied over to the Whitetail Express and headed to the top of the mountain for the first of many runs. After getting to the top and adjusting my boots (which always seem to feel like vises at first), I cautiously began my first turns down the top of Upper Angel Drop, wondering how much my skills had rusted over the past 9 months, and trying to adjust to the snow conditions. Thankfully, like riding a bike, skiing is a skill you don't forget once you learn it; and, to my pleasant surprise, the snow conditions were great - truly machine-made, packed powder with no evidence of having melted and re-froze during the day.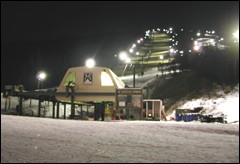 This made skiing a real pleasure. There were pockets of hard pack that resulted in some skidding, but there was plenty of loose, dry powder in enough areas to quiet any complaints. Snowmaking was not in progress, although it sounded like compressors firing up in preparation for snowmaking about the time I left, around 8 p.m. It was too dark to see trails over on the expert side, but Whitetail has indicated that snowmaking has begun on Bold Decision, Drop In, and Ridge Runner. The next couple days might be too warm for snowmaking (with a possibility of rain), but things could get better - or at least more interesting - later in the week, as temperatures drop and the possibility of frozen precipitation (in one form or anothe) arises.
My main complaint, and a fairly serious one, relates to lighting on the intermediate slopes. Where Upper Angel Drop splits into Lower Angel Drop and Homerun, there has always been poor lighting. This was made considerably worse last night, as the two lights that normally cover that area were burned out. This resulted in complete darkness for a section of the slope, and many skiers and boarders cautiously made their way through that part, unable to see what they were skiing on. I expect this problem will probably be fixed soon - hopefully today. In general, even with all lights working, I find there are a few "underlit" sections of slopes at Whitetail. Several years ago, Whitetail increase lighting on the slopes, so this is a problem the resort has tried to address.
Whitetail's investment in snowmaking improvements this summer was evident, and undoubtedly largely responsible for the great conditions on the open slopes. Lining slopes like Upper Angel Drop, Homerun, and Snow Park are new, tower-mounted snow fans - the big type that can really send out a lot of snow. With those puppies fired up, I imagine Whitetail can cover a lot of ground fast. These appeared to be targeted to the trails that usually open first and close last during the season - such as the beginner terrain served by the Easy Rider quad, and the Upper Angel Drop to Homerun top-to-bottom intermediate run that historically opens first. Guns were lined up along Limelight, which runs along the Whitetail Express but hasn't been open for several years - but snowmaking had not started there, and it's possible the guns were placed there temporarily and intended for Angel Drop, to the right past a patch of trees.
I noted several other changes at Whitetail, although I can't say for certain whether these were added this season or late last season. The lockers by the ski rental building are now in more of an enclosed area, with better lighting and better protection from the elements. I made one run off of the Easy Rider Quad, and noted that there is now a gate that forces skiers and boarders to go through four-at-a-time. The pitch was slightly uphill through this gate, and I struggled to get through it, nearly falling down (hopefully no one was looking!) It seemed a little pointless since there was no line, but I guess it helps things out when things are more crowded. Still, I don't like those gates very much and I doubt many skiers and boarders do.
One employee remarked to another that the day had been fairly quiet, even with the good conditions. They agreed this was nice, as it was giving the staff a chance to "learn the ropes" before the real crowds come.
Finally, Whitetail lived up to its name - literally - by producing one of those serene moments that doesn't happen too often. As I rode up the Whitetail Express, three whitetail deer ran onto Limelight below me, pausing for a second before they darted into the trees. This isn't the first time I have seen deer sharing the slopes with skiers at Whitetail, but it's always a rewarding sight.
There are no reader comments on this article yet.