My family and I were among the fortunate skiers and snowboarders on the slopes of West Virginia's Snowshoe Mountain Resort last weekend, March 10-11, 2001. We enjoyed one of those rare convergences of top-notch facilities, outrageous conditions, and good company: all the ingredients for a great vacation.
If you've never been to Snowshoe Mountain, or haven't been there in many years like myself, what Intrawest Corporation has wrought atop 4,848' Cheat Mountain will truly amaze.
Snowshoe receives nearly a half million skier/boarder visits per year and the resort includes enough condos, lodges and townhouses to accommodate roughly 10,000 at any given time. Guests have access to 17 eating establishments, about a dozen watering holes, a comedy club and a large nightclub. A state-of-the-art indoor waterpark is in the works for later this year. 57 ski trails and 14 lifts, including two high speed quad chairs, descend from the summit. I'm sure I've missed a few details, but you get the expansive picture. When you consider that all this development is perched at nearly 5,000 feet, the setting is incomparable in the mid-Atlantic region.
My wife Kathy and I began making plans for this trip about a month before. With four children and busy school and work schedules, we lack the spontaneity of a ski bum to head to the slopes for the best conditions on short notice. However, sometimes "snow happens."
Three days before our trip I heard the news that sent me into an extended pre-trip adrenaline rush. Snowshoe had received their largest snowfall of the season, 22 inches! By the time we made the 225 mile trek on Friday from our home in Northern Virginia we were too late for the untracked deep stuff, but for my group of mostly intermediates we got something even better all weekend: 40 degree temps, no wind, bright sun, blue skies and nothin' but packed powder everywhere!
Saturday was about as good as it gets. I stepped into my skis at the top of the Ball Hooter Express chair around 8:15 a.m. and hooked up with Blaine Daniel from the Snowshoe Mountain Communications Office. Blaine is a year-round sportsman, about a half dozen years out of college, who's figured a way to make a living while snowboarding all winter and kayaking all summer in the mountains of West Virginia. I got plenty of opportunity to observe Blaine's sweet shredding technique from behind as he led me down a quick blitz of Snowshoe's basin-side slopes, including Gandy Dancer, Spruce, Grab Hammer and others.
The "basin" contains the lion's share of Snowshoe's lifts and trails. This mostly intermediate terrain is in a high, natural bowl that probably catches more snow (reportedly an average of 180 inches per year) and holds it better than any piece of eastern geography this side of New England. The recent storm was a prime example of this special climate. While Snowshoe was getting bombed, many ski areas in North Carolina, Virginia and Pennsylvania got little if any snow.
Snowshoe was in absolute peak form this past weekend, while the season was winding down at many other areas in the region. Blaine mentioned that since the opening of all 57 trails well before Christmas, Snowshoe has not had a single closure due to inadequate snow cover. No wonder I saw a lot of smiling faces -; three straight months with "all terrain open" makes for a lot of contentment with locals and visitors.
Blaine showed me the way to Cupp Run and what Snowshoe calls their Western Territory. I wanted to see the full 1,500' vertical of Snowshoe, the most of any ski area south of New York. The last time I had skied Cupp Run (1983!) it was only open to mid-station.
We took a run together down Cupp's mostly unrelenting descent. Advanced and expert skiers can link a thigh-burning quantity of high speed GS turns on this trail. When we returned to the summit on the Western Express Quad Chair Blaine headed off to prepare for some aerial photography scheduled for later in the day. With heavy snow still resting on the pines and bright sunshine breaking out, it was the kind of day that presents abundant photo ops for next year's publicity brochures. He was hoping to catch a helicopter ride with the camera crew.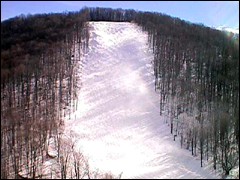 It was about 9:30 a.m. and I needed to get back to my family to start their ski day, but I couldn't leave the Western Territory without testing Shay's Revenge. Shay's was cut two years ago and parallels Cupp Run. Its lower portion represents Snowshoe's bona fides in the black diamond terrain department. I've been down every advanced level descent in Virginia and West Virginia (except the upper mountain at Winterplace). Lower Shay's is steeper and longer than any of them.
At the top of Lower Shay's I took a brief gut check next to Bill Shell, a friendly Snowshoe courtesy patrol member from Roanoke, Virginia. We took the slick headwall at roughly the same time. It had the only hard pack snow I saw in my weekend visit. Bill and I rode the express chair together afterwards. He makes the 2.5 hour drive from Roanoke most winter weekends and told me that Shay's normally more significant bumps had undergone a grooming in the last 24-48 hours. I had been spared Lower Shay's at its gnarliest.
By mid-morning I returned to my family at our two-bedroom accommodations at the Mountain Lodge. They were chomping at the bit to hit the slopes. We proceeded to partake in some of the best skiing we've ever had as a family. Everyone had a great time on the forgiving basin-side slopes, from my easy skiing wife to my helmeted little eight-year-old hotshot daughter.
Denise and Art Fort, close family friends from Arlington, Virginia, joined us on the slopes. They were staying at a nice efficiency at the Mountain Crest Condos over in the Northern Tract section of the ski area. We had no trouble making a rendezvous with them on the benign slopes served by the Powderidge chairlift. I was proud of my foresight in suggesting they join us on this trip. They are good, but not frequent skiers; to catch "blue sky and powder" ski conditions on their only outing of the year was quite a coup.
I got a big kick out of the variety of clientele at Snowshoe. DC and Baltimore area skiers and boarders dominate the ski areas in Virginia and Pennsylvania closer to my Northern Virginia home. Snowshoe draws from all over the Southeast. DC and Baltimore represent only about 20% of their market.
I rode up on a lift with an 11 year old boy from Tifton, Georgia, not far from the Florida state line. He said he made a 17 hour bus ride with a church group. I kidded him about whether he and his friends had been successfully praying for snow?
I took an early morning ride up a high speed quad with one very stoked snowboarder named Jeff from Greensboro, North Carolina. He couldn't understand why his buddies preferred sleep over snow.
Late on Saturday I rode up a beginner lift with a young lady from Lexington, Kentucky wearing a John Hopkins University Rugby jacket. It was her first time on skis. I told her in the nearly 35 years since my first time on skis I had seen few days finer than this one.
Sunday was another super ski day. At 8:30 a.m. my ten-year-old son Vince and I joined Joe Stevens and his pal Bobby for some cruising off the Ball Hooter express chair. Joe is the gregarious Director of Communications at Snowshoe Mountain. He's an old hand at the resort, having been employed at Snowshoe for almost a dozen years. Yet he had trouble containing his excitement about all the changes since the purchase of the complex by Intrawest 5 years ago.
Intrawest owns some of the largest resorts in North America including Whistler/Blackcomb and Tremblant, Canada; Mammoth Mountain in California, Copper Mountain in Colorado, and Stratton Mountain in Vermont. That strong corporate backing has resulted in an infusion of $82 million dollars over the last 4 years at Snowshoe, adding upscale slopeside lodging, restaurants, lift upgrades, new trails and more snowmaking capacity. There are plans for more changes, including an expansion of ski terrain on the perimeter of the basin-side.
After a few runs on Snowshoe's finest corduroy we left Joe and Bobby to their rigorous "product evaluation" tasks while my young son challenged me to a run on Widowmaker. It's an easier black diamond trail than Lower Shay's, but it has one of the longer sustained steep drops at Snowshoe. My son skied the groomed right side of the run and I hit the powdery moguls on the left side. Widowmaker is served by its own lift and is a perfect training ground for rising advanced skiers who want to master the bumps.
Afterwards we joined my wife and three daughters for more fun in the March sunshine. The temps on Sunday reached the mid-forties, beach weather prevailed and the lift lines went from short to non-existent. We joined our friends on the slopes below Mountain Crest and the kids especially enjoyed cruising the easy green and blue trails under the Powderidge and Powder Monkey lifts.
I took extensive video coverage of our bliss in the beautiful western-style conditions. After reviewing the tape you'd be hard pressed to distinguish whether the footage of our group on those spruce-lined runs was taken at Snowshoe, or the lower terrain at Mammoth or Copper.
There are ski areas and then there are ski resorts. In the East, south of New England, you can count the true ski resorts on the fingers of one hand. Snowshoe Mountain, West Virginia is undoubtedly the premier destination ski resort in the Southeastern United States.
After the great experience we had, my kids were clamoring on the ride home for a return engagement. This was probably our last ski outing of the '00-'01 season, but with a family left wanting for more, the prospects bode well for indulging in Dad's passion for skiing next year.
Jim K, and DC Ski, Nice job on your piece. This is a pleasant response to an excellent mountain experience at Snowshoe. We have tons of good stuff planned for the summer, so check us out!! Thanks, Blaine Daniel, Communications Coordinator, Snowshoe Mountain.
It was windy Monday. Coverage was good,
but around noon snow started to soften.
Snow seemed grabby, slowing progress to
fits and starts for a while.

In the morning Lower Shay's was bullet-proof moguls.
Jim,

I was pleasantly surprised to see I helped contribute to your article. Great job! It a nice ego boost knowing I was able to be of "service." Being on Courtesy Patrol is sometimes a thankless job, but I know we are appreciated. You article reaffims my love to be on the slopes helping those that need us. Best regards, Bill Shell, Snowshoe Courtesy Patroler.
There is a reason that Snowshoe sells out it's lodging on the weekends throughout March. Some of the best ski conditions are still around. Three friends and I took a weekender to Snowshoe on Mar. 17-18. Plenty of snow (Fri and Sat night) and blue skies and sun (sunday) made for great spring skiing. Complete coverage on all trails w/fresh powder. Shay's Revenge and Cupp Run were SSSWWWEEEETTT !!! What a great way to end the season. ( Unless we go back next weekend). The trip from Baltimore, Md. was no problem with plenty of close encounters with some roadside deer. I would definitely recommend a late season trip for all you die hards that wish you could ski/snowboard all year long!!
I had a great visit to Snowshoe. Amazingly, they continue to get regular doses of spring snow and are averaging better than a foot per week in March 2001.