One of the greatest resorts on the planet. Winter home to kings and billionaires. Fashion, glitz, and decor. And snow, snow, snow.
That was my idea of St. Moritz before I went there, and after a week at the resort, most of my pre-conceptions were validated. It is indeed one of the world's great resorts. It has class and pomp enough to make one uncomfortable at times. Lift lines were a compendium of the latest Gianni Versace, Roberto Cavalli, and Anna Molinari fashions. Eat your heart out Elsa Klensch. Great food, plenty of wine, and the sun shone for four of the seven days we were there.
And the snow… the most in 50 years. Too much of it in fact, and it closed down the roads to Italy for days on end. We were there to witness the celebration of the road reopening together with a Nordic torch parade. Incredible snow. The evening of our third day, we were greeted with two feet of fresh snow and a morning of leg-breaking powder skiing.
Top that off with a genuinely internationalist and friendly people. Virtually everyone spoke exceptional English. And French… In addition, Italian… and German too. Normal conversations between friends were held in at least two or three languages, with everyone speaking their own language and yet everyone understanding each other.
St. Moritz had been on my travel wish list for several years. Following a very positive experience on a Zermatt trip last year, I made it my primary foreign destination and went ahead with the plans. Our tour group, out of Montana, arranged most of the details except the air travel. I was fortunate to obtain moderately priced business class seating through Delta, which having eliminated first class seating on their international class, now has one "business elite" section that covers almost a third of the airplane. However, next year, should I be able to get comparable accommodations on Swiss Air, they will have my money, as one checks his/her luggage at the US point of origin and the next time one sees it is at the hotel room. On time. Secure.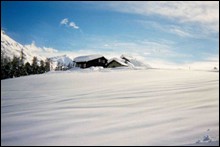 We left DC's National Airport and had to endure the worst part of the trip, a one-hour layover at New York's Kennedy Airport. A root canal would have been a comparable experience. Rudeness is the order of the day for the service workers at that airport, and to top it off, our arrival and departure gates were located at opposite ends of the terminal. With near minimum time between flights, the intra-terminal golf cart drivers were too busy playing cards to encumber themselves by doing their jobs transporting people. Leaving JFK was the best part of the afternoon. Next year I will leave from Dulles.
International Business class at Delta is akin to first class accommodations in most US-flag carriers. The flight featured an exquisite dinner food selection with excellent Italian wines from the Tuscany region to accompany the smoked salmon, shrimp, US-origin cheeses, and the piece de resistance which included filet mignon. Breakfast, about an hour short of Zurich, included fresh fruit and egg crepes. We arrived in Zurich on time, proceeded to the customs formalities which took almost no time, dispensed by very courteous and professional Swiss agents, got our bags, and went downstairs to the train station.
For Americans not used to European travel, the first item to note is that Europeans travel by train almost in the same way we travel by cars. As a result, train, metro, subway, and even trolley travel are often integrated into the airport infrastructure. And most especially in Switzerland. At the Zurich airport, going down a flight of stairs takes you into the train station where one can check his/her luggage to destination. However, be sure to have ticket on hand. Checking bags with a valid train ticket costs five Swiss francs (about three US dollars). Without the ticket, twenty francs per bag. You don't have to check your luggage, but consider that the Swiss trains are always on time, that there will likely be connections, and that your connecting train may depart five minutes after your arrival. Bag-dragging at the speed of sound may be a comparable undertaking.
The Swiss train baggage system is reliable, secure, and unbelievably, your bags may get there before you do. I checked my bags except for an overnight carry-on bag, and that sufficed for the next day and a half. The train service personnel are knowledgeable and courteous, if a little short-tempered for what they may consider dumb questions, such as asking for information clearly printed above your head in five languages. Another interesting point: The airport luggage carts in most European countries are free, not part of the normal rip-off adventure at US airports. Moreover, in Zurich, luggage carts have special rubber wheels and rubber strops which allow the carts to be taken up and down the escalators. Big difference from US airports…
I arrived in Zurich a day before we were to head off to St. Moritz. After many years of European travel, I finally had the sense to plan for this extra day as a "jet-lag recovery day," and my body certainly appreciated it. We stayed downtown in a three-star hotel which featured a sumptuous breakfast as well as a city-wide recognized fondue dinner. We also toured the town at leisure. Zurich is a small yet bustling city with a lively downtown area. It is a mix of businesses, residences, antique stores, restaurants, bars, and fast-food places.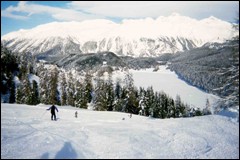 McDonalds has made its unfortunate debut in Zurich, and we were witnesses to the opening of the city's first Starbucks. The city is very picturesque, straddling a lake that goes on seemingly forever. Their churches and public buildings go back to medieval times and some are of spectacular beauty, including a church we visited that featured a Chagall stained glass Rosetta window. Every hour, church bells ring city-wide and the sounds compliment the beautiful architecture, projecting a richness of the senses as the environment, the colors, the smells, and the sounds mix in a delightful atmosphere.
Many of the hotels in Switzerland include breakfast in the room price. Although with some variations, the faire is somewhat standard and we had virtually the same buffet in Zurich and St. Moritz: Fresh fruit (bananas, apples, etc.), dried fruit such as apricots and peaches; marmalade and preserves, and at least two types of smooth creamy yogurt, one plain and one mixed with musli (about the only way to make musli appetizing…) There were also numerous cheeses, a number of cold cuts including ham, mortadella, pepperoni, and others I had never seen before, scrambled eggs with cheese, hard and soft-boiled eggs, and an incalculable variety of breads. One can easily devour several thousand calories at breakfast.
An interesting development in the urban Swiss social landscape is the total decriminalization of marihuana, following a trend along much of Europe. At times, groups of people would walk by and leave off that peculiar scent of burning cannabis.
The next morning, we boarded the train from Zurich to Chur, where we transferred to the Glacier Express. One can take either first or second class accommodations on the train. The cars are clearly marked and seating is definitely more comfortable on first class. Worth the price difference, about US $40. The incredibly good food is cooked on board the train, in mahogany-paneled cars reminiscent of days gone by in the US, but definitely alive in Europe.
On both the Swiss Rail and Glacier Express trains, we enjoyed the pastoral view of the Swiss countryside, as castles, little villages, farm towns and dairy centers went by. And once on the Glacier Express out of Chur, the view turned into one of magnificent beauty, as glaciers, steep mountains, tunnels, and lakes dotted the scenery. At most stops, people with skis and snowboards in hand would get on the train for day-long excursions. The closer we got to Davos and St. Moritz, the more fashionable the travelers became.
After four hours on the train and enjoying the breathtaking scenery, we arrived at the Bohnhoff (train station) in St. Moritz and boarded the hotel shuttle to get to our rooms and reunite with our luggage. We stayed at the Park Hotel Kurhaus, formerly the St. Moritz Grand Hotel and a grand hotel indeed, with an expansive health spa, mineral baths, and all kinds of luxurious treatments grouped in a "beauty farm" connected to the hotel. Across the street from the hotel, the Corviglia gondola made its way up 2,000 feet to Signal mountain. Our hotel was in the hamlet of Bad, about a half a mile west from the main downtown area called Dorf, site of the funicular to the top of the mountain, as well as the world-famous Palace Hotel.
St. Moritz is located in the Engadin Valley, running Southwest to Northeast, and sandwiched between Austria and Italy. Although the views are incredible, the vertical elevations are not as dramatic as in other parts of the Alps, as the valley floor is in the 1,700 meter range, and the main town of St. Moritz, at 1,822 meters (5,977 feet), features only a 4,000 vertical drop from with Piz Nair, the highest point accessible from the gondola. To the Northeast of St. Moritz, the town of Celerina has its own gondola that connects with the St. Moritz/Corviglia/Piz Nair complex, and further to the East, Pontresina was visible along the glaciers, with two gondolas serving a vertical elevation of roughly 3,000 feet. To the Southwest of St. Moritz, the town of Silvaplana gave gondola access to two peaks, Corvatsch and Furtschellas, with a vertical drop of 4,700 feet.
With all this elevation, large skiable terrain, and spaced-apart towns, transportation could be a problem. Not in St. Moritz, however. Most of the ski areas are connected, and even those on opposite sides of the valley can be easily accessed as the trails run right into the town and connect with an incredible network of Nordic (Cross-Country) trails. For those who want the easy way, mass transport via bus is free, clean, and extremely punctual.
For our first ski morning, we crossed the street and fell in line for the Corviglia gondola.. The gondola can fit around 70 people, and getting into it is an exercise in crowd control. The European model of a queue is chaos. The big calorie breakfast came in handy for all the walking and stair-climbing before loading the gondola. After packing into the gondola like sardines, we went up two thousand feet in little over four minutes, while watching a spectacular view of St. Moritz, the valley below, and the glaciers of Corvatsch Peak.
Once on the Signal mid-station, there are two options. The first is to ski the available terrain surrounding the mid-station, the second is to ski about a third of a mile down and across to Corviglia Peak and the Piz Nair Gondola for the final 2,000 ascent to the glaciers of Piz Nair.
Skiing the area around Signal presented a variety of terrain, including an intermediate-level descent into town, trails to two other midway stations, each one dotted with its own sit-down restaurant, and three brand new detachable quad lifts that served primarily intermediate trails. As expected in St. Moritz, these trails, as well as anywhere else in the mammoth resort area, were meticulously groomed and regroomed even during the day. However, the trails were cut above tree line, so skiing off-piste in this area ensured an additional challenge, including the only mogul fields in the entire resort.
We inquired at the ski patrol site as to the almost total absence of moguls on delineated trails, and were told that the clientele is definitely NOT mogul-friendly. The large number of older skiers with disposable income translates into political power in a ski resort. That, and a conspicuous absence of large groups of snowboarders, even though there are no bans on that sport. Most of the boarders were American or Canadian. There was no problem whatsoever with sharing the wide open trails, and off-piste skiing was widely practiced in the Signal area. Despite the absence of mogul fields, the one interesting challenge of Corviglia, as well as most of St. Moritz area, was the high number of trails with double fall lines. My favorite area was off to the end of the mountain, named Paradiso, also site of one of the nicest restaurants with the best view in all of St. Moritz, commanding Corviglia, Corvatsch, and Pontresina.
In the afternoon, we climbed into the second gondola and went off to Piz Nair and its expansive trail system. Towering over 10,000 feet, the trail system at Piz Nair winds down the back bowl of the mountain with unspoiled views of Alpine glaciers and wide avalanche paths. Going off-piste in this back bowl can be dangerous. Several signs posted the danger of avalanches in four different languages, just in case.
From Piz Nair, one can ski down to a magnificently beautiful Lej de la Pesch area and either continue glacier skiing in this uncrowded area, or descend further into Marguns, another ski trails crossroads in St. Moritz. From Marguns, three high speed quads and a six-person quad serve four different peaks, as well as an eight-person gondola to the town of Celerina. Marguns is also one of the social centers of the resort, with an extremely active group of outdoor bars, a two-story restaurant that included a large outdoor deck with Plexiglas wind-screens, and blaring rock music. With the almost continuous sunshine of St. Moritz, the upstairs deck with its wind screens was more of a sun-tanning deck than a restaurant. That, and a permanent fashion show of the latest ski wear.
That evening, we were treated to a foot-and-a-half of fresh snow, wetter than normal, that became leg-breaking powder skiing the next day. Our planned ascent to Corvatsch had to be postponed due to avalanche danger, and instead we frolicked in Corviglia once again, taking advantage of the fresh snow before the snow cats groomed it to perfection. Not many skiers on the slopes that day. The ominous sound of the cannons blasting cornices and provoking small scale avalanches was a clear reminder to stay on piste. The cannons sounded all day and throughout the dusk hours.
The third day, we boarded the free, first class bus to Corvatsch on a spotlessly clear day, passing through two other stops to pick up skiers, before arriving at the Corvatsch gondola. This large ski area comprises the peaks of Corvatsch and Furtschellas. It is not as highly developed as the Corviglia/Piz Nair complex, and besides the gondolas to each peak, and about three high-speed quads, the rest of this gigantic area is served by many interminably long T-bars. The lack of sophisticated lifts may account for the totally uncrowded lifts, but the result was some of the most magnificent skiing I've ever done.
We ascended the base gondola to Murtel Peak, stopped at their coffee shop to have some espresso, and got into the second gondola for the climb to Corvatsch Peak. At 11,300 feet, Corvatsch features several trails of incredible glacier skiing in the bowls formed by the 13,000 feet Piz Roseg. As in Piz Nair the day before, the multi-lingual signs warned of the avalanche danger and we were careful to stay in the delineated runs.
After almost an entire day of outstanding skiing, we descended into what I consider the best run in all of St. Moritz, a marathon-long black-diamond run that descends all the way into St. Moritz and directly into our hotel. Spectacular vistas, perfect conditions, a thousand feett of altitude to go before the base, and a watering hole called Hahnensee with some of the greatest home cooked Alpine dishes available anywhere. This spot, with superb vistas, seemed to be a skier's paradise, and oftentimes was recommended by both locals and long-time vacationers as having the best food around.
The next three days were split between Corvatsch and Corviglia, trying to ski every run we had not done so already. The high altitude and the world famous sunshine of St. Moritz stamped excellent tans on our faces. On one afternoon, I joined a couple of College Seniors from the University of Texas at Austin, who were staying in a Romansch-speaking village a couple of hours away by train. Their views of their experience enhanced my own ideas of that wonderful country.
Finally it came time to return home. The morning of our departure we were fare welled with another spectacular snowfall, adding to the mystique and beauty of the return scenery. After another evening in Zurich, it was off to Kennedy Airport, where customs and US Agriculture were being strict on the importation of dairy and beef products, concerned with the recent hoof-and-mouth disease outbreaks. It is worth noting that in many Swiss restaurants, visible placards clearly state the source of beef and dairy products, all of it coming from the US, Argentina and Switzerland, and none from the European Union countries.
Would I make this trip again? Most definitely. It cost me much less than a comparable trip to Colorado, and given the strength of the dollar, it will continue to be competitive. There are some interesting notes for Americans staying at this resort, and compared with my trip to Zermatt last year, some interesting differences: St. Moritz is old-money and has the attitude of the old-time upper-class resorts. It is friendly, it is genuinely fun, but the traveler should be aware of the expectations, such as many hotels still requiring coat and tie for dinner (the alternative is to be seated out of sight in a far away corner of the dining room).
The town's fun center, unlike Zermatt, is not in the town itself but in the grand hotels. The main street at Zermatt at midnight is a big block party. The main street in St. Moritz at midnight is very quiet. However, pop into one of the hotels and there will be plenty of life. As in Zermatt, and anywhere else in Europe (except the UK), queues and lines with corresponding etiquette are nonexistent, and one must be aware of this cultural habit. Someone stepping on your skis or placing their ski pole between your skis in the US may lead to a confrontation. In Europe, it's normal and no one gives a hoot about it. Part of the attractiveness of both Switzerland and this excellent resort. Although I think I'll be in Zermatt next year.