Last winter, DCSki had a chance to chat with Peter Stuart, lead singer for the band Dogs Eye View. Peter is an avid skier, currently living in Seattle, Washington. Peter rose to fame with his first album, Happy Nowhere, and the hit single "Everything Falls Apart," which still receives air play in the D.C. area several years after its 1995 release. Dogs Eye View released its second album, Daisy, in 1997. Currently, Peter is working on a solo album, due for release in 1999.
DCSki: You started out as a solo performer, and received wide acclaim for your first album, Happy Nowhere. What was your early career like? What has it been like to tour?
Peter: I started out solo as a necessity, and it seems to have developed into my main strength. The first major tours I was offered were all as a solo act. I played for a couple of months with an Irish band called "the fat lady sings," then hooked up with Counting Crows, and then with Tori Amos. They were all vastly different and wonderful experiences. Touring in general is a rather freakish experience. It has little to do with normal life. It's 23 hours of traveling, eating and talking to people you've only just met, and 1 hour of payoff. I love to tour, but I'm certainly not averse to staying in one place for a while these days.
DCSki: Your band was one of the first to carve a strong presence on the Web, offering regularly updated "Notes from the Road" complete with pictures. When did you first start using the Internet?
Peter: I was really into the Web and its possibilities on the first record, and my interest has waned some these days. The speed and accessibility of the Web makes me feel as if I've fallen behind as soon as I've posted something. It's also hard to feel inspired to do a new "Notes from the Road" too often. You run the risk of writing the same drivel over and over. We couldn't manage to get a quick-take [digital camera] out on the road with us this time. It'd be more fun if someone else in our traveling party would take up the slack and take the pictures. The thing I've found most difficult about the internet and its associated technologies is the implied intimacy. I used to answer all of the e-mail I got, but I found that to be a potential trap. People seem really impressed when you write back to them once, but if you don't have time to write again, you're an ass all of a sudden. These are people you've never even met, and they want more attention than your family.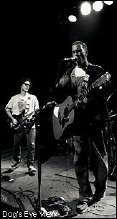 DCSki: It's well known that you like to ski. When did you start skiing, and what resorts have you skied at? Where is your favorite place to ski? How do you fit skiing into your busy schedule?
Peter: Why would I hide being a skier? Aside from playing music, it's one of my favorite things to do in the world. I started skiing when I was nine or ten, and learned on the ice fields that pass for mountains at Hunter, NY. I'm really fond of skiing in Utah at the moment, especially at a place called the Canyons, which is terrific. When I'm home in Seattle I try to head over to Crystal as often as I can. It's a great resort, but the snow isn't quite up to the Utah stuff. Luckily, my schedule has me either working full-time or not at all. I've been really lucky to have most of the last month off. I spent two weeks in Utah around Sundance, and I'm heading back there tomorrow. I guess I'm an expert skier -; though not really very extreme about it.
DCSki: Have you tried snowboarding?
Peter: I spent one tragic day snowboarding. I caught my back edge and wound up landing on my neck and paralyzing my arm for a couple of weeks. As my profession generally requires the use of hands and such, I decided to stay skiing. I really hated being bad at something as well. It was hard to be on the mountain falling down in front of skiers, all the while knowing I could ski just as well as they could.
DCSki: Do you know of any other musicians who like to ski or snowboard?
Peter: Almost all of the musicians I know like to board. The guys from Blind Melon board all the time, and I hear that the guys from Pearl Jam and candlebox do as well. Adam from the Counting Crows skis, as does Chris Stills (new record out on Atlantic).
DCSki: In August, 1997, you released your second album, Daisy. Fans have not been disappointed. How did the production of Daisy differ from the production of Happy Nowhere? What are your future musical plans?
Peter: Daisy was a little more of a band record than Happy Nowhere. For Happy Nowhere I went into the studio with people I'd just met and we played the songs -; some for the first time to tape. For Daisy, we'd toured for about a year, so we went in and made a rock record. I think the future holds a solo Peter Stuart record that's more of a folk record than a rock record.
DCSki: What has been the most rewarding aspect of your career? What have you liked least?
Peter: The most rewarding aspect of my career has been the opportunity to play to people as often as I do. I would guess that the least appealing aspect of this business is just the amount of stuff I have no control over. There are so many other people who have control over your life, and it's not possible for them to care about you as much as you do.
DCSki: Thanks for taking the time to chat with DCSki.
Peter: Good luck, Scott. I'll see you around.
There are no reader comments on this article yet.