Freeheeling It in the Alps: Nordic Skiing at Lech, Austria
2
After 7 days of downhill skiing, my wife and I were looking to do something different on our last day at Lech. Motivated by a recent Nordic experience at White Grass in West Virginia, we decided to explore some of the Arlberg's 180 kilometers of cross country ski trails. The trail we chose was a 20-kilometer circuit to Alpele and back. The route is impeccably rolled and tracked nightly. It's also a distance run that does not contain any steep terrain. It's a gradual rise up to Alpele and a gradual downhill on the return. The total elevation change during the course of the trip was 400 feet.
We rented new, Fischer skis at Strolz for $12 a pair and then set out on our journey. As promised, the tracked trail was perfect: cold, dry snow translated to easy gliding and allowed us to complete our ambitious mileage goal for the day.
After Alpine skiing, Nordic skis felt so light and liberating. My feet also appreciated the break from hard, plastic boots. The other wonderful sensation of Nordic skiing is how quiet it can be. You can hear snow falling through the spruce trees and then watch the sun play with the champagne powder crystals.
The trail follows a creek for 3 kilometers and then meanders through Zug. It was too early for lunch, so we continued forward, pausing for a few minutes to watch Alpine skiers descend from Madloch. From Zug, we crossed a huge snowfield, which gave us some nice views of the towering peaks that line the small valley leading to Alpele. The trail then dipped back into a Spruce forest before finally reaching Alpele. Throughout its course, the scenery constantly changes. One minute you are gliding under a canopy of towering old growth Spruce trees, and the next, surrounded by mountains in a snowfield.
After about ten kilometers, our stomachs cried for fuel. Fortunately, there's a lovely Alpine hut at Alpele that serves meals and offers overnight accommodations to Nordic and backcountry skiers. Darina ordered dumplings and I tried the Wurst special. Wursts, or sausages, come in many different shapes and sizes in Austria, and are a staple lunch food. Dumplings are made of flower dough and are filled with a variety of different food. On this day, hers were filled with ham and Wurst pieces. Austrians enjoy pork (Schweinefleisch) and use it in many dishes. However, state regulations demand that vegetarian dishes be served at every licensed restaurant. Salads are always good and plentiful. They usually contain some type of bean for protein, as well as shaved carrots, corn, tomatoes, and two types of lettuce.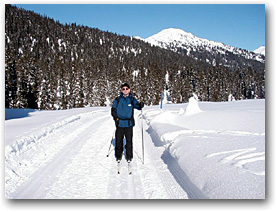 At the hut, we noticed many skiers with Randonnée gear. Randonnée skis are alpine touring skis. The bindings lock down for technical, Alpine descents, but can be unlocked for climbing and traversing level territory. The skis are a bit wider and lighter than traditional Alpine skis and also function with detachable climbing skins. In the Arlberg, Randonnée skis allow backcountry enthusiasts to access territory many kilometers away from lifts. You can rent this equipment at Strolz and hire instructors and guides at the Lech ski school. On our Nordic journey, we often watched Randonnée skiers making inspirational back country descents on beautiful, untracked terrain. Locally, White Grass offers instruction on this discipline and can also provide advice on equipment.
Our trip back took about half the time as our journey to Alpele. However, I was more sore from my Nordic experience than from Alpine skiing: different muscles and more muscles get employed in this sport. It's great exercise, great fun, and the Alps contains some magnificent territory for freeheel enthusiasts from every Nordic discipline.
Photos by John Sherwood.
I'm moving to Austria! Any skate skiing to be found there?
If you look to the left of the top photo, you'll see a rolled section for skaters. For most of the Zug-Apele section of the trail, there was a rolled section for your type of skiing just on the side of the trail. Nordic is big in Austria so I suspect there are many great places to ski besides Lech. Dachstein is a place that comes to mind, but there are many others.