More Space - More Time
Epic snows prevented Darina and I from getting to Lech on the first day of our vacation. However, our concession was that we had the opportunity to enjoy a bluebird day at the other major Arlberg base village - St. Anton (see my article on St. Anton for details).
The Austrian Gendarmerie woke up very early the day after we arrived and dropped charges from helicopters along the sides of the two passes to Lech (Arlberg and Flexenpass) to decrease the avalanche danger. Heavy equipment then went in and cleared the road of snow in just hours. The Arlberg Ski Region purchased huge snow blowers and earthmovers a few years ago to handle major snowfalls. Now a removal job that used to take a week can be accomplished in a morning. When we finally stopped skiing at St. Anton and boarded a bus to Lech at 1 p.m., the trip took just 45 minutes over well-cleared roads.
This is just one more example of how efficient the Arlberg ski resort is. Lech's motto this year is "More Space - More Time." It delivers on this promise in multiple ways. First, a large fleet of free Mercedes ski buses run every 20 minutes to all the major lifts and settlements in the Lech-Zürs community. Skiers can even take their skis inside these buses, so no one gets any road crud on their boards during the trip. Second, Lech has an uphill capacity of 44,668 per hour, but limits its ticket sales to 14,000. This translates to minimal lift lines. Moreover, all major uphill routes are served by either high-speed detachable chairs with canopies or high-speed cable cars. The Arlberg Cable Car company is run similar to a cooperative: profits get plowed back into the mountain, so new lifts sprout up on nearly a yearly basis. Finally, an enormous fleet of state-of-the-art groomers groom all marked pistes and most ski routes on a nightly basis.
All of this service and infrastructure translates to a very happy clientele. Lech-Zürs enjoys an enviable 75 percent rate of rebooking. The vast majority of people I met at Lech, including North Americans, are repeat customers and some have visited the resort every year for over ten years.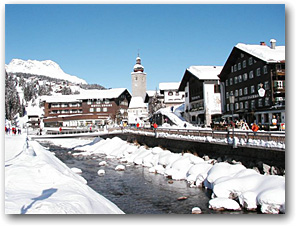 So what's the catch? Lech-Zürs is not a budget resort. The majority of hotels rate four stars and cost over $100 per person per night. Our hotel, the three-star Felsenhof, cost $70 per night per person. There also are few mountain restaurants at Lech. Most people eat lunch in restaurants at Oberlech, a small cluster of luxury hotels 210 meters (688 feet) up the mountain from Lech. These restaurants offer central European cuisine (Schnitzels, Wursts, goulash, fish entrées, salad and pasta courses, etc.) at sensible but hardly cheap prices. My wife and I often split a salad, a main entrée, and a pastry, and our lunch bills rarely ran much higher than $30. The food was always first rate, our waiters often wore white coats, and some of the bathrooms at these establishments were palaces (heated Italian tile floors, automatic toilet seat covers, polished hardwood stalls, and marble wash basins). In short, at Lech, you get what you pay for - a concept most Americans love! One surprisingly inexpensive commodity at Lech were lift tickets. A one-day lift pass was $37 and a seven-day pass was just $210 ($30 per day). Few North American destination resorts can match these prices, especially for the quality uphill service you receive. George Koch, a ski journalist who recently wrote an interesting series of daily reports about the Alps during the
www.tourthealps.com
, claims that "Lech's lift system is absolutely first-rate, certainly among the top three among the 11 Best of the Alps resorts that we're visiting."
Delivering the Goods!
Our room at Felsenhof was a corner room with huge windows on two sides, a west-facing balcony, an American shower, a European bathtub, heated bathroom floors, and high thread count down comforters. It was always a treat to return to the room, sip a cold beverage, and watch the sun set slowly over the towering mountains from the balcony. In the morning I often woke up early to watch the sun rise and change the color of the mountains from black to blue to purple to orange to white.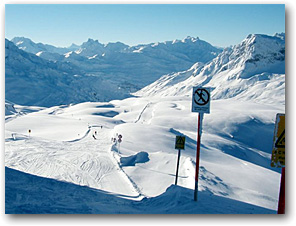 Our typical day started with a huge buffet breakfast. My favorite breakfast treat was Müesli, and yogurt with blueberries and blackberries. Dirk Messing, our usual waiter/extreme snowboarder, would often give us advice about the best trails to ski and tell us about some of the crazy terrain he rode the day before. Fortified with food and information, we proceeded to the boot room, put on our heated boots, and caught the 8:51 shuttle to Rüfikopf plaza - a five minute walk, but who needs to hoof it when you can ride a heated Mercedes bus instead? We then hopped on one of the two Rüfikopf trams and traveled up 888 meters of vertical (2913 feet) in just 5 minutes. We then snapped on our skis at the summit of Rüfikopf peak (2362 meters/7,749 feet) and bagged first tracks on what I called "the corduroy carpet": the red 38a Steinmännle trail. We then traversed from the middle of Rüfikopf's west face to Trittalp, using the Schuttboden T-Bar and the Trittalp triple, and then cruised down to the settlement of Zürs on easy blue trails.
If the lifts are so great, why are pull lifts still in the Arlberg?
Almost all the pull lifts (T-bars, Pomas, and rope tows) in the Arlberg have been replaced by chairs, but a few remain in places where it is not practical or environmentally prudent to build a chairlift. The Arlberg is very keen about not industrializing the Alpine landscape. Heat for 200 buildings in Lech comes from a central biomass power station. In St. Anton and Lech, cars are not allowed in some parts of the villages. Throughout the Arlberg, visitors are encouraged to reuse towels and ride buses and trains rather than drive. As a result of these measures, C02 emissions have been reduced by 70 percent in the region.
Keeping a handful of pull lifts in the region is part of the overall environmental strategy of the Arlberg. These lifts save electricity, improve the view shed, and can be relocated so as to reforest trails and prevent erosion. In general, one finds them on short-hop connections and in learning areas.
As result, advanced skiers wishing to access all the terrain in the Arlberg should be comfortable riding them. I am no master of the T-Bar but I improve measurably with each trip to the Alps. I often told Darina that my toughest run of the day was the Schuttboden T-Bar (the one pull lift on the White Ring), and I wasn't joking. Wiping out on a T-Bar ranks high on the list of ski embarrassments. The entire lift stops and people on it slide backwards until the attachments regain tension.
The trick to the T-Bar is lining your skis on the track carefully while loading. The spring tension device in the bar gives you more time to load than you think, so get it right at the beginning. Once on track, place the bar on your buttocks or if you are riding with someone shorter than you, on your upper thigh. Relax and allow the bar to pull you from behind. Maintain a basic upright/forward ski posture with knees slightly bent, but don't lean too far forwards or backwards for that matter. Balance is your key to success. If you maintain a proper balance, the lift will do all the work. However, never space out on a T-Bar. You need to stay in track and avoid any snow chunks or other obstacles on the track. If the lift stops, just relax and let yourself slide backwards until the tension device catches.
A Poma works on a similar principle as the T-Bar. They consist of a cable with a pole hanging off of it. On the end of the pole is a little round saucer much like a frisbee that is about six inches in diameter. The skier takes the pole between their legs and their buttocks rest on the saucer. Much like the rope tow, it is relatively slow moving and to keep it moving, the skier must be able to maintain their balance.
Each of the Arlberg resorts has at least one T-bar or Poma in a learning area. If you are unfamiliar or uncomfortable with these lifts, you might consider taking a few practice rides on one before attempting a steeper pull lift at high altitude. Like my wife and many other Europeans, you might end up enjoying these lifts. As Darina puts it,"you get to ski uphill as well as down!"
Our morning goal was often to get to the sun-drenched east-facing slopes on the Seekopf side of Zürs. This goal was accomplished by skiing down the west face of the area, crossing a ski bridge over the Zürs's single road, and then taking a magic carpet to the detachable, high-speed, Zürsersee canopy quad. Many skiers prefer to stay on the Zürs side of Lech because of its steeper trails and unparalleled backcountry access. The settlement consists of a handful of luxury hotels but little else. It's a dry-land cruise ship. You live above the tree line at 1716 meters and spend almost all of your non-skiing hours in your hotel, most of which require guests to purchase a half-board plan (breakfast and dinner). Lech and St. Anton, by contrast, are true villages with stores, bakeries, cafés, restaurants, and night clubs. Zürs connects by lifts and ski trails with Lech, but mainly by bus to St. Anton (there is an extreme off-piste route from Valluga down to Zürs, but a guide is needed for that run). We enjoyed spending many mornings on the sunny Seekopf slopes. There are two easy blues that run from the top of Seekopf to Zürs and provide a nice 490 meters (1600 feet) of uncrowded vertical. On the right side of the face, there are some more challenging reds and even a black World Cup race trail, the 15a Sonnenberg piste. After warming up a bit, we would add some challenge to our day by tackling the Zürser Tali trail down from Muggengrat (2450) to Zürs - 734 vertical meters (2,408 feet). Muggengrat has some great, easily accessible off-piste, but being the consummate intermediates that we are and fearing avalanches, we stuck to the marked trail - a run that gives you the extreme feel of off-piste without the many dangers. Zürser Tali plummets down a 46-degree headwall and then twists, turns, and drops through ravines, finally ending at the Trittkopf cable car. My one real fall of the trip occurred just after I had safely negotiated the intimidating headwall of Zürser Tali. In skiing, my falls more often occur on flats when I am relaxing rather than on tough, technical terrain. Fortunately, nothing was bruised on this fall except my ego, and I continued down the trail, paying less attention to the stunning views of Valluga peak and more to my skiing. The dark chocolate glaze on the Sacher Torte for the Zürser Tali is that it drops you off at the Trittkopf tram, a lift that will transport you to another inspirational, high Alpine ride: the red 7 Balmen trail. Balmen traverses across a jagged rock wall and then drops quite steeply down to the east side of Zürs.
The White Ring
When skiing Zürs, the Lech-based skiers have two options. One can either chase the sun from the east slopes of Seekopf in the morning to the west slopes of Trittalp, Trittkopf, and Hexenboden in the afternoon, or attempt what is known as the White Ring. The first option is much more relaxing but requires one to shuttle back by bus to Lech at the conclusion of the day. The second option is more adventurous and keeps you in your skis during the entire classic Arlberg ski safari. The three-hour safari starts and ends at the Rüfikopf tram, and consists mainly of red and blue marked pistes. However, the high point of the journey and also the toughest trail is the 5.5-kilometer (3.4 mile) Madloch ski "route" from Madloch peak (2438 meters/7,998 feet) to Lech (1450 meters/4,757 feet).
The Arlberg Trail System
According to the Arlberg trail map, ski "pistes" are marked on both sides of the trail with colored signs and groomed daily. Blue pistes at Lech and Zürs are suitable for intermediates, and some can even be negotiated by beginner skiers. At St. Anton, by comparison, most blues can only be negotiated by solid intermediates. Red trails at all three areas are suitable for advanced intermediates and blacks are the domain of experts.
Ski "routes," by contrast, are marked only on one side of the trail and at greater distances apart. These routes are only groomed "occasionally," but are protected against avalanches. In good visibility, advanced skiers should have no problem negotiating orange diamond routes, but in the flat light of white-out conditions, one should stay off the routes because a wrong turn could easily take you over a cliff. Routes marked with an orange diamond surrounded by a black border are "extreme," and should only be undertaken by "skiers with alpine experience or in the company of a guide."
A third category of trails are high alpine touring routes. Due to dangers that can be encountered in high alpine regions (blizzards, avalanches, snow cornices, fog, severe temperature fluctuations), high alpine touring runs and other unmarked descents in open, unsecured terrain require extensive mountain experience and are recommended only when accompanied by a certified guide. They are neither marked nor patrolled nor protected against alpine hazards. However, they do show up on trails maps as dashes and dots: "-.-.-."
The Madloch route requires one to take a long double from Seekopf up to Madloch and then drop off the backside of Madloch. There are nearly an infinite number of "elevator shaft" off-piste routes down the back of Madloch, but we opted for the easiest way down: the marked route. This route, incidentally, is hardly a "walk though the park." While it often gets groomed nightly, it is steep and bumpy in sections. George Koch defines it as one of the "epic big mountain descents of the Alps." It covers 3,000 feet of remote, north facing vertical, and my thighs were burning by the time we arrived at the bottom. I would never attempt this run in low visibility because of the staggering drops just off the side of the trail.
Lech Slopes
Rather than heading back to Rüfikopf plaza in Lech, we took Madloch to the little hamlet of Zug to extend our safari. From Zug, we took a long double to the top of Balmengrat. On Balmengrat is the only slopeside restaurant higher than Oberlech in Lech. Visitors often complain about the lack of slopeside restaurants at the resort. I suspect this dearth is a concession to the hotels at Oberlech, which do a huge lunch business. Zürs and St. Anton, by contrast, have a plethora of wonderful self-service and full-service restaurants. My favorite is the Seekopf restaurant with its views of Madloch and Muggengrat. On low visibility days, skiers congregate at the big tables to sip coffee, eat pastry, play cards, and wait until the sun breaks through the clouds before completing the Madloch stage of the White Ring. Lech proper is wonderful place to end or begin one's skiing in the Arlberg because it posseses some of the easiest blue trails in the region: the high cruisers served by the Hasensprung, Rotschrofen, and Weibermahd chairs. Ironically, much of the easier skiing in the Alps is in the middle and upper reaches of the mountains, and not towards the bases, which are often the steepest parts of these peaks. Many timid intermediates don't understand basic Alpine geography and spend all their time struggling on steep lower slopes, often with cruddy snow, and never make it to the gentle powder fields just above them. At Lech, the timid can ski easy upper mountain groomers like the blue number 35 Mohnenmähder trail and then bypass the lower trails altogether by downloading at the end of the day via the Oberlech cable car. Those looking for something steeper can take the brand new 6-pack to Kriegerhorn (2173 meters/7,129 feet) and then drop down to the Steinmahder area - an area with some steep red trails and orange diamond routes as well as several high alpine elevator shafts that Dirk and his crowd enjoy riding. Almost everyone in Lech devotes their final runs of the day to the west-facing snowfields just to the left of the Schleglekopf I and II chairs. Schleglekopf II is a high-speed detachable and Schleglekopf I is a slow double. Darina and I often took the slow double because no one ever uses it and it gave us a chance to rest at the end of some very long ski days. The snowfields to the left of Schleglekopf are similar to the North Face of Seven Springs, but about three times as long and twice the width. There's a terrain park, or "Funpark" as the Europeans call them, right below the lift - more entertainment during the ride up (a Funpark is also located at Rendl in St. Anton). On the far right are several steep race courses for those who enjoy bashing gates.
Parting Thoughts: We Go Where the Snow is!
Lech and St. Anton was receiving a record blizzard when we arrived so it was only fitting that we returned to another record blizzard in Washington: after all, "We go where the snow and the snow always makes us feel at home." As I complete this article at 0933 on Presidents' Day, Washington has already received close to 17 inches and more is on the way. Although Darina has had her fill of skiing after 7 straight ski days in the Arlberg, I still can not wait to return to slopes of the Mid-Atlantic. From my Swiss International flight, the slopes of Liberty Mountain looked quite tempting from 20,000 feet. By my most recent calculations, I only have about 8 more ski days left in the season, so each one will have to count.
Photos by John Sherwood.
Related Links