Skiing at Jackson Hole for the first time has convinced me that I have had skiing all wrong since I first learned to ski down a groomer so long ago. Why bother with groomed meandering runs when there are cliffs to jump off of, boulders to maneuver around, and trees to ski among?
The message I got from Jackson Hole is that if there isn't fresh powder, it's a highly suspect ski day to begin with, and if there aren't injury-threatening obstacles to be overcome, it's not worth skiing at all!
Luckily for Jackson Hole it has both in droves, as I discovered earlier in March with 7 days of blissful skiing paradise set among some of the most scenic surroundings this country has to offer, the Grand Tetons in Wyoming.
Powder Daze
We really hit it just right this time. Our plane landed in the pouring snow that was later described to me as "champagne powder" by those that got to ski in it. And it continued to drop throughout the night so that by the next day, our first ski day, we had 21" of the fresh stuff on the mountain!
I practically salivated as I watched folks gently bobbing through the stuff on one of the easier runs off the Apres Vous lift, my first run of the week. And I imagined myself doing the same, even though I'd never experienced more than a half-inch of powder in my life.
So after a few warm up runs on the groomed slopes next to the small powder filled bowl under Apres Vous, I dove in… literally.
Oh, I did OK for about 10 feet before promptly crossing my ski tips and taking the first of a few glorious falls into the fluff!
I tried to mimic the hopping and bobbing that others seemed so natural at but I couldn't seem to execute this smoothly. I'd last about two or three turns before having to stop and catch my breath. Powder skiing for me was EXHAUSTING work.
I struggled on.
Third run or so, just as I was gaining some confidence, I somehow managed to get going BACKWARDS and did a swan dive back-flop into the snow, my ego evaporating with the cumulous cloud of snow I'd created.
I collected myself and continued.
Finally I got it together enough to get from top to bottom without falling, probably looking more like crab than skier, but I could hold my head high even though I was covered in snow head to foot. Of course by this time the snow was getting "tracked out" as they say, and that definitely helped me initiate my turns more easily, but I conveniently overlooked that minor detail!
That first 21" of powder was the largest amount of snow we received in one 24 hour period, but the resort continued to get 6-8" of the fresh stuff every day we there. For some reason I adapted easily to that amount of powder but anything that was deep enough to cover most of my boots, I simply couldn't quite get the right technique.
Darn it all, I'll just have to go back and practice!
A Little Background
Jackson Hole is in the Bridger Teton National Forest on the edges of the Grand Teton National Park. The land is leased (I believe) from the National Park Service and regulated by them. As such the resort opens for skiing in early December and closes in early April -; regardless of snow cover.
Jackson Hole the resort is about 10-15 miles northwest of Jackson the town, a small town of about 5,000 bordering the National Elk Reserve, all about an hour and a half or so south of Yellowstone National Park.
Because it has a yearly influx of visitors between skiing and the Parks, the town of Jackson has many services the weary traveler might be interested in such as hotels, motels, restaurants, pubs, shops, even a more local ski resort: Snow King.
As such, you can stay in either the town or the resort when skiing at Jackson Hole. The resort has proximity to the slopes but limited services, while the town has all the services but requires a drive or shuttle bus trip to get to the great Jackson Hole skiing.
The resort caters to both so there's a large parking lot and plenty of locker space for the commuter.
The Day Begins
Each day around 7 a.m., I was awoken by the sound of distant explosive thuds that were being directed towards suspect avalanche-ready mountain snowfields around Jackson Hole.
If it's a powder day, then get up and get to the Tram!
The Tram will take you up to the top and you can get nearly first tracks on the choicest expert terrain with it. The first tram is filled at around 8:20 a.m. and each holds 55 skiers and borders, literally cheek-to-cheek, standing room only. Think of them as your new best 54 friends! I'd say give yourself 30 minutes to get to the top if the line goes all the way to the end of the set of turn-styles near the stairs that come up from the walk way. A lot of powder means a much longer line, so gauge accordingly your time to get there. I seem to recall seeing a few stalwart skiers walking down to it around 7:30 a.m. from our condo window…
If that doesn't float your boat, get in line at the Gondola a little later. Again a powder day will yield a line here too. Generally I found it takes about 10 minutes to get from the back of what looks a very big line to loading if the gondola is running at full speed.
However, on one particular high wind day (gusting > 60mph) only the Gondola was open and it was running more slowly than normal… This created a huge line and it probably took close to an hour to get up onto the mountain. But I think that this is probably a rare occurrence you are unlikely to encounter.
If you are interested in a more low-key start to your ski day, try going up the Teewinot Lift to Apres Vous for some great blues, double-blues, and black tree skiing in Saratoga Bowl. You might well be all alone in those trees in Saratoga if it's 9 a.m.
Now on a non-powder day, the lines may be virtually non-existent, so it all depends on the weather and the day of the week, with Saturdays being noticeably crowded at the bottom versus other days.
The Basic Layout
At the bottom close together there is Teewinot lift, The Gondola and The Tram with another lift slightly further up the main base area. The two lifts service all the green slopes Jackson Hole has to offer, while the Gondola and Tram get right up onto the mountain.
That green lift, Teewinot, indirectly feeds the Apres Vous lift which is a ski area at the northern end of the resort, while the Tram takes you to the most expert areas at the southern end.
So generally speaking the terrain gets harder from north to south. Further it seems like each area is its own small self contained microcosm, where it is fairly easy to take a mixed group of skiers in ability, and yet still have runs each will enjoy skiing while being able to meet up again at the bottom. But check the map, as there are some areas that have nothing below black runs in them.
Next to the northerly Apres Vous is the Casper Bowl area, indirectly accessible from the Gondola or by cat-track from Apres Vous. Following Casper is the Gondola area that has runs of all types off it as well as the hike up to the "Headwall" directly behind it. Down the easy blue bowl area from the Gondola is Thunder Lift that services an adjacent ridge and has several blues, double-blues and black runs on it with Tower Three Chute being the real toughie.
One more over again is Laramie bowl which is itself double-blue with some well known double-black runs like Alta Chutes dropping into it. Next to Laramie bowl is the Sublette Lift that services two bowls: Cheyenne and Bernie Bowls -; which contain all black and up runs, you are in another category here. There is also an easy hookup to a blue cat walk that will take down around towards the front, or back to Sublette and Thunder.
Sitting at the top peak of the resort and serviced by the Tram is Rendezvous Bowl. This is expert only territory up here -; although the ski patrol stakes out a relatively easy way down the Rendezvous Bowl for the less than expert skier -; still I wouldn't send up a novice skier to the top, as there is some serious stuff up there that can hurt you.
One run that you may already have heard about is Corbet's Couloir (call-wahr). Get off the Tram, clunk down the steel steps and head to lefthand side of the top area. Find the ropes and follow them till you see the big hole and all the folks gazing in. "Hey wait did I just see someone jump into that?" It's a steep narrow chute whose character changes everyday -; some days packed up with snow and others require quite the 30+ leap of faith…
And if that's not crazy enough for you, supposedly behind the Tram is a double cliff jump -; it's not on the map but a local told me about it. I think the trick is to land that first jump…
Finally coming down off the Tram, Sublette and Thunder towards the main bottom area is a bunch of ridges and gullies, that in some senses are wide open while also containing their share of interspersed trees, rocks and other obstacles.
The most famous of these are the Hobacks that according to the ski guide are the closest things to "heli-skiing" on a deep powder day…
Corbet's Couloir
Corbet's Couloir is one of the more famous steeps in skiing. Near vertical at the top, the slope opens up like a funnel as you go down, bordered by granite walls and some rock outcroppings. There's a certain mythology that's grown up around Corbet's Couloir, making it a must do (or attempt) for some people. On our trip, one of us did just that -; took the leap of faith into it and lived to tell about it! This is his story, paraphrased by me.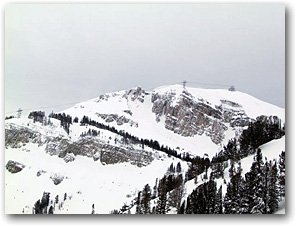 "When we got to the top the wind was gusting at 60 mph. I didn't think I could do it then but I had looked at in the morning and thought it looked do-able then. But the wind and blowing snow put visibility near white out at times, so I had my doubts. Still when we got up to the chute's cornice I sat down and put one leg over to see if I could catch an edge below the cornice. I found nothing. Suddenly a big gust of wind came and I started to fall into the hole head first! My friend behind me yelled out, 'Oh no…' but at the last second somehow I caught myself and fell back onto the flat snow. I don't know how this happened. Recovering I started kicking around again with the ski in the hole, and I found a little snow. Then I made some handholds on the top part of cornice in the snow and put the other foot over and found some edge for that too. So I then had my two ski's edges caught and I had my hands in the handholds. Slowly I put more weight on my edges till they gripped really well, while holding myself with my handholds. After a bit I just committed to it and put all my weight on the edges, lowering myself down and letting go of the handholds… I was in the Couloir! I could barely see, and I sidestepped down a few feet until I go to a lip. I could see I had to jump four or five feet over the lip and hard turn towards the right, and 'stick it' or hit the granite wall down that side. So I did the jump and stuck it. Then I turned the other way down the chute and skied it straight down because I couldn't see anything before turning again as it opened up to avoid some more granite. I was going about a million miles per hour. And when I finally got out of it and stopped, my heart was pounding at about 500 beats per minute…"
Trail Ratings vs What We Are Used To
If you decide to go to Jackson Hole, be prepared to try out some terrain you probably aren't used to. I don't mean you should be ready to do try Corbet's Couloir or ski in the trees necessarily, but be ready for some steeper less groomed terrain than you used to here. On the other hand if you are ready to jump into Corbet's, you probably already know about Jackson Hole and have stopped reading this long ago. As I see it, this is how we compare to them, relative to Whitetail in terms of slope, length, slope changes, groomed or not, and obstacles.
Green -; slope less than or equal to Whitetail greens but longer in length.
Blue -; all seem groomed and comparable to blue runs at Whitetail but can be quite a bit longer with more slope changes.
Double-blue -;comparable to our black runs but usually longer, semi (sporadically) groomed or ungroomed. They are often bumped up, bordered by trees for some optional easier tree skiing, and have a steep slope change.
Black -; all seemed ungroomed and contain obstacles such as rocks, trees, bushes, ridges and gullies, and are quite consistently steep. Their slope is equal to or greater than the slopes we have on the steepest sections of our black runs (for example Drop-In at Whitetail) and much longer. Did I mention powder yet?
Double-Black Runs -; I didn't ski any of these so I can only comment from the perspective of what I could see from a lift or another trail. These are all very very steep runs, giving the illusion of nearing vertical in places. They often contain cliff or rock outcroppings that may require a leap to get out of if you aren't careful. And while I am guessing, I think they are probably fairly unforgiving if you fall.
Unrated Runs -; as you can ski pretty much anywhere at the resort, you can easily ski into an area that really has no official name or rating. You might find yourself in a real jam if you are not careful. Ski with friends and know where you are going. Hiring a guide is always a way to get to know the place for the expert skier.
Backcountry Gates -; as it's offered as an option to the Jackson Hole skier, I feel it worth mentioning that at the gate is a dial that shows the forecast for an avalanche in that area for that day. I think it is also worth mentioned that avalanche forecasting is not an exact science. And I would not recommend going into the backcountry without expert guidance, which only decreases the odds of anything serious occurring.
Where to Stay, Air, Bus
You have two broad choices of where to stay -; you can stay at the resort or in Jackson the town. And like most ski area resorts the sleeping options include all the standard accommodation types at a variety of price points.
For example, we paid approximately $3,500 for an 8-person condo, which we could only fill to five, including 6 of 8 day lift passes for everyone. The condo was a short walk from the lifts, and you could almost ski back to it at the end of the day. Our original price goal with eight folks would have put the cost slightly less than $600 per person.
One somewhat unique thing about Jackson Hole is the hostel, Hostel X, which occupies a prime location within a few hundred yards from the lifts and the famous bar/restaurant the Mangy Moose. While skiing to the lifts is not easily accomplished as the hostel is slightly downhill from them, you can easily ski right back to the hostel at the end of the day! Very cool.
Two of our group stayed their one night and it was a very reasonable $53 for two. I found its simple plywood walls and hard beds functional and somewhat endearing for a short stay. If I were really looking to minimize costs or was in college on Spring Break, this would be the first place I'd check out. They do have a 5 night minimum stay policy but they may make exceptions if you are already there.
Each room has four single beds, two formed into a bunk, a heater, a small sink, toilet and shower. It was reasonably clean and quiet for me but I suspect my tolerances here are higher than average. There is also a large common area, with a place to wax skis, read and hang out. There's even free Internet access, which is cool, although WebTV somewhat clunkily provides it. The only thing missing from what I saw is a common kitchen -; perhaps it is there and I just missed it!
Since you are going to be all day skiing in some of the best terrain in the world, and then exhaustingly heading off to bed early each night after a tall cool at the Mangy Moose, what more do you need?
Briefly in terms of getting there, we made arrangements very early through Expedia and got fantastic rates from National with Continental, $214 roundtrip. But that required flying to their Houston hub, which made for a long day. Still, can't complain about that price! From the airport we took the Alltrans shuttle bus for $35 roundtrip -; nice folks!
Where to Eat and Drink
This is by no means an exhaustive list; I can only discuss where we went, so this may not be that useful. In short, I strongly recommend the Snake River Brewing Company in town for both good beer and food. And of course the Mangy Moose for a tall cold one at the end of the day at the resort!
The Resort:
For breakfast -; try the Aplenhauf. The only breakfast I ate out was eaten there and it was quite good. Unfortunately all my other breakfast meals were homebrew in the condo so I cannot recommend anything else.
For lunch -; while on the slopes give Casper Restaurant a try. Expect to pay $10 for your meal and drink; it is somewhat expensive. Their menu is varied but I found the taco salad with beef barbecue to be the best thing they offer.
For dinner -; there are several places to eat dinner but for some reason we ate at the Mangy Moose three times. The dinner meals include a good salad bar and in general the entrees are very good. I thought the Moose restaurant overall was a little expensive but not by much. Expect to pay $20-30+ for a meal including a drink and possibly dessert.
For drink -; the Mangy Moose doubles as a bar. At 4 p.m, as the lifts close, ski to the Moose for some tasty Moose Drool, or better yet, try the Snake River Lager (my fav). Music is often in the offing with bands from all over. Some days it was absolutely packed, and others quite low-key. In all honesty I barely lifted a pint to my lips there but it looked cool from a distance. Give it a shot!
In-town:
For dinner -; try Merry Pigley's for Mexican (the salsa is very, very good) or Snake River Brewing Company. Go to the Snake River Brewing Company over and over, as it has some fantastic beer and food is very, very good and relatively inexpensive. I seem to recall $20 per head including pint, entrée, and tip. For the more carnivorous appetites try the Gun Barrel that has a rather macabre mix of various game meats, beef, chicken and fish. Finally bring your favorite six-pack to Bubba's and chow down on some ribs or pulled pork in this reasonably priced family establishment.
For drink -; several choices around the main town square, try the Cowboy Bar that has cool saddle seats, or head back to Snake River Brew Company. I think there's even a pool hall somewhere in town, and there's pool at the Cowboy Bar.
And that barely scratches the surface, especially in town…
My Favorite Run
I challenged myself to ski something black under every lift, gondola or tram -; which for me was difficult as I felt that the double-blues were teaching me new things on every run. So, nope, no Corbet's Couloir for me! Still I felt like I had do some blacks runs… my own personal Corbet's Couloir I suppose. In so doing I found that my favorite run is called the Hobacks, not really a single run but an area.
As mentioned before, the Hobacks are just large ridges and gullies that run off the front of the resort towards the base area. They are steep and ungroomed and in some senses wide-open, although they also contain their share of trees, rocks, boulders and various other items sprinkled about to maneuver around.
All in all you have to think a bit to get down to the bottom, which often to me seemed endlessly far off -;" I mean it's there, I can see it, but why am I still not any nearer?" It was that kind of bottom.
I struggled through this stuff but something got to me there, and now I have the bug for them. They will be one of the first things I do when I return.
Did I mention powder? They are known for their deep powder skiing on powder days. I can't say I experienced this as I was busy fiddling around under Apres Vous on our BIG fresh powder day, so by the time I got to it, it was fairly packed down (although still loose, not packed like groomed trails, just not two feet deep powder). This actually helped me as I said before, as I didn't quite figure out the powder groove…
In the End
I found Jackson Hole's remote location, wild west ways, picturesque scenery and unbelievable skiing to be nearly enough for me to pack my bags and head West for good!
Photos provided by Kevin Rice.