Ski Salzburg with the Snow Shuttle
Part Two: More on Salzburg, Zauchensee and Saalbach-Hinterglemm-Leogang
Salzburg Night and Day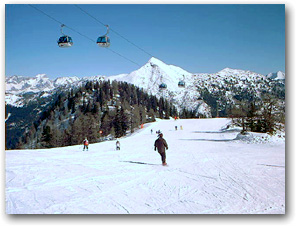 Given the plethora of pleasures just steps from our hotel, my traveling companion, Dave Thomson, and I tried our best to enjoy a different aspect of Salzburg each night during our one-week ski vacation. On Monday evening we ate and drank at the Weissbierbrauerei at Rupertgasse 10. In the United States we'd call this a microbrewery. It was just a few blocks from our hotel and served a "white," wheat based beer that was very appealing to our American palates. Both light and dark (still quite pale) versions went down easy with our dinner choices of Hungarian beef goulash and pork chops. Beer drinkers will love Salzburg. With several breweries in town including Stiegl (largest independent in Austria, founded 1492), one week might not be enough to sample all the excellent varieties. We climbed our culinary summit on Tuesday night at the award winning Restaurant Auerhahn at Bahnhofstrasse 15, where we enjoyed a fabulous four-course meal. The main entrée consisted of some of the most tender and delicious lamb I've ever had. Dessert was Topfenknodel, a feathery light dumpling creation dressed with a sweet, fruity cheese mixture on the side. Salzburg has an extremely robust restaurant scene, developed over the years to cater to large numbers of well-heeled and sophisticated summer tourists. Our meal at Restaurant Auerhahn exemplified the multitude of gourmet dining possibilities ready, willing, and able to pamper wintertime guests. Wednesday was classical music night at the Salzsburger Schlosskonzerte, in the beautiful 400-year-old Marble Hall of the Mirabell Palace. For a pair of Virginians more attuned to the rock/funk/bluegrass sounds of Bruce Hornsby on keyboards, we really enjoyed the Salzburger Solistentrio's treatment of compositions by Mozart, Beethoven and Schubert. Dave gave the performance his ultimate thumbs up after a long day on the slopes: "I didn't fall asleep." To the contrary, he loved piano virtuoso Ikuko Nishiyama and I really got into the decisive technique of world class violinist and program director, Luz Leskowitz.
We spotted a friendly couple from the Snow Shuttle in attendance and after the concert we went for a drink with Ash and Rita Shah. The Shah's, born in Kenya, but of Indian descent, were now longtime residents of London, England. From a different world than ours, but of the same baby boomer generation, they were off on a second honeymoon of sorts. Yet I could tell their choice of romantic Salzburg was not by happenstance, for Ash was a keen piste basher. When I broached the topic of US ski areas I had visited, many of them obscure northeastern or mid-Atlantic resorts, Ash began to recount his trips to many famous European ski areas and almost every one of the top ten resorts of North America.
Thursday we took a day off from skiing to rest-up and see some of the major sights of Salzburg. After mailing a few post cards we set off across the Salzach River and began the scenic climb (200-300ft/75m) to the famed Fortress Hohensalzburg. Two or three hours are required to explore its many buildings and chambers filled with historic artifacts. I was fascinated by an intricately crafted medieval chastity belt on display in a room full of whips, iron masks and various shackles. Details on all aspects of the castle are provided through multilingual headsets. We commandeered a bench high on the castle grounds and enjoyed a picnic of cheese, hard rolls, fruit, Mozartkugeln, and views right out of "The Sound of Music."
Then it was time to pay homage to Mozart at the house of his birth, now a museum in the center of the upscale retail district below the fortress. We learned that his short, difficult life was filled with as much hardship as brilliance, and that his groundbreaking genius as a composer was matched by his virtuosity on a half dozen musical instruments. A second Mozart residence in the newer part of town (Makartplatz 8) features an evocative film on his life. Along with Mozart's personal story, both locations provide an excellent history of everyday life during his time (1756-1791). After this challenging daylong immersion in European history we enjoyed universal comfort food along Linzergasser Street: pizza, salad, and more beer.
Our nocturnal goal on Friday was to catch a little night music (Eine Klein Nachtmusik) at the Mozart dinner concert in the historic Baroque Hall of the Stiftskeller St. Peter Restaurant. While we ate chicken prepared in a style of the 18th century, talented young singers and musicians in period dress offered a program featuring excerpts from Mozart's greatest compositions. A few floors below us others dined in a classy, catacombs-like eating area where, according to written record, meals have been served since King Charlemagne's visit in 803!
On Saturday night we went to Catholic Mass in St. Sebastian's Church on Linzergasser Street. It's a beautiful place for a moment of reflection during a busy trip. The small, ornate interior contains many paintings and an abundance of gold leaf, but upon entering we also noticed a block of ice in the holy water font the size of a brick. It took me about ten minutes into the service to fully realize the implications of the ice. I could see my breath when I whispered to Dave, "this is the coldest Mass I've ever been to." Later a cabbie told us that the absence of heat in some old churches saves on energy costs, but also protects precious, ancient interiors from disruption or deterioration due to the introduction of modern heating systems.
Zauchensee (Zock-in-say)
Friday morning Dave and I returned to our ski routine at 8 a.m. sharp when the Salzburg Snow Shuttle picked us up at our hotel and headed south on the Tauernautobahn (A10). The 50-minute trip to Zauchensee took us just a few miles past Flachau, the site of one of our ski outings earlier in the week. Following the plan of the day to save driving time, our motor coach parked at the ski facilities of Flachauwinkl (Flock-cow-vingkle), where we hooked-up with Edi Kocher, director of the Altenmarkt/Zauchensee tourist office.
We rode the Flachauwinkl-Zauchensee gondola and a triple chair up a total vertical distance of about 2950ft/900m to Rosskopf Peak (6330/1929m). From this point we were able to ski directly into Zauchensee proper. While the area is well known locally for updated facilities and exceptional snow conditions, for me as an American, it was a complete mystery. When we crested Rosskopf the view immediately resonated somewhere deep in my personal hankering for discovery.
Zauchensee was a skier's Shangri-La. Below us spread a variety of ski terrain descending to a village set at the bottom of a steeply walled box canyon, a secluded snow repository reminiscent of Taos, New Mexico. With open areas up high, mountainsides of tracked-up glades beneath them, and a relatively compact trail network arcing up from the valley in several directions, Zauchensee struck me as the most American looking ski layout I had seen all week. What I mean is that it had some of the best attributes of some of the best American ski areas: quality snow, quality infrastructure, and quality terrain in a package one could get intimate with in three or four days.
Our host, Edi, was a super smooth senior skier who had been an instructor at Sugarbush, Vermont at one point in his career. We noticed he made his silky turns on a unique pair of skis - a numbered, collector's edition from the nearby Atomic factory in Altenmarkt. They proudly featured a logo marking Salzburg's selection as one of the final three candidate host cities for the 2010 Winter Olympics. If Salzburg gets the Olympic nod later this year, the value of Edi's skis may rise significantly, as will the visibility of SalzburgerLand skiing.
Edi was eager to show us Zauchensee's World Cup downhill run, the chosen venue for the Women's Olympic Downhill race if Salzburg's Olympic dreams come true. We took the Schwarzwand gondola (2440ft/743m vertical) out of the village of Zauchensee to the highest point in the ski area, Gamskogel Peak (7177ft/2188m). From there a special racers-only elevator lift climbs steeply for another couple hundred vertical feet to the acrophobic World Cup starting gate. The special lift was not for us, but we did find a lot of nice, loose snow as we began our descent. The nearly two mile long course (2660ft/811m vertical) is easily managed by advanced intermediates at recreational speeds, but from a racer's perspective Edi pointed out terrain features that became huge jumps, dangerous curves, or bone crushing compressions at 75 mph.
For lunch we stopped at the Unterberg Hutte, an attractive mid-mountain restaurant beside the Zauchensee-Rosskopf gondola (1900ft/577m vertical). To paraphrase a line about a lunch experience earlier in the week at Bad Hofgastein; when Edi found out we had been in Austria for five full days without yet trying schnapps, he moved quickly to rectify the problem. I had schnapps to start lunch, beer with my lunch of salad, macaroni and cheese, and schnapps to end lunch. Fortunately, I also shared a big dish of Kaiserschmarren (local favorite of torn-up pancakes and plum sauce) with Edi and Dave for dessert. All the macaroni and pancake must have absorbed the alcohol quite well and I seemed to ski off my little Austrian style buzz in about 30 minutes.
We went on to fill out our day with many more runs in conditions Edi declared as "purrfect." Late in the afternoon I was presented with my foreign language final exam when I boarded a double chair with an Austrian lady about my age. For the first time all week I was one-on-one with someone whose English skills matched my meager German skills. Nonetheless, we managed a giggly exchange about the good snow, warm sun and Michael Walchhofer, local Zauchensee boy and newly crowned Alpine Skiing Downhill World Champion.
Saalbach-Hinterglemm-Leogang (Saulbock-Hinterglem-Lay-oh-gang)
Our grand SalzburgerLand ski finale took place on Saturday at Saalbach-Hinterglemm-Leogang. Utilizing a strategy like the day before, the Snow Shuttle minimized drive time (to about 70 minutes) by delivering us to the lift facilities at Leogang, a significant ski area in its own right, but also with trails connecting to the neighboring Saalbach-Hinterglemm valley. The combined terrain of the three areas constitutes a lift linked network of approximately 60 lifts (including seven major gondolas), 40 mountain Huttes/restaurants, and hundreds of miles of ski runs. It was the largest single area we would visit and a fitting climax to our ski week.
We were pleased to meet Kornel Grundner of the Leogang lift company and Edith Danzer of the Saalbach-Hinterglemm tourist office as we boarded the two phase Asitzbahn gondola (3024ft/922m vertical) out of Leogang. Halfway up the mountain Kornel announced that he had a surprise for us, a once in a lifetime opportunity to go paragliding among the Austrian Alps. "Very safe," Kornel said, "tandem style, with a licensed, professional pilot." When he described the takeoff procedure, basically, harness-in and then ski off a cliff to get airborne, I hesitated, not being the most aerobatically inclined individual. My traveling companion and photographic assistant, Dave Thomson, did not. As an amusement park season pass holder and roller coaster junkie, Dave was immediately ready to go for it. So we agreed, he'd take the flight and I'd hold the camera.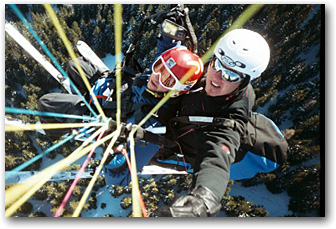 Off Dave went, within seconds just a speck gliding with the birds in a picture-perfect alpine setting of forest and mountains. A few minutes after he and his pilot floated off towards the valley floor, Kornel, Edith, and I skied off under the gondola down the same 3000ft/900m vertical descent for a rendezvous. When we came to the end of our 15-minute blitz he was already standing at the base of the slopes exchanging high fives with his pilot, Leo (of Leogang) Mayerhofer. Dave was thrilled with his flight and you can bet I will never hear the end of how I wimped out on such a great deal. As we turned to go, Leo handed Dave a keepsake roll of film taken by a remote controlled in-flight camera. The shots he got were much more interesting than any I took.
With the impromptu aerial adventure over, we headed back up the mountain to explore the rest of the ski area. As we made our way out of the Whiteface, NY sized Leogang area, the Saalbach-Hinterglemm valley came into view. The terrain stretched out for a half dozen miles along each side of the valley with about ten different peaks facing every sort of exposure. This was truly "skiing as exploring." Though I'm told an aggressive skier/boarder can ski the whole "circus" in one long day using about 35 lifts, given our late start and slow ski style, we had no chance, but that wasn't going to deter me from getting a good sample.
I shared a t-bar with a German gentleman while cruising towards the head of the valley in a sunny section below Kohlmaishof Peak (5884ft/1794m). We quickly found that we had a few US ski areas in common, including Vail, CO. I asked him which he thought was bigger, Vail or Saalbach-Hinterglemm? He thought for a moment and said Vail, but believe me the comparison is not too far off. I might have voted differently and I'm still not sure if he thought I said bigger or better? In an amusing case of "the grass is always greener," he mentioned that he was heading to ski Utah for the first time in a few weeks. He listened to my favorable assessment of several Wasatch resorts and was glad to know that getting a beer in Park City was not going to be a problem.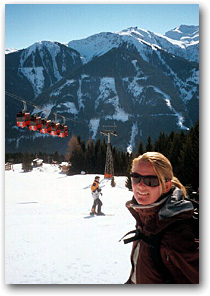 After another alfresco lunch, this time accompanied by an old-timer on electric piano playing kitschy favorites for a deck full of diners, Edith led us underneath the signature red Kohlmaisgipfelbahn gondola (2500ft/765m vertical) toward the village of Saalbach. As we descended the soft, south facing slopes of this side of the valley I noticed more snowboarders than at any other resort we had visited during the week. In fact, Edith was primarily a boarder, but had switched back to skis for her day with us. She said that both Leogang and Saalbach-Hinterglemm catered strongly to boarders and between them had four half pipes/terrain parks. Earlier I had heard that Saalbach was known for a young and lively après ski crowd, perhaps also corroborating its snowboarder friendliness.
I strongly desired to ski from at least one summit on the north facing side of the valley, so at the base of the Kohlmaiskopf area we took a short hoof through the town of Saalbach. Not to make too much of the Vail comparison, but I thought the look of the two towns bore some resemblance as well.
We embarked on the brand new eight passenger Schattbergbahn gondola (3335ft/1017m vertical) out of Saalbach for the ride to the summit of Schattberg Ost (6626ft/2020m). From there we took the Jausernabfahrt trail, a 4.5mile/7km intermediate cruiser reminiscent of a little tougher version of Great Eastern at Killington, VT. Long alpine runs like this caused us to take occasional trail side breathers, not so much because of steepness, but because of their sheer length. Reaching the bottom of the Saalbach-Hinterglemm valley, we utilized the Schonleitenbahn gondola (1800ft/550m vertical), and a series of express chairs to head back to our starting point in Leogang.
As we returned through the treeless upper reaches of the Leogang terrain I noticed some buildings that were much larger than the typical restaurant Huttes and I asked Edith about them. They were on-slope hotels and private chalets. Even after a week of heavy-duty skiing, the idea of staying mid-mountain for more runs in a huge Austrian ski circus had a lot of appeal. The spirit might have been willing, but the flesh was weak, or at least in need of hydration. When we came to the last big 3000ft/900m descent to Leogang, Edith had a brilliant idea. We stopped for a drink near the Asitzbahn gondola terminal, savored our final moments atop the Alps, and then rode the gondola down free from the press of homeward bound ski hoards. Discretion is the better part of valor.
Concluding Comments
Although I had seen a summary on the Salzburg Snow Shuttle at http://www2.salzburg.info/530.htm, it remained my biggest pre-trip question mark. Its availability and the attendant freedom from a rental car were critical to my decision to go with Salzburg. I found the service to be very professionally orchestrated, with daily pickups at several hotels/locations and ski storage in a locked compartment on the motor coach all week. None of the daily ski commutes required Dramamine, instead all were smooth and scenic, allowing for sightseeing, snoozing, or depending on the occupants, partying. My ticket to ride came as part of a trip package, but a seat could be purchased a la carte for about $15 per day.
Driver "Mikhail" was very punctual and the onboard guide, Bryan Crawford, was an absolute jack-of-all-trades. The two have managed the Snow Shuttle as a team for several years, both also skied and the bus stayed at each ski resort throughout the day. Bryan provided trail maps and multilingual recommendations on lifts, runs, restaurants, and nonskiing activities. Aided by a cell phone, he also coordinated the purchase of lift tickets, ski rentals, and the hiring of instructors and guides. At various other times Bryan wore the hat of cultural advisor, sightseeing guide, ski equipment repairman, weather forecaster, bartender, and poet: "skiing is not about speed, it is about rhythm and dance."
The typical skier in Austria was outfitted with extremely up-to-date equipment. I could count the daily sightings of non-parabolic downhill skis on about two fingers. Helmets, snowboards and telemarkers, however, were generally less common then in America. Programmable electronic ski tickets were pretty much universal. They utilized a computer chip embedded in a plastic ticket about the size of a credit card, which when placed in a clothing pocket, was read by a sensor permitting passage through a turn style before boarding lifts.
Perhaps it was naïve of me, but I found exchanging "where are you froms" to be an excellent conversation starter. Given the small number of Americans in the region and the high degree of world attention on American political/military matters at the time of my trip, there was plenty of fodder for discussion when I revealed that I was from the Washington D.C. area. But my conversations with Europeans were always respectful and never confrontational. The Austrian people were very gracious hosts and the multinational skiers and snowboarders sharing the slopes with us were basically focused on fun recreation.
All the ski areas I visited could be considered destination resorts and though I greatly enjoyed the smorgasbord of a new one every day, the small taste I received of each invariably left me longing for more at 4 p.m. The Gastein Valley, Zell am See and Saalbach had the largest slopeside resort villages, making them great candidates for a weeklong visit. But the beautiful Gemütlichkeit/coziness of Zauchensee would be a wonderful discovery as well, and it is lift- or bus-linked to other areas including Flachau. Amazingly, all the SalzburgerLand resorts I skied during the week are contained within a tidy little 65 square mile package.
The novelty and richness of a European ski vacation can hardly be overstated for those who rarely travel overseas. It is truly a cultural exchange as well as a ski trip. The high number of memorable dining experiences, on and off the slopes, was quite unexpected. For its depth and diversity, Salzburg has got to be one of the all time great destinations for satisfying a mixed group of skiers and non-skiers. In the pantheon of skiing gateways I like to think of Salzburg as Salt Lake City with Mozart instead of Brigham Young, Denver with Maria Von Trapp instead of John Elway, or Reno with only one casino, much better food, and 2000 years of additional recorded history.
Photos provided by Jim Kenney.
Didn't catch Part One of Jim's report on Salzburg? Click here.
Related Links