There are a lot of places to ski in the world but, let's face it, you probably won't have a chance to make it to all of them. If you live in Colorado, you're unlikely to fly to Ohio solely to ski one of Ohio's slopes. Similarly, if you're going to travel outside the U.S. to ski, you're probably going to pick a world-famous resort.
This article launches a new series on DCSki that explores areas you may never ski: out of the way ski areas in the U.S. and abroad. The series kicks off with an article from John Sherwood describing the ski areas of Slovakia.
---
"Wild and wonderful" may be the motto of the state of West Virginia, but it also could easily apply to the country of Slovakia. Slovakia, the eastern part of what used to be Czechoslovakia, is approximately the same size as West Virginia, and shares many other similarities with this state. Trees cover forty percent of the country, making it one of the most heavily forested areas of Europe. These forests provide a home to a rich diversity of flora and fauna, including an estimated 700 bears, 500 lynx and 400 wolves.
Mountains also dominate the landscape. Often referred to as the "rooftop of Central Europe," Slovakia encompasses the northwestern end of the Carpathian Mountains. Eighty percent of Slovakia is over 750m (2460ft) above sea level, and its highest mountain reaches up to the 2,655-meter mark (8,708ft).
Slovakia has a well-developed system of nature protection, including 9 National Parks, 14 Protected Landscape Areas, and more than 1,000 Protected Sites, Nature Reserves and Nature Monuments that, together with buffer zones, cover some 23% of the country's territory. There are also significant restrictions on land use around designated water protection areas.
The superlative natural resources of Slovakia make it one of Europe's greatest outdoor playgrounds. The country offers some of the best backcountry hiking and mountain biking in all of Europe. Winter sports, however, are the focus of this web site, so I will devote this article to a discussion of snow sports in Slovakia.
Slovakia has over 80 ski areas. Most are small village affairs, consisting of one or two Pomas and a handful of very short slopes. If Timberline were in Slovakia, it would rank in the top twenty percent of Slovak ski areas in terms of skiable vertical, number of lifts, and snowmaking capability. In fact, only two regions in Slovakia can be defined as true "destination" ski areas: Stary Smokovec, Tatranska Lomnica, and Strbske Pleso in the High Tatras and Jasna and Chopok Juh in the Low Tatras.
Vysoké Tatry (High Tatras):
The Vysoké Tatry (High Tatras) are the only genuine alpine mountains in Eastern Europe and one of the smallest high mountain ranges in the world. This 260 square kilometers (100 square mile) range looks like a smaller version of the Tetons with its jagged rock peaks and spruce covered lower slopes.
At the base of the High Tatras are three medium sized ski areas that connect to one another via an electric tram. Each of these areas is no bigger than Snowshoe, but together, they form a fairly sizable ski region. Using an efficient electric tram shuttle system, one can easily ski one resort in the morning and another in the afternoon. There is not a common lift ticket for the High Tatras, but one can buy a half-day ticket at most of the resorts for approximately $10. Some areas also offer 1-ride tickets for less than $1.
Most ski slopes in the Vysoké Tatry face south and are above 1,000 meters. This makes for sunny, but relatively short runs. The terrain, for the most part, is lower intermediate in difficulty. My wife Darina, who has skied all the High Tatras resorts, claims that Tatranska Lomnica is the best destination in the area for advanced skiers. The resort offers an impressive 1,280m (4,198 feet) of vertical, but in reality, not all of that vertical is skiable during most winters. The best expert terrain is from the top station (2,180 meters/7,152 feet). There are also some interesting off-piste possibilities from this station.
Tatranska Lomnica has one of the best lift systems in the High Tatras, including a detachable four-person gondola. Nevertheless, lift lines can be long here as well as most other resorts in the High Tatras. Also, skiers should be warned that snowmaking is virtually non-existent in the High Tatras due to the fact that most slopes sit on national park land.
The other two base areas in the region are Strbske Pleso Interski and Stary Smokovec. Strbske consists of one blue (European beginner) trail and a couple of learning slopes. The Predne Solisko trail at Strbske covers about the same vertical as Cupp Run at Snowshoe (1500 feet), and offers some nice views, but advanced skiers will get bored of it after a few runs. The top stations of Stary Smokovec offer slightly more challenging skiing (red "intermediate" trails in the European rating system), but less vertical -; the longest red trail is only 530 meters (1,730 feet) and covers only 180 meters (590 feet) of vertical.
Nízke Tatry (Low Tatras):
A far better region for advanced skiers is the Low Tatras areas of Jasna and Chopok Juh. These areas offer steeper terrain and better snowmaking than their competitors in the High Tatras. Jasna, the largest ski resort in Slovakia, has a vertical drop of 1,000 meters (3,280 feet), and offers a wide range of pistes, including a 2,500-meter (8,200 feet) long racing trail with a vertical of 770 meters (2,526 feet).
Most slopes face north and are tree-lined -; another factor that contributes to more reliable snow conditions than most other resorts in Slovakia. Jasna, however, lacks a modern lift system so lines can be long and rides, slow. Pomas are also ubiquitous at Jasna, and most other Slovak ski resorts.
On the positive side, Jasna is installing a detachable, high-speed 6 pack with a bubble canopy this summer that will run from the Zahradky base area up to Rovná Hola. Jasna also recently built a new four-star hotel, the Tri Studniky. The four star Grand Hotel is also relatively new and very comfortable. I spent three nights at Grand a few years ago. It compares to Austrian four star accommodations with one important caveat -; it's about half the price!
What Jasna lacks in lift services, it makes up for in backcountry access. While the chairlift to the top of Chopok (2,023 meters/6,637 feet) is currently out of operation, ski alpinists, using crampons and ice axes, can hike from the lift station at Lukova (1,680 meters/5,511 feet) to Chopok. It's a relatively easy hike in the warmer months (I've done it), but in the winter, one should not attempt it without a mountain guide, and high alpine experience.
From Chopok, one will find a smorgasbord of moderately steep, south facing, un-groomed, back bowls -; some of which are serviced by Poma lifts from the Chopok Juh ski resort. Others are uncontrolled for avalanches and require a ridge hike to access. Before making the hike, check on snow conditions at Chopok Juh because these exposed south facing bowls don't hold snow as well as the tree-lined north facing slopes of Jasna.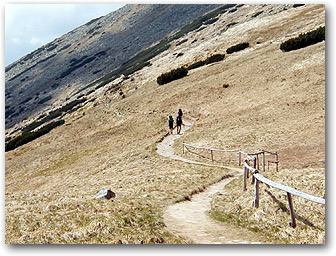 Experts interested solely in the bowl skiing at Chopok Juh might consider staying there instead of Jasna. At the base of the resort is the Hotel Srdieko, a modest two star hotel. At the Kosodrevina mid-station (1,515 meters/4,970 feet) is a three star hotel (the Kosodrevina) accessible only by a high speed, detachable quad. Finally, true ski alpinists can save a bundle of cash by staying at Chata Stefanika, a mountain hut run by the Slovak Mountain Rescue Service that sits on a 1,740-meter (5,708) high mountaintop. Ski alpinists can rent a bunk bed for $7.50 a night. The hut also features a canteen serving local specialties and the highest tap beer in Slovakia. Bring your ice ax, crampons, and avalanche transceiver, but leave your Mastercard at home because Chata Stefanika only accepts cash.
Mountain rescue personnel stationed at the hut can advise skiers about the safest lines to bag from hut. Guide service may also be available through the Chata (see the link below for more details). One snowboarder I met on a recent hike to Chata Stefanika claimed that it offered the best base for free riding in Slovakia. He spent the entire winter there exploring the endless lines of the Nízke Tatry.
A Paradise for Freeheelers:
While there are certainly ample places in Slovakia for alpine skiers to explore, the country is even more renowned for Nordic skiing. The Kremnica resorts of Krahule and Skalka host one of the largest Nordic races in the world -; the 42-kilometer (26 mile) Biela Stopa race. Kremnica offers 42 kilometers of tracked terrain and endless backcountry. Anyone comfortable with the hilly terrain at White Grass will feel at home in Kremnica. Kremnica also has a Nordic ski museum in the town's tourist information office.
Another excellent base for the free of heel is Donovaly -; a small resort just north of the town of Banska Bystrica in central Slovakia. Donovaly offers an excellent ridge run from Donvaly to Nizna Revuca.
Net Assessment: A Glass Half Full!
I must confess that I have never skied in Slovakia. I attempted a ski trip to the country two years ago in combination with an Austrian ski trip, but poor snow in the Tatras kept me at St. Anton for the entire trip. My wife, a Slovak native, has skied most of the major ski resorts in Slovakia, including all the resorts discussed in this article. She also keeps up with the Slovak ski scene on various Internet forums. As for me, I have hiked at all the major resorts mentioned in the article during the course of five trips to Slovakia. Over the recent Memorial Day weekend, I hiked the Nordic terrain at Kremnica and the back bowls of Chopok Juh. My conclusions, therefore, are based on these survey hikes, discussions with my wife, and insights gleaned from Slovak language web forums on skiing.
As a world-class destination for alpine skiers and snowboarders, Slovakia still has a ways to go. Only Jasna comes close to being a world-class resort, but its antiquated lift system and limited snowmaking make me hesitant to recommend this resort as a destination for North American skiers. Potentially, Jasna could become a Vail in the heart of Europe, and the resort is making great strides towards achieving that goal with new hotel and lift developments. The new Doppelmayer 6-pack alone will cost the resort $6 million dollars just to install -; a veritable fortune for an independent ski resort even in the United States.
However, investment must continue for the resort to attract more destination skiers. For those bold enough to invest in Jasna, the rewards could be huge. Slovakia and its neighboring countries of Poland, the Czech Republic, and Hungary are slated to enter the European Union (EU) in two years. Poland, for example, has a burgeoning population of 38 million and only one major ski resort to satisfy its demand for winter sports (Zakopane).The prosperity that may arise from EU integration for Poland and other countries of "new Europe" could potentially fuel a huge demand for winter sports, and Jasna, being a short drive from the major population centers of Vienna/Bratislava, Budapest, Krakow, and Prague stands to benefit handsomely should this prosperity come to fruition.
In the meantime, I can thoroughly recommend Slovakia as a destination for backcountry adventurers on a tight budget. There's an endless amount of backcountry terrain just a short hike from the top stations at Jasna, Chopok Juh, and Tatrasnka Lomnica. Nordic skiers will find world-class terrain in the mountains above Kremnica. I can visualize many White Grass skiers staying in inexpensive mountain hotels or huts at Skalka, and enjoying thirty-cent Golden Pheasant pilsners and $1 goulash platters after long days of off-piste pleasure.
Another enticing option for skiers interested in Slovakia is a classic ski safari. Given the small size of the country and the cheap price of half day and single ride tickets, one could easily visit 2-3 resorts a day. Several of the mid-sized resorts offer some impressive terrain. Vratna, Donovaly, Martinske Hole, Skalka, Polana, and Skipark Ruzomberok (originally called Malinne) fall into this category. Skipark recently added a new gondola, and twelve other mid-sized and small resorts are in the process of lift upgrades, according to the Journal of Slovak Lift Operators.
Like Eastern Europe as a whole, skiing in Slovakia is modernizing quickly. To quote the Slovak national anthem, "there is a storm brewing over the Tatra Mountains," and hopefully that storm will bring some white gold to this great country in the heart of Europe.
Nuts and Bolts:
Air Transportation:
Austrian Airlines offers non-stop, daily direct service from Dulles (IAD) to Vienna International Airport (VIE). Orbitz offers roundtrip fares for this flight for under $700. Budapest airport is about the same distance from the Tatras by car but not as convenient by train or bus. Also, there are currently no non-stop flights from Budapest to Dulles.
Ground Transportation:
From VIE, it's a 3.5 hour drive by rental car to either the high or low Tatras. Alternatively, one can take a short shuttle bus from VIE to Bratislava, and then proceed to the city of Poprad via the train. The train ride takes four hours and forty minutes. The cost of a second-class ticket from Bratislava to Poprad is $11. From Poprad, convenient electric trams connect the main rail station with the High Tatras resorts and busses connect to Jasna.
Staying there:
There are a wide range of accommodations at Slovak ski resorts: everything from elegant four-star hotels to mountain huts. Four star hotels such as the Grand at Jasna charge approximately $86 a night for a double room, but one can find much cheaper accommodations at clean and comfortable two and three star affairs. I recently booked a double room at a three star at the Polana ski resort for $35. Large groups should check out apartment (byt) or mountain hut (chaty) rentals. These can be very affordable by American standards.
Lift tickets and Rentals:
Lift tickets are cheap -; $12 on average for a weekend day ticket. As for rentals, check with the individual resorts for details.
Food and Drink:
Slovak cuisine is a central European medley: goulash, schnitzels, roasted potatoes, cabbage, sausage, etc. Paprika is a common seasoning, and lunch is the major meal of the day. A typical lunch consists of soup, salad, a main course, and dessert. Most food is non GMO and organic. Vegetarians will find ample selections of meatless entrees at all licensed restaurants.
Beer is a national obsession in Slovakia, and comes in variety of colors and grades. The percentage mark on a Slovak beer refers to the gravity of the beer and not the alcohol content. However, ten percent beers generally have less alcohol than 11 or 12 percent brews (3.5 percent by volume versus 5.5 percent). My favorite beer in Slovakia is the Golden Pheasant line of pilsners (Zlaty Bazant). Zlaty Bazant also makes an excellent non-alcoholic (nealko) beer good for drinking during the day while skiing. Expect to pay about $12 for a full four-course meal at a decent restaurant and between thirty and seventy five cents for a half-liter of beer. Food sold at mountain huts can be even cheaper. A bowl of goulash at Chata Stefanika costs less than a $1.
Currency:
The Slovak Crown is the currency unit of Slovakia. Currently, one U.S. dollar converts to 34 crowns.
Visa Requirements:
None for U.S. citizens staying less than 90 days.
Language:
Slovak (a Slavic language similar to Czech and Polish based on the western alphabet).
If you have time:
You might want to visit the village of Vlkolinec, a UNESCO World Heritage Site, and the thermal baths at Besenova -; both places are near Jasna and Tatranska Lominica.
Summer photos provided by John Sherwood. Winter photos provided by Jasna Ski Resort
Visit our web page www.lanovky.sk where you can find a lot of fantastic pictures of the ski-lifts located in Slovakia. You can also find threre price-lists.
The article about skiing in Slovakia is really nice. I like it. I come from Slovakia. Its written, skipass costs about 10 USD in Tatra mountains. Its gone. Day ticket costed in Jasna last winter 600 Slovak crowns ( 17 USD ).
If somebody is interested Ill send pictures of Jasna and The High Tatra mountains.
Good luck
Roman:

D'akujem vel'mi pekne for the nice comments on the article. I would definitely enjoy seeing more pictures of the Nizke Tatry. You can e-mail them to the address listed below. It's been two weeks since I returned from Slovakia and I am already missing it--especially the great chocolate manufactured by Figaro of Bratislava. :)

John Sherwood, johnfmh@yahoo.com
I live in Czech Republic on boarder with Slovakia, so I know their ski resorts really good. In whole, the article is very good, but one important thing must be added - neverending queues by lifts, usually everywhere, so sometimes (holiday) you will be able to make only a few runs (6-10) in 6 hours, thats 1-2 runs/hour.
Neverending queues are only on Christmas holiday and in February. The best snow conditions are in March and April and in this time is very few skiers there.
Great article! I skiied in the same region in 1968, when it was really primitive! I lived in Czechoslovakia for 6 months, covering the Russian invasion.
The ski chapter is one of the funniest in my book, "You Wake Me Each Morning," which you can get on the internet, if you want.
It was really funny tyring to explain to my colleagues what my "Fagowee" jacket meant! It was also funny answering nature's call on the slopes - there were no toilet facilities for skiers there in 1968! Have fun.
The other day I spoke with someone who spent 3 years recently in Sofia, Bulgaria, another one of those places few of us will ever ski. Believe Bulgaria is just a few hundred miles SE of Slovakia. Apparently they have 3 or 4 sizeable ski areas in Bulgaria which, in addition to local customers, are sometimes visited by middle class Brits looking for a cheap skiing&party environment. The person I spoke to said he was able to hire a private ski guide/instructor for his kids for $20 a day in Bulgaria. He also said there were some newer ski lifts, but that most buildings/facilities were not up to the same luxury/comfort level found in more expensive US or alpine ski regions. Not sure what the highest skiable terrain is, but Bulgaria has some serious mountains. The highest point in the entire country is over 9500 feet.
I never expected this article to get so many interesting comments.

Connie:

I'll check out that chapter in your book. Thanks.

Jim:

Regarding Bulgaria, I've also heard some good things skiing there. Romania also apparently has some interesting skiing as well.

One thing I did not mention in the article but is worth noting is that the Carpathians get a lot less snow than the Alps--temps at lower altitudes can be colder, but unfortunately, the climate is also less wet. Any attempt to develop the Slovak ski resorts into major destination venues for Western European and North American visitors will require huge investments in snowmaking.

One other note:

Sky Europe is now offering discount fares from London to Bratislava, Slovakia: 49 pounds one way!

http://www.skyeurope.com/

To get to London cheaply from Dulles, check out the fares offered by British Midland:

http://www.flybmi.com/bmi/en-gb/index.aspx
If you wanna see some pictures of Slovak ski resort browse here :
http://www.liptov.sk/rmillan/index.html

bye
Roman's pictures are AWSOME! I encourage people to check them out:

http://www.liptov.sk/rmillan/index.html
Concur, these are very nice pictures at
http://www.liptov.sk/rmillan/index.html
Roman should work for the Slovak National Tourist Office (if he doesn't already).
John, now you know where to go for photos for your next article on Slovakia.
Average skiers would enjoy a slovak ski resorts.Skiing in High Tatras,Low tatras can be great as nightlife.
In one hand you can hold a beautiful slovak girl, and in the other Slovak beer!
We pleased so many british and USA skiers.
click for more fotos.
www.exploringslovakia.com
Looking at heading to Slovakia with a group of friends (1 of which happens to be a local - handy). Does any1 have any details about resorts e.g. number & type of runs (black, red etc.), altitude and MOST IMPORTANT average snowfall???

Any help much appreciated!
Just thought you might like to know that travel to mid slovakia ( and thus access to the Low Tatras, High Tatras, and Slovak Paradise )is now much quicker and easier since the opening of Sliac airport, Sliac used to be a military Airport between Banska Bystrica and Zvolen, but now has daily flights to and from Prague in Czech Republic.
Slovakia cool ski and snowboard teren.

www.yeti.sk,www.holidayinfo.sk/kamerylst.php?lang1,
Hey peter u still trying to flog birds to tourists? ga0cs@yahoo.com
Most interesting article and comments.
Somewhat outdated however, Slovak ski destinations are on the up, especially in the lesser known destinations such as Dolni Kubin. Lovely towns around and transport is good.
Flights John Paul 2 International Krakow, not a great distance to Dolni Kubin, infact a very good transfer time. Lovely people and spectacular scenery. Floodlit runs and good hotels.
One new hotel has its own ski run and 2 lifts, outside cafeteria with hot food all day, children catered for including a childrens lift, what more could you ask for.
Need any info let me know, just post here. Have a great season.
Hi!
Thinking of skiing in Slovakia in 2005 - what are the best times for snow & crowds?
Thanks!
I am skiing in Jasna over christmas vacation 2004. Can Someone tell me what to expect and what are the conditions like just now
jasonclark8@hotmail.co.uk
planning a trip to visit relatives in brataslava in end of february .I want to take my husband and son and daughter, aged 10 and 6, all beginner skiiers, somewhere. i am an advanced skiier. can anyone recommend a good resort that might suit all of us with good instruction and not too many heavy queues?
I'm an editor at Skiing magazine and I'm interested in writing a story about hut skiing in the High Tatras. If anyone has any information or contact people who might be able to help, please e-mail me at Evelyn.Spence@time4.com.
Thanks!