The ski season may be a quickly fading memory as temperatures climb ever higher, but many local resorts have headed straight into the mountain biking season. In the coming months, several high-profile races will be held at resorts throughout the region.
Wisp at Deep Creek Mountain Resort kicked off its mountain biking season this past May with the Inaugural 12 Hours of the Wisp mountain bike race. The event, held on May 17, 2003, drew 30 single riders and 30 3-person teams to compete in an endurance race. Their endurance was tested: the 12-hour race included climbs on rocky terrain and some challenges by Mother Nature in the form of cold, rainy, foggy weather. The weather did not deter the racers, or over 500 spectactors who turned out to cheer the racers on at the Maryland resort.
"This unique 12 hour event format has the potential for becoming a premier mountain bike event in the Mid-Atlantic," said Brian Glotfelty, co-owner of High Mountain Sports, which sponsored several winning teams. "All of the ingredients bikers expect are here: a host who is interested in the event, natural terrain which lends itself to mountain biking, and great housing options," he added.
Wisp will be hosting three of six Toyota X-Treme Mountain Bike Challenges throughout the course of the summer, with races scheduled for July 12-13, August 30-31, and September 27-28. Pennsylvania's Blue Knob resort will host three of the races on June 28-29, August 2-3, and October 11-12. This National Off-Road Bicycle Association (NORBA) race series is open to riders of all skill levels, and is expected to attract 50 of the sport's top professionals.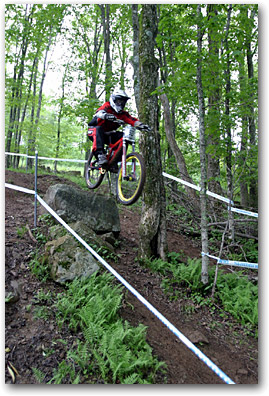 Often referred to as the "Moab of the East," West Virginia's Snowshoe Mountain Resort has been a magnet for avid mountain bikers for a number of years. Mountain biking will launch in earnest this coming weekend with the NORBA National Championship Mountain Biking Series. The June 12-15 event is the largest mountain biking event in the state, including over 3,000 professional and amateur bikers competing in Cross Country, Downhill, Short Track, and Mountain Cross races. Winners will head to Durango Mountain Resort for National Finals later this year, where they will ultimately compete for a spot on the United States 2004 Olympic Team. Right on the heels of the NORBA race, the 24 Hours of Snowshoe race will return to Snowshoe June 28-29. These back-to-back races have helped lead West Virginia Governor Bob Wise to declare June "West Virginia Bike Month." The grueling 24 Hours of Snowshoe race draws thousands of bikers from across the country and world to compete around the clock in formats including relay and awe-inspiring individual. The 24 Hours of Snowshoe has earned a reputation as one of the most challenging races in the sport, covering extreme terrain at Snowshoe and a somewhat consistent history of rain and mud. More than 10,000 spectators are expected to show up for the event, which DCSki plans to cover firsthand. Also in West Virginia, the "Revenge of the Rattlesnake" race is scheduled for September 14 at Canaan Valley Resort. This point series race will include 50 kilometers of technical single-track. Canaan Valley previously held its "24 Miles of Canaan" race on May 11. In North Carolina, Sugar Mountain Resort will host the "Showdown at Sugar Mountain" bike competition and festival from August 22-24 with both downhill and cross country events.
There are no reader comments on this article yet.