Last month, my wife Jenni and I met in Paris (she being already overseas on business, me having been stuck in Pennsyltucky all summer) for a little vacation. We had reservations at a chambres d'hotel (that's bed & breakfast to us rednecks) in the countryside for six nights. Then, we'd be travelling back to Paris for four nights at a hotel (that's hotel) before flying back home.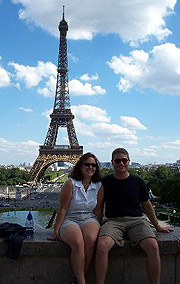 At this point, you're undoubtedly wondering what this story is doing on DCSki / DCBike. Well, you'll soon discover that we biked around the French countryside. And, I flew to Paris from DC. Therefore, what better place to publish my memoirs?
After driving to Dulles, taking the shuttle to the terminal, taking the shuttle to the gate, flying to Newark, riding the monorail to the terminal, flying to Paris, and wandering Charles de Gaulle airport for six hours, I finally united with my wife. We had our first experience ordering food in French, then hopped the train to Cosne sur Loire, near the Burgundy region. Our host met us at the train station, and we stuffed our luggage and ourselves into his little French car for the short ride to the inn. A great dinner was waiting for us, and luckily, there was even an English couple dining with us, so I had someone to talk to. In fact, this English couple was biking through, from inn to inn. Finally, we made it to bed, which was a piece of furniture I hadn't seen in 36 hours.
The next morning, after polishing off a big breakfast of pastries & jam (French energy food), we picked up our rental bikes. The bikes were everything I expected, and nothing more; basic transportation, with decent tires and hard seats. We saddled up and eagerly headed for the hills.
Within two kilometers of the inn, I learned my first lesson - shoulda brought my pocket bike tool. For this vacation, I'd brought my laptop, DVD's, headphones, books, cameras, spare batteries - but no, when it came to my little pocket tool, suddenly I was packing light! So, there I was staring at my broken chain. Easily fixable, but not with my fat fingers. At least we were close to the inn, so I pushed & coasted the thing back and managed to communicate to our hosts what the problem was (mainly by holding up the chain). We spent the rest of the day walking around the area, which was very pleasant - we saw cows, vineyards, old homesteads, even a castle. Interesting thing about French cows - they're all white. Well, more of a cream color, really, which makes sense if you think about it.
The next day I picked up another bike, and we rode off again. We followed a couple of designated touring paths, or at least, we tried. The inn had maps showing various biking routes of a few kilometers each that bring the traveller through interesting villages and vineyards. The paths are poorly marked on the roads, though; in some areas we spotted the trail markings on telephone poles, but at most intersections we couldn't find a marking. So we made our own detours, following the roads between towns mostly. Doing this actually made the riding easier, since the established path often involves rocky farm roads and the like. Did I mention my hard bicycle seat?
We stopped for lunch after a couple hours of riding. For some reason, I had always thought French meals were small. Not out here! A traditional French lunch is several courses. My appetizer salad was loaded with a variety of sausages and cheeses, and then came the main course - steak and fries. (No, they don't call them French fries.) Then dessert, of course. And wine throughout.
And then we were back on the bikes. Yikes. My derriere was now very sore, after having recovered during lunch. I focused on the cramp in my stomach so that I might forget about my sore rump and sit properly.
Towards the end of our ride, we stopped in town for some ice cream. It seemed expensive, but we figured it just must be a good ice cream joint. Well, we soon discovered why a dish of ice cream costs 30 francs - it's steeped in vodka. We found this at other places as well; there may be no mention of it on the menu (at least, no mention that I could read), but ice cream desserts are commonly served soaked in booze.
Eventually, we made it back to the inn, and before our next ride, I adjusted the seat angle so that it put less pressure on my, um, on myself.
So, lesson 2: If possible, when flying somewhere and renting a bike of unknown quality, bring your own seat. Making room in my luggage for a little combo-tool and a cushy seat would've been well worth the effort. Instead, the next day we hardly left the inn; we got some wine, bread, & cheese, then hung around out back alternately eating & napping while our bodies recovered. (On second thought, leave your seat at home; it'll give you a good excuse to lay around all day drinking wine & eating bread & cheese.)
On our final day with our bikes, we took a less ambitious ride, visiting a couple of local vineyards. I discovered that a 750ml wine bottle fits nicely in a water bottle cage. Fortunately, we only had one backpack, so Jenni got to carry the other four bottles back to the inn.
On our final day in the country, we paid big American dollars to rent a little French car and drive through Vezelay, Dijon, Beaunne, and lots of perfect little villages, finally making it back to the inn around 0200. I'm getting too old for drives like that. (Really. It was my birthday that day.) Anyone know what the speed limit is on French highways? I only saw the signs telling us to slow down to 120 km/hr in populated areas; are they really autobahns?
The next day we took the train back to Paris, then spent the next few days walking all around the city, often stopping for wine & cheese picnics. What a town.
So, what's the bottom line? If you're planning a biking vacation in the French countryside, I would recommend a strict training regimen before you embark. Begin by having a glass of wine, then riding your bike just a couple of miles. The next day, have some wine & cheese before your ride. Eventually, you'll need to work up to the point that you can drink a whole bottle of wine with a large plate of bread & cheese and immediately ride long distances. The true expert will be able to pull a bottle of wine from his water bottle cage, uncork it, drink, recork it, and replace it in the cage without breaking pace. Anything less, and you risk being identified as a tourist.
Even if you don't mind being labeled as a tourist, however, you'll enjoy a trip to the French countryside. The old villages are beautiful, and the people are friendly and welcoming (if unintelligible). The weather in August is perfect for bike riding, and the nights wonderfully cool. And as you might expect in the country, the stars at night are striking. So, with just a little planning, you can make a great trip out of biking in many areas of France.