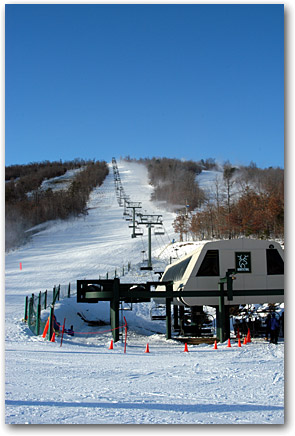 On Monday, I felt it was high time I performed some investigative journalism. DCSki is a hard-hitting publication, after all. Were conditions throughout the Mid-Atlantic really as good as everyone's been saying? I was determined to visit every resort on Monday to find out for sure. After a meticulous study, I determined that it was logistically impossible to visit every Mid-Atlantic resort in one day. Shucks. So, I narrowed my focus somewhat by visiting one resort: Pennsylvania's Whitetail Resort. The young resort, located just 90 minutes from D.C., opened for the season in late November. That in itself is pretty spectacular: in good years, Whitetail is open by Christmas. In bad years, Whitetail might not get more than a bunny slope open until January. Yet, here in early December, Whitetail already had over half its terrain open with packed powder conditions. That seemed reason enough to take a vacation day on Monday, and in keeping with my long-standing policy of never waking up early on a vacation day, I didn't actually arrive at Whitetail until 3 p.m. This is how the resort looked when I arrived:
A cobalt blue sky hung over slopes that, on this quiet midweek day, were practically empty. The snow underneath my feet was indeed packed powder. Great snow and no crowds -; a perfect combination that will likely be mirrored at resorts throughout the Mid-Atlantic until everyone else realizes ski season is indeed here.
After spending some time snapping photographs, I donned my skis and headed up the lift for my inaugural run of the season.
I didn't fall.
And that's always a plus.
Snowmaking was underway on all 10 open slopes, as well as a few expert slopes that might open within days. I was surprised by how much snowmaking power was being thrown at the terrain -; nearly every slope at Whitetail was being blasted by snowguns around the clock. Some of the snowguns were traditional compressed air/water guns -; putting out as many decibels of ear-splitting noise as they did snow. Many of the guns were newer airless Blizzard fan guns, shooting out streams of fine snow with very little noise compared to the compressed air guns.
The new airless guns lined slopes like Limelight and Angel Drop, and explain how these slopes were able to open so quickly with such good conditions.
Like any Mid-Atlantic skier, I am grateful for snowmaking. But that gratitude quickly turns to disdain as soon as I have to ski through the stream of frozen precipitate spewing out of a gun and into my face. Alas, this resulted in the following thoughts in my mind as I skied down many of Whitetail's slopes:
"Wow, I can't believe how great these conditions are." "This is great! I'm making perfect turns and it's only my second run down. I wish these boots were more comfortable." "Oh, there's someone riding the lift up. Let me try hard to make the next few turns perfect." "It's such a beautiful day. I can't believe more people aren't here." "Aaaggh! Frozen blast of snowgun doodoo in my face! Cold! Cold! Water frozen on my sunglasses, can't see!" "Ok, I can see again. Wow, I can't believe how great these conditions are!"
And so it went. Soon, I was picking my path down each trail to avoid the wrath of each snowgun as best as I could.
On the plus side, the steady snowmaking eliminated any possibility of icy spots on the trails. Each trail always had a fine layer of fresh snow, although admittedly, snowmaking snow has more friction than natural powder snow until it is groomed.
It would have been nice if Whitetail kept snowmaking at bay on at least one or two slopes, but with an iffy weather forecast over the next few days, I can see how the resort didn't want to miss any chances to make snow.
Monday marked a first for me: Last weekend, I bought my first ski helmet, and Monday, I wore a ski helmet for the first time.
And within seconds, I had no idea I was wearing one.
Like many other skiers, I had put off buying a helmet, drawing from the common excuses: they're too heavy, they look goofy, I have enough ski gear to tote around.
Well, I was wrong to use these excuses, and if you're still putting off buying a helmet, you're wrong too.
This year, there are more helmets available than ever before, in a wide range of styles and dramatically different than the few models available just a few years ago. Today's helmets seem to weigh as little as a hat, and many offer innovative venting systems that let you adjust how toasty you want your head. They are available in a wide range of prices; the more expensive ones don't offer better safety, but do tend to offer more vents or adjustable venting systems.
I bought a higher-end helmet, the K2 Ultramatic ($129), which looks and feels similar to a bicycle helmet. It has great peripheral vision, removeable ear flaps, and 12 adjustable crossflow vents. It weighs just 16 ounces.
An informal poll on the slopes Monday showed that about 30% of skiers and boarders had a helmet on. Given how helmets can significantly reduce the seriousness of a head injury, there's really no excuse not to get one. Just remember to take it off when you drive home. (They do look kind of goofy when you're driving.)
The terrain park at Whitetail was open with a few features, including a rail and a couple of jumps, which I bashfully skied around.
The new base lodge extension looks like a welcome addition, adding a lot of extra space and moving the retail store up to ground level. Snowboard rentals are now in the lower-level location of the old retail store.
Whitetail's lockers once again remained immune to inflation, remaining 75 cents -; the same price they've been for years.
After a couple of hours of skiing, the sun had set, and temperatures dipped down to the mid-teens. I decided to call it a day. And a perfect day it was -; conditions really are in mid-season form, and Whitetail looks poised to open several additional trails soon.
As I walked towards my car, I looked behind and saw black-diamond Expedition on the far right side of the resort, bathed in light and lined by lots of firing snowguns. Expedition hasn't opened yet, but will be lit for night skiing for the first time when it opens, probably within the next few days if temperatures remain cool. And that is something I look forward to: I will no longer have to rush to get to Whitetail by 4 p.m. to enjoy the black diamonds.
All of the following shots were taken on Monday.