Firsthand Report: Timberline (Dec. 14 & 15)
2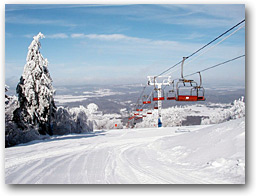 The weather did not look encouraging when my wife and I departed Washington on Friday night: rain in the metro area and a wintry mix further west. However, both the Maryland and West Virginia department of transportation (DOT) web sites indicated that the roads were safe.
We did not leave until 7:30 p.m., but the traffic was light and the trip went smoothly. We stopped for dinner at one of our favorite late night haunts: Uncle Tucker's Wood Fired Pizza and Brew Haus. Uncle Tucker's is located one mile east of Cumberland at I-68 exit 46. The restaurant serves pizza until 11 p.m. on Thursday, Friday, and Saturday nights. Situated in the old brick cellar of the Inn at Folck's Mill, the place exudes warmth, and is a favorite hang-out for local students. It's a great place to satisfy one's hunger and take a break during the long drive to Timberline.
We started seeing fresh snow on the ground at Sideling Hill, but rain, rather than snow, pelted the windshield all the way to New Creek, WV. After that waypoint, rain began to turn to sleet. My concerns grew as we approached the Allegheny Front on WV-93. During this 4-mile climb up the nearly 2,000-foot vertical of the front, the car thermometer often drops 10 degrees. On one occasion, I witnessed rain turn to snow midway through the climb. On this night, we lucked out. Salt, gravel, and sand laid down by West Virginia DOT kept the road passable. My driveway at Timberline proved to be a different story. We needed to hold onto the car to keep from falling on the slick ice as we made our way to the door of our condo.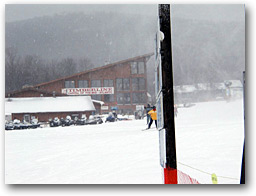 The next morning we slept in, thinking that conditions would not warrant getting up early. Poking my nose through the window, I witnessed the most glorious sight a skier can experience: snow. Sometime over the night, the sleet finally turned over to snow. It was wet and heavy, but it was snow, so I did not complain. Timberline did not have much terrain open: Salamander and White Lightning plus a few trails on the lower mountain. However, what it lacked in quantity, it made up for in quality.
The two-mile long Salamander trail is one of the longest beginner runs in the Mid-Atlantic. On Saturday it was a winter wonderland. The Telemark crowd looked happy indeed. Like Whitetail deer, they poked into and out of the woods. Salamander offers backcountry skiers easy access to the Dolly Sods Wilderness area, one of the greatest outdoor playgrounds in the state.
White Lightning is a black diamond that shoots down the fall line of Herz Mountain. A long trail by regional standards, White Lightning offers nice cruising at fairly sustained steep pitches. Most intermediates can ski it without too much trouble. I spent the remainder of the day taking different lines down this trail and enjoying the changing conditions.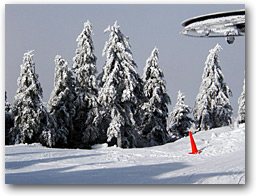 Sunday ended up being one of the prettiest days I have ever experienced at Timberline. The ice, fresh snow, and frozen fog made the top of the mountain look like a scene straight out of Glacier National Park. Overnight, the Timberline groomers turned freshies into corduroy, and the grooming would hold well throughout the day. The Timberline/Canaan Race Team was out in force, getting ready for its first race just ten days away. Coach Mark Fiorini set up a course on Upper White Lightning and everyone seemed happy to be getting turns in so early in the season - especially after last year's bad memories.
The snow guns started firing again at noon. Timberline hopes to open more terrain soon. By next weekend, the resort should have top-to-bottom skiing for all ability levels. Nearby Canaan Valley is offering 8 trails, and further down the road, Snowshoe has 48 out of 57 trails open, including Cupp Run. Closer to home, Whitetail held up well during the storm and continues to offer 13 out of 19 trails. Tonight, it will spray some new snow on some of its terrain to improve surface conditions. In short, the ski season is well underway here in the Mid-Atlantic, so get out there and enjoy it.
Photos by John Sherwood.
I also skied the valley last weekend, but stayed on the backcountry and groomed White Grass trails since natural conditions was so good. Approaching from the Dolly Sods area on my backcountry skis, I did take one run down White Lightning and it was great - I had the slope pretty much to myself and there was plenty of powder on top of the frozen crust. I am heading out to Timberline for their telemark clinic this Saturday; I hope they do open more terrain because skiing one trail gets very tedious.
You know my dilemma John! I'm so ready to make my first tracks of the season. Just need to buy some boots! Hopefully next year I'll make it up to T-Line )