Where to Ski and Snowboard Worldwide: The Reuters Guide to the World's Best Winter Sports Resorts.
Edited by Chris Gill & Dave Watts.
Boulder, CO: Mountain Sports Press, 2001.
Color Illustrations. Maps. Index.
542 pages. $24.95.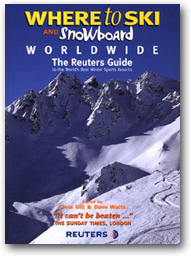 With all the resources on skiing available on the web, printed guidebooks have almost become obsolete. Resort web sites and ski portals such as DCSki typically provide most of the information found in guidebooks. Web sites also contain up-to-the-minute information on weather and conditions plus timely reviews and firsthand accounts for just about every ski resort on the planet. Finally, many web sites are true communities of practice, places where devotees to snow sports come together and exchange information and ideas.
With that being said, I must confess that I have finally found a guidebook worth purchasing. Where to Ski and Snowboard Worldwide is the ultimate reference for those contemplating a ski trip to the other side of the Atlantic Ocean. The book features full length chapters on every major destination resort in Europe plus additional chapters covering major resorts in the rest of the world, including the U.S. and Canada. Within each chapter, a reader will find a general review of the resort; a description of slopes for each ability level; and a guide to accommodations, dining, and aprés ski.
Readers will appreciate the no-nonsense candor of this book. At the beginning of each chapter, the guide provides a 1-5 star rating for various aspects of the resort ranging from slopes to aprés ski, and also a quick list of pluses and minuses for each resort. The authors, for example, give Courchevel lots of stars for snow, slopes, and lifts, but only two stars for charm. In its plus/minus matrix, the authors note that Courchevel has "extensive, varied local terrain to suit everyone from beginners to expert," but then notes in the minus column that the resort is "expensive," and that its villages are "soulless." In short, Where to Ski calls the shots where it sees them, offering both compliments and criticisms for each resort profiled.
Where to Ski also offers a nifty "Mountain Facts" sidebar in each chapter that allows one to quickly compare resorts by benchmarks such as skiable vertical in both meters and feet, number of lifts, and kilometers/miles of trails. There is also a "resort ratings at a glance" section at the beginning of the book that brings together the ratings the book gives to each resort in an easy to read table format. If that were not enough, the book provides 200 resort photos, 125 full color trail maps, 70 scale village plans, and general maps for most of the world's major ski regions.
The major weakness of the guide is that it is very Eurocentric. The majority of the 400 resorts covered in detail are in Europe, primarily in the Alps. The book devotes a mere 38 chapters to resorts in the United States, and only four East Coast resorts receive chapter-length treatment: Killington, Smugglers' Notch, Stowe, and Sunday River. I nearly returned the book when I did not find a single Mid-Atlantic venue listed in the table of contents. Shame on Reuters! How can this book devote a chapter to ski resorts in Romania and not mention the great skiing of West Virginia and Pennsylvania?
On the plus side of the matrix, what the books lacks in its North American coverage, it more than makes up for in its coverage of Europe. Furthermore, the guide does a superb job of comparing skiing on both continents with an introductory chapter entitled, "Transatlantic differences." From it, I learned that few resorts in North America possess skiable vertical greater than 3,330 feet whereas some of the biggest European resorts offer verticals of over 6,600 feet. The large resorts in Europe also dwarf the biggest resorts in North America in terms of ski terrain. On the other hand, it snows much more in North America, and North American resorts have far more advanced and comprehensive snowmaking than anything found in Europe. There are many other differences that this book describes, but you will have to purchase the book to get a complete rundown.
Jeff Smeed, a skier from Boulder, Colorado who visited 28 European ski resorts last year, mentioned on the Amazon.com site that he relied heavily on the book to help him decide where to go. He argues that in every case, the judgment of the editors was "uncannily accurate." If that does not convince you to buy this book, here's another incentive. SkiEurope (www.ski-europe.com) will deduct the cost of the book from any ski vacation booked by its staff during the 2002-2003 season.
There are no reader comments on this article yet.