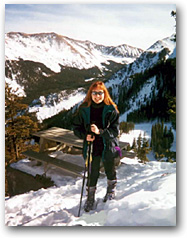 I've always liked boys' toys. I ride a boy's mountain bike, own a boy's car, and ski on 180 cm Völkl Carver XT men's skis. I purchased the skis a couple of years ago but used them only about three times because I was living in the former Soviet Union in 2000 and 2001. Also, very little snow fell in the American West last winter and spring; New Mexico and several other states suffered massive wildfires last spring and summer as a result.
In northern New Mexico this fall, everyone was extremely hopeful for a big snowfall. The 10,000+ foot peaks above Santa Fe got a dusting in early September, and on October 23 several inches of snow fell all over the area. It looked promising as the weather turned cold by early October.
We were lucky. Skiing started early in New Mexico this year. Taos opened on November 23. By November 29 it had a 32" base at midway and 41" at the top.
If you want to ski the southern Rockies, Taos Ski Valley is the place. It is somewhat off the beaten path and about a half hour's drive north of the town of Taos. Moreover, it is not overdeveloped like many of the Colorado resorts, but is rather cozy and friendly, and yet quite challenging. New Mexico averages 300 days of sunshine a year and starting out at Taos Ski Valley's 9,207 base, you will be awed by the bluest skies you may ever see, and some of the cleanest air you will ever breathe. As its name suggests, the area is in a valley surrounded by high mountains that protect it from strong winds in the winter. When the skies have cleared after a snowfall, the area is idyllic and not too cold. When the sun is out at Taos -; and it often is -; temperatures are comfortable.
New Mexico is unofficially known as mañana-land ("we'll do it tomorrow") and officially as the "Land of Enchantment." Both descriptions are fitting because New Mexico is very laid-back, and strikingly beautiful because of its often limitless visibility, vast deserts, and rugged high mountains. The name Taos is an adaptation from the Tewa word, "Towih," or willows. Spanish settlers have been in the area since the 1600s; and the entire region has a rich and long history deriving from Native American, Hispanic, and Anglo cultures.
Although I've been to Taos Ski Valley several times before, I've never skied here so early in the season. So the day after Thanksgiving I picked up my good friend Bob Drake in Los Alamos, and we headed off to Taos.
The ski valley is about a half hour north of the town of Taos. We skied for a half-day beginning at 12:30 pm, paying $33 each for lift tickets. This low season runs from opening day until December 19. Regular season starts December 20, 2002 and runs through March 22, 2003, when an adult ticket is $49 for a full day. Prices are higher between Christmas and New Years.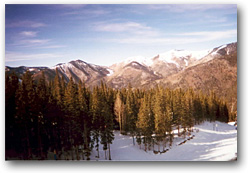 On the 29th of November all of the large 3 and 4 person high-speed lifts were open. The older, two person lifts (7th Heaven, Lift #5, and Lift #6) were closed -; these slower lifts normally open as the numbers of skiers increase. But it was not busy at all today, and there were no lines. We started up Lift #1, which takes you from the ticket area and shops to the mid mountain. From there, you can only head back down to the base via one of several ungroomed black diamond trails such as Castor and Pollux that traverse through thick pines, or down blue level Porcupine to far lift #8, or -; as we did -; over easy green White Feather towards the base of lift #2.
This side of the mountain was sunny, and people seemed to be happy that skiing had started early this year. The southern side of the mountain was pleasant, as we cruised over both machine made snow and some nice natural packed powder. There was almost no wind that day, and arriving at the top of lift #2 at 11,819 feet one feels like they are near the top of the world. The sky is even bluer up here. We headed down one of my favorite, wide, challenging blue runs, Bambi (although the name makes it sound easier than it is) across the blue Upper Powder Horn, back to the base of lift #2.
Up we went again with no wait. This time we headed off to the more northern face of the mountain, following green Honeysuckle right down to the bottom of Lift #7. We 7 took up to where the black Valkyries Bowl, Bob's, and Moes, and Honeysuckle meet. I followed Honeysuckle for only a minute with a quick left onto blue Upper Totemoff, and crossed over to Maxie's.
The NASTAR racecourse is located on Maxie's run parallel to Lift #7. The race course was not operating this early in the season, but Maxie's is one of my favorite groomed blue runs where you can really get a lot of speed up and practice your techniques. Ripping down Maxie's makes me feel like I can fly. I took one hard spill going too fast towards the end of it, but this only left a big bruise on my backside for about a week. Besides, I still need to get accustomed to my relatively new skis.
My Völkls are heavy, and stiff. And taller than me by about 10 cm so I've worked out a balancing act for carrying them over my shoulder. But they are making me a better skier. They corner well, are easy to cut with, and importantly -; they don't chatter. And they are surprisingly maneuverable if you ski properly. I am an advanced intermediate skier, easily handling any blue run or groomed black run. But I still have to take my time on moguls, which I must navigate slowly.
We had fun playing around on this side of the mountain, but by 2:30 pm this northern facing area was already in shade, making it hard to see the trail contours and creating ice in the more densely skied areas. People were jammed in the Winkelried Jeep trail between the bottom of Lift #7 and near the Kachina lift, which borders the northern perimeter. It was nearly dark by 4:00 pm today, but we managed to get a few runs in on Easy Trip, Shalako, and Baby Bear, accessible from the Kachina lift.
Later in the season this is the best side of the mountain, with many nice wide-open blue and green runs for cruising. In February and March when the days are longer it's just plain fun to kick around and ski over here. The longer days and bright sun make it wonderful.
Taos' intense sunshine means that sunscreen is an absolute must here, as New Mexico often has a daily UV index of +11. If you don't apply sunscreen liberally and carefully on your face you can well burn the inside of your nose from the glare off the snow (don't forget those sunglasses as well!). New Mexico's low humidity is another important consideration. That, combined with Taos' altitude, can lead to severe dehydration, so water breaks are imperative here.
Taos' vertical drop from the top of lift #2 to the base is 2,612 feet. But Taos has its ridges -; that is, its West Basin, Highline, and Kachina Peak areas. You have to hike to these steep, double black diamond runs that one not only has to be an expert skier to take on, but also be in good physical shape to get to. Starting at 12,481 feet, Kachina Peak's Main Street run will drop you 3,244 feet all the way to the base. We noted most of ridges were closed today as there were too many bare rocks showing for them to be safely skiable, although we noted a few foolish people up on the Highline Ridge anyway, racing down Hidalgo, Juarez, and the Corner Chute.
Taos has a total of 72 runs, 51 percent of which are expert. While it does have a substantial number of blue and green runs, and tiny bunny ski area, it is not the ideal place for absolute beginner skiers, as I have watched many novices become intimidated by some of Taos' easier runs. In general, western North American ski resorts tend to have wider and longer runs than in the East, and bigger vertical drops. Western blue runs tend to be more challenging than eastern intermediate slopes.
Taos Ski Valley still has a rustic and even old-fashioned, western feel to it. No snowboards are allowed. Some people still ski in cowboy hats and jeans here, though a few haute couture types appear as well. As is true everywhere in New Mexico, people are friendly: today one Texan said to me in a George W. Bush-like accent, "Those errr some cute boots," -; referring to my 10 year old Nordica light purple boots, which I have been meaning to replace for some time. You hear foreign languages on the slopes, too, as Taos is popular with German, French, and Mexican tourists.
New Mexico boasts a total population of only about 1.5 million people, and thus feels unpopulated compared to the Washington DC area or the Northeast generally. Taos is never packed with people the way that Killington, Vermont, or even Vail can be.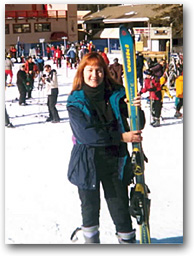 The lack of crowds alone makes a long weekend at Taos worth the trip from Washington, DC, and the East. Taos Ski Valley is about an hour and 45 minute drive from Santa Fe, and about 2 hours and 45 minutes from Albuquerque. Most of the major U.S. carriers service Albuquerque International Airport, particularly Southwest Airlines, which offers Taos ski packages every winter.
I'll be back here soon. In February two of my girlfriends and I will take an advanced ski lesson in our efforts to move up to an expert level. Those chutes on the Highline Ridge look extremely tempting and I can't wait to gain the confidence to try them out and put my boy-toy Völkl's up to a harder challenge.
Today certainly helped put the frightening memories of last spring and summer's wildfires out of my mind. Although we have a long way to go before our severe drought is remedied, the large snowfall predicted for this el niño winter will help. It should also make for some awesome skiing. New Mexico has had more snow so far this fall than it did in all of 2001. Standing at the top lift 2 at Taos Ski Valley, looking across at 13,161 foot Wheeler Peak and conspiring to take on Juarez later this season, I know why I keep coming back here.
I was wondering about Taos earlier this year, thanks for the report!
Anne,

Thanks for the report. I'll be skiing Taos this February with a group of friends. We go out West each year and we've decided to ski Taos this year; it's been at the top of my list for a while.

We're staying in the town of Taos. Any recommendations for restaurants & bars?

How steep are the hikes to the summit? I assume that most of the paths up are less steep than the ski down. (Hopefully.) 800 foot of vertical at 12,500 feet will definitely be a good cardio workout!
Nice write-up Anne. Great to read some female perspective on DCSki. I skied Taos one day some years ago, on the front end of a business trip to Los Alamos actually. By the time I drove up to the small resort complex at the end of that steeply walled box canyon I felt like I was in a remote New Mexican version of Shangri-La. I tried to do Taos justice that day, but wasn't feeling 100%. Now realize I had some altitude sickness from tackling too much, too soon after leaving DC's nearly sea level elevation; went to Ski Sante Fe the day before right off the airplane. Probably had some of the dehydration you spoke of too. Do they still have the sign at the base of Al's Run telling new arrivals not to worry, there are easier ways down? (It's steep with bigtime bumps and leaps straight up from the ticket window.) That sign is only partially true. A lot of the blue intermediate runs at Taos are easily comparable to black diamond rated Cupp Run at Snowshoe, WV.
Dear John L. -

In Taos, my friends and I agree that the Apple Tree Restaurant is quite good, as is Doc Martins, at the Taos Inn. There is also plenty of local soul food, that is -- spicy New Mexican fare all around the area. The bar at Doc Martins is nice and often has live music.

As for hiking to those ridges: you can get to most of those steep runs starting at the top of Lift 2 and heading off to the left or right. There is an incline, but it's manageable if you're in good shape and take your time. Even those of us acclimated to the northern New Mexico altitudes have to pace ourselves at 11,000 feet.
Dear Jim K -

You know, I failed to notice if that sign is still posted at Al's Run. Will have to check next time I go to Taos (hopefully in 2 weeks!). But you're right, Al's Run is an intimidator and I've had a friend or two from back East turn white upon seeing that, and I had to reassure them, "No we're not going down that way." But even parts of White Feather and higher up Honeysuckle are not so easy. This is why I don't recommend Taos for very beginning skiers.
John L, in case you make it down for a visit to Santa Fe, i enjoyed a memorable meal at: La Tertulia - Classy New Mexican, and a bit pricier. The carne adovada is glorious. Meals come with posole and beans, and be brave enough to try the jalapeo soup. Finish it off with natillas for dessert -- lovely. Don't forget to take a wandering tour around this old convent between courses. 416 Agua Fria.
Anne
Your article about Taos is enjoyable to
anyone that has been there. Makes me miss
the slopes out there. peter
Anne's description has me jonesing to leave this damn office, head up to Taos and get some scars on my own Vokls. See that s--t eating grin on Anne's face? Well, I want one too - and since I live in northern NM, this is actually pretty feasible. So if I skip our carpool tomorrow, Anne, it's ALL YOUR FAULT.
My Dear Laura -

Thank you for your frank and funny commentary. I'm looking forward to that expert ski lesson with you and Shannon.
See you on the Highline Ridge, foxy.