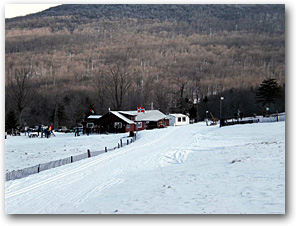 White Grass is only 3.5 miles from Timberline in the Canaan Valley, but a world apart in terms of attitude and culture. White Grass skiers never complain about lift lines because there are no lifts here. Those in search of the steep and deep must earn their turns by climbing the three big mountains accessible from the base: Bald Knob, Weiss Knob, and Cabin Mountain.
After a splendid day of Alpine skiing on Saturday at Timberline, my wife and I opted to take a road less traveled on Sunday. Rather than sliding downhill at high speeds, we would move more slowly and methodically on touring skis.
White Grass offers a wide variety of options for "freeheel" skiers. Nordic traditionalists will find 50 kilometers of tracked and rolled trails ranging over 1,196 vertical feet of terrain. Those in search of relatively level terrain will enjoy the tracked trails that run through the snow farm. Those seeking more challenge will head up to Roundtop (3,960) along the gentle switchbacks of the green Three Mile Trail and then descend on one of the steeper blue trails or black trails. According to owner Chip Chase, "all the marked trails at White Grass can be negotiated on Nordic skis, using the snowplow to slow one's descent." However, those wishing to ski the black terrain might opt for a backcountry metal-edged ski rather than a standard cross-country ski. Ski-alpinists looking for Alpine level, steep terrain must go off trail and need to be competent in either Telemark or Randonnée techniques. White Grass offers advanced instruction in both of these disciplines for those looking for something more extreme.
Both my wife and I hadn't skied Nordic since we were children, so we began our day with a mini-lesson from instructor Tony Barnes. We rented standard waxless, short-wide Nordic skis for $15 dollars a pair. The skis were 188 cm in length, and came equipped with the "New Nordic Norm" Rottefell backcountry bindings - much sturdier than the three prong bindings I remember from my childhood days. Also, the Alpina boots I rented kept my feet warmer and happier than the flimsy Nordic shoes I used to wear.
As an uptight Washingtonian, I generally want to hit the slopes immediately and have no patience for lessons - especially group lessons. However, in this case, a short lesson spared us a lot of trial and error on the trails. Tony taught us the proper stance, pole position, and stride for Nordic skiing. He also taught us how to handle steep terrain, recover from falls, and follow the rules of the road for Nordic skiing. I found that some of the skills I had learned in Alpine skiing applied to Nordic, but others needed to be forgotten. Suffice it to say, the lesson was well worth its modest $6 dollar cost.
Armed with new knowledge, my wife and I skied the snow farm first. The farm consists of a cow pasture broken up by lines of plastic fencing. Wind blows the snow into the fences, forming a deep base for trails. Chip Chase needs only a two-inch snowfall to collect 2 feet of snow along the trails that parallel his fence system. This year, White Grass commenced operations on 18 November. It was the first ski resort in West Virginia to open and it accomplished this amazing feat without the help of a single snow gun.
"It's a low-tech process that only costs us pennies a ton," said Chase. "When a snowstorm blows in, we move our fences like fishermen move their nets, to catch as much as possible. The fences will only hold so much snow, so when they start to drift over, we move them so we can catch more."
Chip started the Nordic resort with his wife, Laurie, in 1979. In the late 1950s, it operated as an alpine ski area with four rope tows and a small snowmaking system. It was the first ski resort in the state of West Virginia and some of the old Alpine terrain still exists, much to the delight of the "tele" crowd. The old red lodge also still stands as a living legacy to West Virginia ski history. The lodge also exists as a home away from home for the countless Nordic and backcountry skiers who enjoy White Grass.
During the day, the cafe at the lodge serves vegetarian soups and sandwiches plus homemade cookies and pies. Live folk artists perform during the après ski period, and dinner offerings include an eclectic mix of organic specialties from around the world. On the day we visited, the evening menu consisted of a winter vegetable pot pie with Brie, pomegranate flat iron lamb with a bulgur salad, and shrimp scampi.
With its pot bellied stove and lamb's wool covered chairs, the lodge is a perfect place to sip a piping hot mug of green tea, eat a bowl of veggie chile, and discuss your day's adventure with White Grass's delightful mix of local, national, and even international clientele.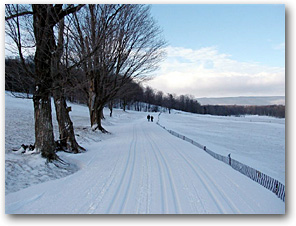 White Grass takes great pride in being West Virginia's "alternative" ski resort. "Lift" is a four-letter word in this establishment, and folk music, rather than rock, emanates from the lodge's various speakers. But don't let the counter-cultural veneer of the place fool you. World-class freeheel skiers come here from around the region to practice their stuff. Chip Chase's very own sons, Morgan, Adam, and Corey, were recently profiled in the December issue of Couloir magazine. According to writer David Goodman, "these kids are setting the standard for where tele skiing is headed in the next generation." If you are lucky, you might see one catching some big air off of one White Grass's legendary cliffs.
As for me, my goal for the day was more modest: I wanted to ski some moderately steep terrain without falling. After completing15 kilometers of practice runs on the farm and the Springer Orchard Trail, we headed up the Three Mile Trail. The mercury now stood above the freezing level, forcing us to strip off our Polartec inner layers and ski only in our Gore-Tex mountain shells. Nordic skiing requires far less clothing than Alpine, and crossover types like myself often make the mistake of wearing too many layers. A Capaline shirt, a Gore-Tex shell, and spandex winter jogging pants will keep you warm on all but the coldest days. Trust me on this point! Constant movement and the conspicuous absence of long idle periods on cold lifts make all the difference in the world.
Climbing the Three Mile Trail made us keenly aware of what a tremendous whole body workout Nordic skiing can be. One feels virtuous indeed after a long day of Nordic activity. It's even more of a workout than a good hike because of all the upper body motion with the poles.
Despite the fact that 210 people showed up to ski White Grass on the day we visited, we rarely saw a soul once we got a couple of kilometers beyond the lodge area. The extent of the resort's terrain tends to disperse people effectively. As an Alpine skier, the feeling of solitude I experienced gliding through snow-covered woods proved to be the ultimate reward for my efforts. Being alone in the mountains in the winter is a rare and wonderful treat indeed.
Admittedly, I also enjoyed descending on the blue square Fern Gully Trail, but the seclusion of Nordic experience is what really sold me on the sport. I will be sure to come back soon.
Chip, also known as Chipper the Appalachian freeheel gnome, offered some words of wisdom as I departed: "Give up chairlifts for Lent!" Sadly, I don't think I will ever find the inner strength to heed his sagely advice.
Photos by John Sherwood.
Sounds like something I'll definately have to try next year, John! My website's up...

http://www.geocities.com/jarrettbaker
Whitegrass is the reason I haven't given up on the DC area and moved back to New England. Chip is great, the skiings TOP notch, the food is stellar and that Sue Haywood can Mountain Bike circles around ANYONE you know.
1981- Chipper drives up to a local WV alpine resort with a trunkload of telemark equipment, walks into the ski school room and asks "who wants to try telemark skiing"? The rest is history. Few things can match the feeling of catching freshies on tele skis. The folks at Whitegrass are real pros.
I had been X-C skiing for 7years before meeting Chip at WhiteGrass. I had also been downhilling for as long. After spending time with the Chipper ( who knows no stranger ) I sold all of my Alpine gear and purchased "tele" equipment. I still occassionally ski at downhill areas on telemarks but I find a much friendlier environment at WhiteGrass. It is more a state of mind then a destination. Perhaps it is the personal touch that is offered to everyone who comes to play.
We have X-C'd at many places further North. The terrain, rental equipment, and staff at Whitegrass rank amongst the very best.
John's article was right on. We've skiied Whitegrass several times. What impresses us the most is the friendliness of everyone and the helpfulness of the staff. Another great thing about Chip's "resort" is the kids ski package. For $175 you can buy kids skis, poles, and boots and trade up as often as you need through the years.
John - great article. Your next step is to combine your downhill and cross country habits - rent tele gear at Whitegrass, take tele lessons at either Whitegrass or Timberline (both have top-notch instructors), and then head out to the wonderful slopes and tree/glades around Whitegrass for a "real" skiing experience!

Just returned from the Adirondacks, by the way, they have TONS of snow up there. However I was iceclimbing rather than skiing, and the snow kind of gets in the way.
From the moment I entered Chip's world, I knew I was in a very special place: Middle Earth meets Appalachia.

There's something about White Grass that reminds me of why I love skiing so much. Nothing like the power of snow to brighten up winter and put a smile on the face. White Grass epitomizes this power. It is what skiing is all about.
From the moment I entered Chip's world, I knew I was in a very special place: Middle Earth meets Appalachia.

There's something about White Grass that reminds me of why I love skiing so much. Nothing like the power of snow to brighten up winter and put a smile on the face. White Grass epitomizes this power. It is what skiing is all about.