Firsthand Report: Timberline (Jan. 3-5)
6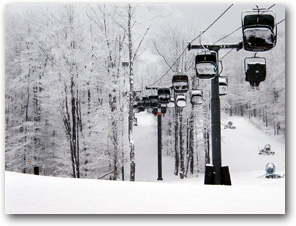 With last week's depressing warm weather, I seriously questioned my sanity as I packed my bags and departed for Timberline last Thursday night. If we didn't get the snow promised, I knew the trails would be sheer ice. However, my wife wanted to go up regardless of the conditions because she loves hanging out at the condo. Being in West Virginia gets her away from the office and instead compels her to relax in front of a roaring fire, with a good book, and a warm mug of tea.
My spirits did not improve much during the drive. Just after Scherr, we hit terrible fog, and the fog did not let up until we were nearly in Davis. Exhausted, we went to sleep and did not get up until late. When I finally did manage to get up and peak out the window, I was surprised to see the car covered with a couple inches of fresh snow. The snow kept falling off and on throughout the weekend, eventually bringing another 8 inches to the Canaan Valley. As of 6 January, the season snowfall total for the valley now stands at 65 inches. Keep your fingers crossed folks; we may be headed for a record snowfall year.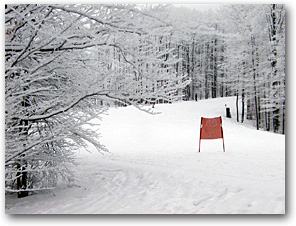 Our ski weekend was very leisurely. Since we have season passes, we don't feel the need to log a lot of vertical every time we visit the resort. Instead, we do a few runs in the morning; eat, read, and relax by the fire; and then do a few more runs in the afternoon. Admittedly, the condo takes much of the hassle out of skiing. I ski when I want, eat my own food, sleep in my own bed, and ski right from my door to the lifts and back. On the other hand, I do not visit other resorts in the region nearly as much as I did when I did not own the Timberline property. In short, I sacrificed variety for convenience when I bought at Timberline.
On this weekend, however, the condo lived up to its promise. Snow conditions kept getting better and better as the weekend progressed. By Sunday, we were skiing "packed" champagne powder. What is more, no one showed up. I asked a ski instructor why this was so, and he replied, "We never get anyone on the weekend after New Years. People are just too tired from the holidays and don't want to do anything." Their loss, I thought, as I carved my way down the nearly empty, snow filled slopes of the resort. One of the things I love about Herz Mountain is how big it skis. When you ski the Upper and Lower Thunderdraft pair or Upper Dew Drop/Lower Heaven combo, you truly feel like you are skiing a mid-sized New England mountain. Factor in generally manageable crowds and some of the best snow in the region and you have one superb local ski resort. I can't wait to return soon.
Photos by John Sherwood.
Great article, nice pics! Glad you had fun! PS...I applied to the New York Institute of Photography today, I'm now a student there! Many pics will be headed your way soon!
John - you hit terrible fog on the Route 50 route to Canaan, not unexpected. I have been going out there via route 55 most recently and find that the weather is generally much better because you stay at a lower elevation (also you get 8 miles of superhighway on Corridor H). I think it is less miles to Timberline also via route 55. What do you think about the benefits of each route?

Also: with the good snowmaking weather this season, will Timberline actually be making snow on its two main double black diamond trails this year so that the whole resort can be opened for most of the season? It seems like they have ignored those slopes for the past few years and only open them when natural snow conditions permit. They claim to have 95% snowmaking, which I assume means all trails other than the ones under the lifts.
Mitch:

I hit fog on 93 just after Scherr. 55 is indeed the fastest route and will get faster as the new road progresses. For now, my wife and small parrot, Franz, like the 220/93 route because it has fewer switchbacks (just the one big one after Scherr on 93).

Over the weekend, one of Timberline's water mains broke, so snowmaking abruptly stopped. By Sunday, staffers told me that it was fixed. I noticed that guns were positioned on Lower White Lightning, Upper Heaven, and The Drop. It would be nice if the Drop (double black) got some man-made snow. I skied The Drop a couple of weeks ago and found the natural cover to be kind of thin. With new natural snow and hopefully some man-made, the situation should improve. It's a reasonably steep slope with good views (more of a Mid-Atlantic black trail than a double black like Lower Shay's).
Tline also had an electical problem on Monday but everything was fixed and operating fine on Tuesday. Snowmaking is back online. They have guns on the Drop, Easy Does It, Fireroad, Lower Dew Drop, Lower Lightning and Upper Heaven I believe. I may be incorrect, but I don't think Off the Wall has hydrants and electric for snowmaking over its entire length, which would explain why it doesn't get much manmade put down on it. I know they have made snow there before but I think they had to drag lines from the drop to do it. Not an easy thing to do. On a good note the valley got about 14 inches of natural Sunday and Monday.
Hey Yall

We're up to 97" of snow fall so far this year. Yep that's right over eight feet of snow. Well on our way past the usual 150" of so.

Come on up

Bob
Over the weekend they got a good few inches of snow (okay, so more like 6") and had the place 100% open on Monday (MLK Day). Off The Wall does not have snowmaking hydrants, which is good and bad, you get it in great conditions and its shut down so it doesnt take abuse during poor conditions. I hope they have a permanent fix in place for whatever caused the Triple to shut down Saturday afternoon. Should be another great weekend this weekend, with lots of natural snow to fall on Thursday and Friday and a cool, and clear weekend.

Driving Note: Do not attempt the 93 route in snowy and windy conditions, you will get white-outs all the way down the mountain, much better to go 55 through Petersburg in poor visibility. And just as a side note, with the exception of today (Tuesday the 21), the kids in Tucker County have gone to school about a week since Christmas Break ended.