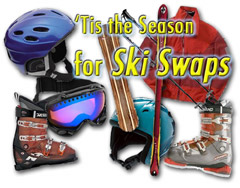 The morning air is crisp and the pumpkins are ripe, this must be ski swap season. I went to the Tysons Corner Ski Chalet ski swap on Sunday October 6, 2002 and found some bargains that made my day. This particular swap, run by the Timberline Ski Patrol, was on a little smaller scale than others I've attended in the past, but in some respects that was good and meant less competition for the best deals.
Ski swaps are sort of like community yard sales. The inventory varies throughout the day with incoming items often appearing as fast as old gear sells. Some of the best swaps are a total zoo. One constant - come early for the best selection.
Various local ski retailers and promoters such as Ski Chalet, Ski Center of Washington, the National Ski and Snowboard Expo and others team with local nonprofit volunteer ski patrols to offer swaps almost every weekend in the months of October and November. Check the DCSki Event Schedule for specifics.
The retailers offer these events at their facilities as a public service, and typically around 15% of the consignment sales that take place go to the benefit of the local Ski Patrol that runs the swap. Admission is often free. Sale items run the skiing/boarding gamut, including skis (downhill, telemark, X-country), snowboards, boots, poles, racks, clothing, and more.
The swaps are great places to outfit families or uncertain newbies with bargain gear. Even the serious skier/boarder can find some interesting stuff like car racks, helmets, or rock skis. Sometimes there are brand new skis and boards for sale at big discounts, usually without bindings.
Flexibility is required on what can be firm criteria for some folks such as make, model, size, color, etc. Swaps might not be the best place for the most discriminating high performance buyers, but I've used them for years to equip my four kids.
To give you a sense of what is available at ski swaps, here's a list of what I bought yesterday. Forgive me if a few descriptive details contain errors, I've never been that technically oriented on ski gear specifications and nomenclature:
1st Daughter: Head Carve 7X shaped skis, 170 cm with Tyrolia T6 bindings (cost of skis $90.00). I estimated the skis to be roughly 1998-99 vintage. They appear to be well used, but still in good working condition. Heierling FX87 ski boots, not sure how old, but probably less than 5 years; this is a good looking boot in virtually unused/new condition (cost of boots $35.00). My daughter spent more than an hour trying on boots. She received good help on boot fitting from a Timberline Ski Patrol member while I looked for other stuff.
2nd Daughter: Scott youth ski poles (cost of poles $1.00). Poles are in decent condition, and the price is hard to beat.
Son: Rossignol Edge skis, 150 cm with Tyrolia R5 rental bindings (cost of skis $15.00). I estimated these nonshaped rental skis to be 8-10 years old. They're a good backup for my son, who is primarily into snowboarding. Price is typical of pre-shaped skis, which are practically giveaways at swaps regardless of condition or original price. I chose these for price, length and because they had relatively newer 1990's vintage bindings.
Me: Fischer XTR Carve Plus shaped skis, 183 cm with Marker 9V bindings (cost of skis $100.00). A fairly basic fat model, these showed up on the sales rack after I'd been at the sale for about an hour. I estimated them to be late 1990's vintage. There were a few other shaped ski bargains in this price range, but most went for $150-300. The skis I bought looked to be in virtually unused/new condition. After enjoying a number of demo opportunities on shaped skis over the years I couldn't resist this bargain, which is likely to send my nonshaped Blizzard skis (vintage 1993) into semi-retirement.
Total cost of three fully functional sets of skis with bindings, one pair of boots, and one pair of poles? $241.00. Not bad for a day's work.
Jim:

What a deal. More proof that skiing doesn't have to break the bank? Did you see much in the way of snowboarding equipment?
This swap only had about 20 boards for sale at the time I was there. Saw some snowboard boots there, but I didn't notice how many. Usually I see more snowboard stuff, but this was smaller swap. Bought my son's board at a swap 2 yrs ago.
I should point out that the "brand new" skis, boards, etc. sold at swaps are normally not from current model year.
Jim - nice article. Did you notice and downturn in number of participants because of the sniper? Are people worried about going to an open parking lot and being a potential target?
That sniper is really having a regional effect. Hard to believe he would try something in Tysons Corner area because ever present traffic congestion could delay his getaway, but same could be said for Seven Corners site of Home Depot shooting. I went to the ski swap at Arlington Ski Chalet on Oct 19 and it was in a fairly sheltered parking lot behind the store off Columbia Pike. I felt very safe. By the way, I saw multiple pairs of nice snowboard boots for sale there in the $25-50 range. Got a used Boeri ski/snowboard helmet for son for $20. The big November 8-10 swap at the Nat'l Ski and Snowboard Expo near Dulles will be indoors.
Thanks for the info Jim. I agree that the Ski Chalet in Arlington has a pretty sheltered parking lot. Likewise, the Wisp Patrol was smart to use a tent. Not so sure about some of the others. Great article! I plan to check out the other enclosed swaps for ski gear for my girls!!