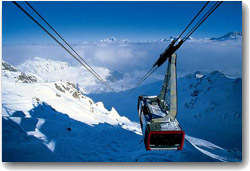 There is nothing like a European ski safari. The ability to move from town to town and even country to country on skis makes Europe a very special place for winter sports enthusiasts. The Trois Vallées "universe" in France alone possesses 185 ski lifts, and 293 downhill skiing runs with an accumulated length of 600 km. Throw in great food, charming villages, and huge mountains with 4,000-5,000 foot verticals and you have a recipe for a ski experience of a lifetime.
Surprisingly, a European ski extravaganza won't break the bank. For the past few years, a 7-day European ski trip from DC actually costs less than a similar junket to a big-name Western U.S. resort. The key to this anomaly has been a strong dollar, low airfares, and daily lift tickets that are often $20 dollars cheaper than many U.S. resorts.
Once again, I am pondering a trip to the Euro ski zone. Here's some information that I have uncovered during the course of my research.
Is Europe still affordable?
The short answer is yes. Despite a recent pullback, the dollar still has 18 percent more purchasing power than it did in 1996. Lift tickets are also cheaper. A standard one-day ticket at many U.S. resorts now goes for over $50, or as high as $71 at Vail. At St. Anton, that same ticket will cost you just $38, and only $28 per day if you buy a 1-week pass.
Far and away the biggest savings, however, comes in the form of low-cost airfares. The winter is traditionally one of the slowest periods for trans-Atlantic travel. A round trip, non-stop flight from Dulles to Zurich in February can now be purchased for $499 (taxes included) from Swiss International airways.
For an additional $25, Swiss International offers a seamless air/train luggage check service to Davos, Zermatt, and Verbier. This means that you check your bags at Dulles and don't see them again until you reach the ski resort. Swiss Intl. makes you to fill out a customs declaration form before checkin, and customs may search the bag in Zurich, but otherwise, the system appears to be hassle free. Swiss Rail has a station right in the Zurich airport so you won't even need to take a cab to town.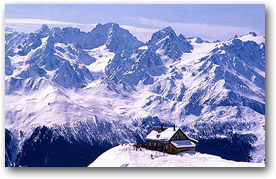 All the resorts mentioned also have excellent shuttle bus systems once you get there. In short, unless you want to visit multiple resorts, a car in Europe may be an unnecessary expense and in some cases, even a hassle. Rental companies charge astronomical rates for extras such as insurance, ski racks, or automatic transmission. Taxes, gas, and parking are also expensive. Finally, some ski resorts don't even allow cars: you have to park in a lower lot and be shuttled to the resort by bus or funicular railway.
A final way to save cash in Europe is to purchase a half board option at your hotel. For $10-17 dollars extra per night per person, most hotels in Europe serve an inclusive five-course dinner as well as the usual complimentary breakfast. I've found that I am usually too tired after skiing to worry about dinner. I'm happy to stumble out of my room to consume a tasty meal in a cozy, candle lit dining room right in the hotel. Furthermore, hotel restaurants in Europe generally rival independent restaurants. They cook their food with the same local ingredients and employ chefs trained in the same culinary schools as the village restaurants.
Should I book with a travel agent or do it myself?
That's a good question. Ski-Europe and Adventures on Skis offer 7-day packages that are hard to beat. Ski-Europe recently sent me a proposal for a 7-day trip to St. Anton in February that included air, hotel with breakfast, insurance, and ground transportation for just $1,300 per person.
The only drawback of tour operators is that they often require you to take a 7-day trip, and advise clients to book well in advance for the best deals. Ski-Europe requests that travelers book at least a month in advance to avoid late booking fees. If you do decide to book last minute, be advised that Ski-Europe needs at least 7 business days to complete all the paperwork necessary for its trips.
It is possible to book last minute trips using the Web, but I would not recommend this approach for most travelers. Reading foreign web sites or communicating accurately with small hotel proprietors via e-mail can be a challenge if you are not fluent in the local language. Agencies like Ski-Europe handle all these details to assure travelers the smoothest possible trip. Ski-Europe also screens the hotels it books clients into, and employs knowledgeable European skiers as agents - a big benefit for travelers unfamiliar with European ski resorts.
What about snow and weather?
The main incentive to book last minute is that it will allow you to chase the storms and go where the snow is best. This is no small issue when it comes to Europe. During the past three years, snow has been very marginal and occasionally non-existent below 1800 meters (5900 feet). Exposure is also a problem. For obvious reasons, resorts with southern and western slopes suffer more during warm spells than those with eastern or, best of all, northern exposures. In general, the overall natural snow conditions of the Alps have not been as good as the Rockies, but perhaps a bit better than New England.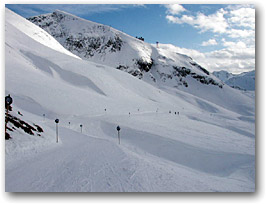 Large resorts are combating this problem by installing snow guns on many of the low elevation trails, but compared to U.S. resorts, snowmaking in European resorts is less comprehensive. Because of concerns about the environment and also a long history of decent natural snow, European resorts have resisted efforts to improve snowmaking. Power in Europe is also much more expensive than in the U.S., and this may be another reason for Europe's reluctance to embrace the snow gun.
Therefore, it might be worth the extra money to book last minute, either with a tour operator or independently. If the snow is better in the West, I'm staying in the US. But if snow is good in the Alps, Europe here I come. The endless terrain offered by the large European resorts is an irresistible draw.
The best ski months in Europe are February and March, but April can also be good if there are late storms. The weather in Europe is quite mild compared to New England. The average daytime high in the village of St. Anton in February (1304 meters) is 35 degrees Fahrenheit, and the average low, 18. Temperatures depend heavily on cloud cover, wind, and elevation. Bundle up on windy, overcast days, but when sun comes out, all you'll need is the Gore-Tex shell.
What are the best resorts?
In a nutshell, the best resorts are those that offer extensive terrain above the magical 1,800-meter level. St. Anton and Ischgl in Austria qualify, as do Zermatt and Verbier in Switzerland, or Courchevel and Val D'Isère in France. Austria is the least expensive Alpine destination with Switzerland in the middle and France at the top.
Amy Costa, an agent with Adventures on Skis, claims that most of her Boston and New York based customers are flocking to Courchevel (1850 meters) in France. Courchevel is one of the most expensive resorts in Europe, but it offers lifts, grooming, and snowmaking that rival some of the best North American resorts. Factor in French food, and access to the largest interconnected ski region in the world, the Trois Vallees, and you begin to understand why so many well-heeled Americans are heading there.
For those on a budget, Costa recommends Solden in Austria's Oeztal Alps. She found the town to be "a blast" and hotel prices much more reasonable to many comparable high altitude resorts.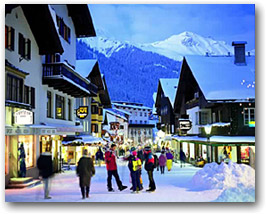 Austrian born Stephan Patsch of Ski-Europe likes St. Anton and Saalbach-Hinterglemm for terrain and après ski. He enjoys skiing in Bad Gastein, Schladming and Innsbruck as well. Innsbruck is a great compromise destination for those traveling with non-skiers. This small city, surrounded by towering peaks, boasts numerous historic buildings and museums as well as easy rail access to other tourist destinations such as Munich and Salzburg. Skiers will enjoy the town's 200 ski trails as well as efficient rail access to nearby St. Anton.
Readers may have noticed that I have not mentioned Italy yet. Two skiers I met last year at Snowshoe complained vehemently about a trip they made to Cortina last February. Their chief gripe: lack of snow! Most of Italy's slopes face south and do not hold snow as well as neighboring resorts in Switzerland, France, and Austria. Therefore, one should pay close attention to snow reports before committing to an Italian trip. However, as Les Hancock, a longtime European skier, put it, "Italy is unbeatable when the conditions are good." The most famous Italian resort, Cortina, offers unparalleled views of the Dolomites, some of the most unique mountains in the world. Cortina also has modern lifts and is just two hours from Venice. It is another great choice for those traveling with non-skiers who wish to sightsee while you hurl yourself down the mountains.
A final word to the wise
DCSki Columnist Jim Kenney in a series of ruminations about his lifetime of skiing, once wrote:
"My final skiing frontier is most definitely Europe. I have never skied there, but I visited some of the major alpine resort areas on an extended summer European vacation with my wife some years ago. The Alps impart a majestic visual effect that exceeds anything I've seen even in the American West, basically because the valleys are lower and the mountaintops are higher. The vertical differences are often 10,000 feet or more."
This year, Jim plans to finally take the plunge and feast on some of that magnificent vertical. The question is: will you? As one Warren Miller aptly put it, "If you don't ski Europe this year, you'll be one year older when you do."
Related Links
General Information:
A Sampling of Resorts:
Snow Reports and Predictions:
Photos provided by Ski-Europe, John Sherwood
Excellent intro/overview John for those contemplating a European ski trip. Nice photos too, my guesses (all from Austria): cable car is big one at Ischgl, mtn hut somewhere around St. Anton, treeless ski trail at St. Anton, ski village of Saalbach??
Just wondering, which resorts in Europe are the most snowboarder friendly? I think I read that Saalbach-Hinterglemm caters to boarders, but I really haven't seen much on which ones have a reputation for big snowboard action.
Jim:

Thank you for the nice comment. Here's the scoop on the photos:

Front Page Photo: Zuers, Courtesy of John Sherwood. I took that photo from the Monzabon Trail. The photo looks eastward towards the flexenpass. You can just make out the Trittkopf Tram. Also, note how full the parking lot is. It's a lot easier to get around Lech/Zuers/St. Anton by the shuttle bus system than by car.

Photo 1: Courchevel Tram, Courtesy of Ski-Europe.

Photo 2: Verbier, Courtesy of Ski-Europe

Photo 3: Monzabon Trail, Courtesy of John Sherwood. This picture shows the easy part of the trail: the traverse from the Hexenboden II lift.

Photo 4: St. Anton, Courtesy of Ski-Europe.

As for snowboarding, most European resorts are snowboard friendly. Snowboarders should look at trail maps carefully when choosing a resort, and try to avoid resorts that rely too heavily on pomas. To me, riding a Poma on a snowboard looks tough, but I may be wrong. Also, the Europeans aren't as crazy about terrain parks as we are. However, Europe is a freerider's paradise with lots of wonderful natural terrain features. The intermediate boarder will also appreciate the increased emphasis on grooming at many European resorts. Val D'Isere or St. Anton seem to be good choices for boarders but I suspect there are many others.

The following web site has some good information on Snowboarding in Europe: http://www.boardtheworld.com/
i was working in Germany for a week a few years ago and managed to make it down to St.Anton for one day of riding. lucky me, it had snowed a foot the night before (in mid-April!). the terrain is fantastic, the mountain is huge, and there is plenty of challenging "off-piste". i even had a random skiier offer to pull me over a flat spot. boarders are definitely welcome. the best day of riding i've ever had.

btw, i live in Utah, make it up to the slopes around 25 times each winter, and i'll be at the 'Bird opening tomorrow morning.