White Grass Touring Center to Open Saturday
2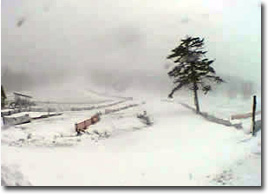 The White Grass Touring Center plans to open 5 kilometers of Nordic ski terrain on a two foot base later today once winds die down and grooming can commence. At 8:30 a.m., the White Grass base lodge was reporting a temperature of 20 degrees Fahrenheit, winds 35-40 mph with a wind chill factor below zero.
An overnight storm brought over 5 inches of snow to the Canaan Valley and other higher elevation sections of West Virginia. Some additional snow flurries and lake effect snow is expected today. White Grass collects snow in its snow farm -; a gentle pasture lined with plastic fencing. The fences collect blowing and drifting snow, allowing the resort to offer skiing on a two foot base with just five inches of natural snow.
White Grass charges an area use fee of $10 ($3 for kids) and rents Nordic equipment starting at $15 on weekends. Its café offers vegetarian soups and sandwiches plus cookies, cakes, refreshments and occasionally live music.
For the latest information on opening hours, prices, and terrain at Whitegrass, visit www.whitegrass.com.
Photo provided by John Sherwood.
John Sherwood! I just read Johns latest article on Whitegrass in WV. Not only is John Sherwood a columnist for DC Ski, he is also famous for his occasional spots on the history channel. I had the pleasure of being in one of his history classes at GW when he was a grad student. Good luck John.
Chris
grooming is great
Laurel Ridge State Park
Laurel Highland in SW PA, just south of 7springs

http://www.paccsa.org/webcam.htm
mazurrj@paccsa.org