Right now, I really ache.
Yesterday, I decided to take the day off from work and drove to Shenandoah National Park for a day of fall hiking and photography.
I suspected that the fall colors had already peaked at Shenandoah, but I didn't want to risk joining the throngs of cars that can clog the Park's Skyline Drive each fall weekend as visitors take in the beautiful fall foliage.
Indeed, most of the trees had shed their summer coats of leaves, although plenty of colors still punctuated the landscape. It is also easy to see how the colors at Shenandoah spread like a wave, starting at higher elevations and working their way down, and starting at the northern end of the park and working south.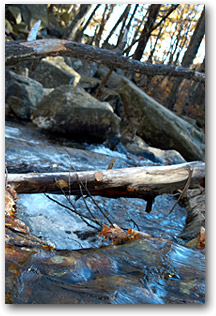 Why do I ache? Because I decided to squeeze a day's worth of hiking into the space of several hours, racing from the valley to the highest peak around in an effort to catch the last hurrah of the sun in its shortened, post-Daylight Savings Time day. Hiking a couple thousand of feet in several hours when your body isn't used to it is a surefire way to have muscle soreness the next day. And a good cure for insomnia.
I decided to start the day well rested, which meant sleeping in a bit. I arrived at the northern end of the park around noon, and made my way 42.5 miles south to the trailhead of Whiteoak Canyon, one of my favorite hikes within the park. (Indeed, one of everyone's favorite hikes in the park - out of dozens of trails, it is perhaps the most popular.)
Whiteoak Canyon descends to the valley floor, passing a series of 6 waterfalls on its way as it descends a total of 3,510 feet. The most popular leg of the trail, and the one I took, leads to the first and largest waterfall, for a descent of 1,040 feet. This leg is 4.6 miles out and back.
On a typical summer weekend day, the parking lot at the Whiteoak Canyon trailhead can fill up with dozens of cars. On Friday, the parking lot was desolate, with no more than 10 cars. Relatively few people were out enjoying the trail on the brisk and sunny fall day.
By 1 p.m. I was on the trail, which starts gently enough. The trail winds around, eventually crossing the Limberlost trail, a fire road, and the Limberlost trail (again) before getting to a steeper section. Soon, a small stream joins you from the right, and you follow this stream as it grows larger. Last spring, I hiked the same trail during a visit to Shenandoah, and it was interesting to see how the scenery had changed. The air was crisp and cool (in the mid-50's during the day), and the sun cast long shadows. With most of the leaves off the trees, it was possible to see much deeper into the woods, increasing the chance of sighting bushy-tailed squirrels as they foraged for nuts.
The trail turns a corner as it heads into a canyon, and by now the stream has gained momentum. I have a favorite spot along the trail I call the "lunch rock" - a great place to sit and eat lunch as water cascades down smooth rocks. I sat down there and thoughfully munched on a Sierra Turkey sandwich from Panera Bread, which I had bought the night before, along with a cooler to keep it cold in the car as I drove to the park. Eating the Panera sandwich as water trickled and gurgled around me was heaven, and I savored the moment as I looked around, virtually cropping the landscape in my mind in preparation for a few photos.
After taking a few shots, it was time to move on, and I continued down the canyon towards the first waterfall, where I landed the following postcard shot:
One of my motivations for the trip was to put a new Nikon D100 digital camera through its paces. I am an avid photographer, and it's probably no surprise that I was an early adopter of digital photography. (I'm also a gadget freak.) However, until now, digital photography has been slightly unfulfilling for me. Although I loved the immediateness of digital photography, I missed carrying around heavy lenses and having total control over the camera.
The D100 is a digital Single Lens Reflex (SLR) camera - essentially a traditional camera, with swappable lenses, but one that uses silicon instead of film. Such cameras have existed for awhile, but were tens of thousands of dollars just a few years ago. The D100 brings the price down to a level "prosumers" can justify spending, and is full of delicious features.
Ahh, but the best feature of the D100? It makes that shutter sound click I've been missing, as the mirror snaps up to expose the CCD's, the digital equivalent of film. You have to be a camera buff to appreciate the D100; unlike consumer digital cameras, the D100 is big and heavy, and doesn't come with any lenses or memory cards. Buying the camera buys you the right to spend money on additional gear.
After spending some time photographing the falls, I packed up the tripod and headed back to the trailhead. It was past 3 p.m., and I was in a race to get from a valley of the park to a peak. My goal was to hike to the top of the Stony Man Nature Trail, which leads to the cliffs of the Stony Man summit, a great place to catch the sun as it dips below the western horizon. The trailhead for this trail was near the top of Whiteoak Canyon, but with the sun setting around 5 p.m. in the shortened fall day, I knew I had to hustle if I was going to make it.
Hustle I did, working up a sweat as I hiked double-time, uphill all the way. That was enough aerobic exercise for a week.
Soon, I was hiking up some more - this time up the Stony Man Nature Trail, a climb of about 340 feet to reach the summit.
I made it to the top by about 4:30 p.m., giving plenty of time to admire the view as the sun dipped lower on the horizon. The summit is set among a series of cliffs - one wrong step here could lead to trouble, and a fiercely blowing wind at the top didn't make me feel more secure in my footing.
The wind was cold, and got colder as the sun set. I was glad I had carried a Gore-Tex jacket, even though I was hot after having just finished the Whiteoak Canyon hike. The wind also made it difficult to keep the camera's tripod steady, but one side of the cliffs was mostly sheltered from the wind.
One of the things I like best about Shenandoah is that it's often difficult to tell where the mountains end and the sky begins. One undulating mountain range after another connects into the distance, and the clouds themselves often mimic the mountain peaks.
As the sun sets, lights from the valley floor, far below, begin to twinkle. Soon after, the sky begins to mirror the valley floor, as stars poke through the dark sky - first a few, but soon hundreds and thousands. The clear sky provided great star gazing, and reminded me of the stars in the Utah night sky.
From the top of Stony Man Summit, you can view cars making their way along Skyline Drive.
I watched the stars for awhile, enjoying the pitch black sky. Near me, a small puddle of water turned to crystaline ice.
It was time for a 0.8-mile hike back to the car in the darkness of night, but thankfully it was all downhill and I had a flashlight. (With fresh batteries; those years as a Boy Scout taught me to be prepared.) I'm beginning to really enjoy night hiking. You see a side of the mountain you don't see in the day, and it certainly feels more primal. The wind rattled what leaves remained on the trees, generating a steady sound, so there were no cracking twigs to alarm me as I made my way down the mountain. Still, I was thankful to see my car (with its heated seats) waiting patiently for me at the trailhead. As I packed up the car for the trip home, a lone deer grazed nearby, completely apathetic to my presence.
All photos by M. Scott Smith.
Scott, I had forgotten that are such an awesome photographer! I've been slowly working my way into it, at christmas and my birthday acquiring more gear. Some people say that I'm really good, but it's one of those ongoing things that always allows you to go out in nature and always get better. Thanks for the report, once I graduate college, I'm gonna move up to ya'lls area, and be able to take great pics and go skiing and hiking all year! thanks again!
Thanks, Jarrett! I took quite a few photography classes in college, developing thousands of prints by hand and learning how to critique photos. These classes, far outside my major, were among the most challenging I took while at school.

These days, I feel like I'm cheating everytime I use a digital camera. There's no need to stand in a pitch black room, fumbling to wrap film in a spool for the developing tank. No standing over trays of chemicals, gently rocking the trays to expose the paper. And no fumbling with filters on an enlarger to get the colors just right. No, today there's a USB or FireWire cable and Photoshop, and I can snap a photo and publish it on DCSki in seconds. Hmm.. I'm getting sentimental about all those hours I spent in the darkroom.

The nice thing about photography is that you never run out of subjects to photograph. Place yourself in a boring setting. Now add a camera around your neck -- not so boring now! There's art to find everywhere, even in the most boring and seemingly uninteresting places.

(Shenandoah doesn't fit in that category: it's not too difficult to take beautiful pictures there.)

Hey, if you take any photos skiing or hiking, feel free to send them to me and I'll post them in the DCSki Yearbook (which has gotten pretty stale of late!)
Very true! I'm looking at NYI, but don't know if I can talk my mom and grandparents into assissting me with the funds! Whenever I hit the trail or slopes, I'll have my camera. In fact, if you would like, I might be able to give you guys up in the Beltway a taste of "The Real Florida"! I'm hoping the University of Florida offers photography courses, but right now I haven't found any! THINK SNOW!!!
about the digital, I don't want to get one because from my limited experience with them, they aren't as fun! Still haven't done dark room work, but I hope to sometime soon!
There are pros and cons to digital cameras. Today's models are still primarily "point and shoot" cameras (at least the $800 and below ones), so they're less fun in the sense that you have far less control over the process, but for most people they're adequate. The D100 I just purchased is a true SLR (compatible with most Nikon lenses), and it's a blast. Still a bit pricey, though. Film-based SLR's that cost several hundred dollars (or less on EBay) can still offer the best quality, and many people will argue that it's the photographer's eye, not the equipment, that makes the picture.

Although I'm afraid the darkroom is creeping towards the history books, I'd still recommend starting with chemistry-based photography, and nothing beats time in the darkroom. When I took the photography classes, I was surprised by how much science there is -- understanding the physics of lenses and light and color go a long way towards taking great pictures and making great prints. The darkroom is like a science lab where all the principles can be witnessed firsthand.

Definitely take some photography classes when you get to college -- you'll have a blast! I'd recommend starting with black and white. (B&W darkroom work is the most fun, because you have so much creative control over the process and the chemistry is forgiving. Color darkroom work is dull by comparison, in my opinion. Most introductory classes will focus on B&W. And in B&W photography, you have to be more sensitive to exposure and contrast, which are equally important for color photography.)

(In case it's not obvious, photography is a favorite pasttime of mine.. But I'll stop talking about it now! :-)
Thx for the helpful insight! I love broadcasting, but I love 35mm photography a lot more! My chem teacher is really into it too, so we talk almost every day about one thing or another. I've got B and H's 300 and something digi guide book, if ya have any question about a product review or something, drop me an email, I'll consult the book! Or if ya just want to chat about the awesome subject of photography, drop me an email at skiguy59@yahoo.com Think snow! )
PS....add underscores between ski guy 59 )
Scott your new camera takes some great close-up and night images.
I've probably asked you this before, but have you ever hiked The Priest? It's my favorite trail, and it ends (if a trail can be said to end) nose to nose with the White Oak Canyon trail. I've always wanted to hike up the Priest trail and down White Oak, but of course it would take two cars. I've camped on the top of the Priest before, and it's amazing (though it was also damn cold when we did it -- in November!). The Priest trail is totally different from White Oak, no waterfalls or anything else shockingly spectacular except for one amazing overlook halfway up and another at the top, but it is a satisfying, beautiful hike. You don't get to it from the Blue Ridge parkway unless you start at the top, though.