What's New for 2001: Seven Springs
3
Seven Springs Resort is embarking on an ambitious five-year master plan that will ultimately bring new residential communities, lodging, new ski terrain and lifts, and even an indoor/outdoor water park to the Pennsylvania resort. Over the next few years, Seven Springs expects to invest in excess of $80 million in resort improvements and $150 million in new residential communities.
"When we asked what direction the resort should go in, the response was categorically to grow Seven Springs," recalled Sandy Ferguson, CEO and chairman of the board for Seven Springs. "The stockholders agreed that we have a lot of potential and the time is right to make it happen," he added. "The plan is designed to strengthen our stature as a top destination for business and pleasure."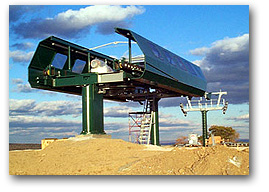 So what's in store for this winter? In Phase I of the multi-year plan, Seven Springs expects to replace the Tahoe lift with a new high-speed six passenger chair lift - the first "six pack" in Pennsylvania. The Tahoe lift, a fixed-grip quad, is moving to the North Face in place of the #7 Sunset triple chair. Beginners will find a new learn-to-ski conveyer, and the tubing park is also expected to be expanded.
Pheasant Run, a new upscale residential development located on 210 acres east of the resort core, will also be breaking ground. This development will consist of 31 single-family lots up to 12 acres each.
The North Gate entrance is being redesigned to become the main entrance for skier traffic. The new access will have four gates and stacking lanes to handle weekend crowds. Helen's restaurant is being expanded, giving patrons a view of the slopes, and access to the Lost Boy, Little North Face, and Turtle trail networks is being improved.
Next year, Seven Springs will begin Phase II of its master plan, which will include the construction of a new upscale hotel, a rebuilt and expanded Tahoe Lodge, and additional housing and recreational upgrades.
"During the next 15 years, Seven Springs will grow to become a dramatically different resort, transformed into a destination for year-round fun, recreation and business conventions while retaining the uniqueness of Seven Springs - family-oriented and committed to customer service," said Seven Springs President Scott Bender.
The "6 Pack" is a step in the right direction. Most of the food services at 7 Springs are located in main lodge at the base of the Wagner slope, but the skiing there is not as steep or as long as the North Face.

This new chair will make it much easier to grab bites at the main lodge and then return to North Face for skiing. The Main Lodge also connects with one of the best Ski Shops in the Mid Atlantic--Willi's of Pittsburgh.

The 6 Pack will also make the world famous "Foggy Goggle" bar more accessible to North Face skiers. This place becomes wild starting at about 4 pm or whenever the weather outside becomes marginal--I'm talking 4 rows deep at the bar. Even those who don't drink will love the live music, dancing, and hot fires roaring at the Goggle. Goggle also offers Yeungling lager for $2.50 a glass. You can't beat that!
Dramatic changes I see is the weekend lift ticket
going from $40 (2001) to $49 (2002) in one bloody year.

Sorry, I can't get excited over this.
I think Seven Springs should have left the 6 Triple Lift. Because it was a very short ride to the top and there was no wait line there. Also they said that they were improving Lost Boy, Little Northface, and Turtleneck Trails. But on the 2001-2002 trail map the trails are the same no differences from last year. If there is a difference please e-mail me at hermanherman12@hotmail.com