Whitetail experienced one of its best winters last season, receiving over 200,000 skier visits -; nearly twice as many as the year before. The Pennsylvania resort plans to continue this momentum with a number of improvements for the upcoming season. Over the summer, the resort has been busy enhancing facilities, performing repairs, and upgrading snowmaking.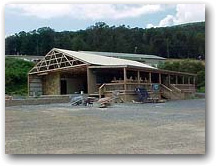 Last season, Whitetail lit its expert slopes for night skiing for the first time. This year, Whitetail has added SMI airless snow guns to expert slope Exhibition, while increasing water pumping capacity by 20%. Over the past several years, the resort has added tower-mounted airless guns to slopes such as Limelight and Angel Drop. These high-efficiency guns have allowed the resort to open more trails with better coverage earlier in the season. With the new guns lining Exhibition, expert skiers should see some action earlier in the season.
Whitetail also offered snow tubing for the first time last season, and over the summer, Whitetail has expanded its dedicated snow tubing lodge.
Whitetail has also added a new lobby area at the Kids Mountain Camp for a more efficient flow.
Photo provided by Whitetail Resort.
There are no reader comments on this article yet.