Pennsylvania's Camelback Ski Area embarked on an ambitious snowmaking project this past summer, making improvements that will allow the ski area to make more snow earlier in the season, and to rebound more quickly from unfavorable weather conditions.
The snowmaking upgrade focused on adding a new, state-of-the-art automated pump house with six high-power vertical turbine pumps. Three of the six pumps are rated at 400 horsepower, capable of sending thousands of gallons of water to the top of the mountain each minute. The addition of the new pumps will eliminate the need for the resort's former mid-mountain booster pumping station, allowing Camelback to increase the width of the lower portion of The Rocket trail.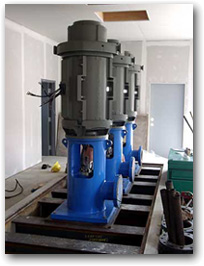 New pipelines and distribution systems will move water around the mountain, feeding nearly 1,400 snowguns. Camelback has purchased 40 new York snowmaking towers, adding to the 90 guns purchased last year. These guns will be located strategically throughout the mountain.
"While our guests may not notice the brand new pumphouse that delivers 21st century technology to the ski area, they certainly will notice the results - more snow, more quickly than ever before," noted Rich Wiseman, Vice President and General Manager of Camelback. "The new upgrade allows us to deliver more water around the mountain more efficiently than ever before."
Camelback has also increased the inventory of its rental shop, adding 100 OVO helmets, 125 Vans snowboard boots, 400 Auclair Wristguards, 20 Salomon Cross Max high performance skis, 800 Rossignol R78 ski boots, 200 Elan XRC skis, 100 Burton LTR (learn to ride) snowboards with Switch bindings, and more.
Photo provided by Camelback Ski Area.
There are no reader comments on this article yet.