Editor's Note: Neal Palumbo is a freelance photographer specializing in Mid-Atlantic winter sports shots. Over the past several days, he visited Ski Roundtop and Seven Springs Resort. He provides photos, and some words about Ski Roundtop, below.
---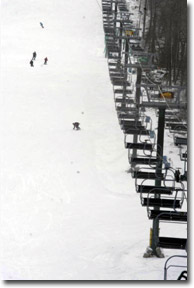 I made my first trip to Ski Roundtop on Friday morning, December 19.
Conditions were excellent with the Exhibition run opening for the first time this season. Snowguns pounded Ramrod and Lafayette's Leap all day long, as Roundtop hopes to open those two slopes within a few days.
Rails were to be set in the terrain park on Bunker Hill starting this past Sunday morning, which should make for some nice features in there.
My informal survey of about 20 boarders and skiers had all giving very high marks to the snowmaking crews at Roundtop. Ski Roundtop General Manager Jim Garling says he is looking for three nights of solid snowmaking thru the weekend as Roundtop gears up for the Christmas rush.
Besides the rails and features in the park, Roundtop is also gearing up for its Superpipe which is set to open in mid January. It should be over 600 feet long with walls in the 14-16 foot range. Roundtop's park crew says it will be one of the best in the east!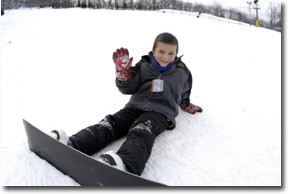 Overall, Roundtop had almost 60% of its terrain open on December 19. The addition of Ramrod in a couple of days will open up enough of the more difficult terrain to give skiers of all ability levels a place to play during the Christmas break.
Also, when visiting Roundtop, be sure to check out the main lodge which was remodeled over the summer. It's a lot larger and much nicer than before.
For anyone who likes to go tubing, Roundtop is in the process of finishing up a new lodge next to its Cannonball Run Tubing Park. Tubing was slated to begin this past Sunday, but the lodge is in the final construction phase and should hopefully be ready to open sometime during the first week in January.
---
The following photo was taken by Neal at Seven Springs Resort on Sunday. It shows Mimi Pottinger making some turns at the Pennsylvania resort.
Photos by Neal Palumbo.
There are no reader comments on this article yet.