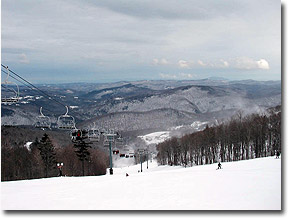 With over 1,182 skiable acres, 31 lifts, and 1,850 snow guns, Killington is the largest ski resort on the East Coast. Few resorts in this region can match Killington in any measurable category but does size really matter? Early in the ski season when terrain is often limited, it does make a difference. If you want to get the most for your ski dollar in December, there is no substitute for the Big K.
My wife and I drove to Killington from Framingham, Massachusetts, where we had been visiting with family. The drive up I-93 and I-89 took four hours. The temperature on my car thermometer read 12 degrees as we crossed into Vermont at White River Junction. When we reached the Killington access road, it was snowing.
Coming from the Boston area, most skiers park at the Skyship base just off U.S. Route 4. Parking there saves these day-trippers close to a half hour of additional driving. On Sunday, however, the Skyship was closed, forcing us to drive up to Snowshed. Having never used this access before, I did not know where to go, so I parked near the Killington Grand Hotel. In the end, this proved to be a mistake. We had to walk a fair distance to the Snowshed lodge and ride several different lifts to finally reach the Killington Peak summit (4,241 feet). A better parking area is the K-1 gondola station, where skiers can get whisked directly to the top of the mountain in an eight-person gondola. Another option is valet parking. For $15, a valet will drop you off right at the lifts and park your car.
Killington Peak is an excellent jump off point for all but the most timid skiers. Confident beginners can get to any of the resort's major mountains via either the Great Eastern or Great Northern trails -; long, gentle green runs that snake their way past most of the resort's major lifts. On Sunday, we decided to focus our efforts on the east side of the resort.
In the month of December, Killington received over 7 feet of new snow, allowing it to open over three quarters of its terrain by the 21st. Since it snowed for part of the day on Sunday, many of the trails had small, soft moguls. We skied mostly blue and black runs during our trip. At Killington, groomed blue trails are comparable in grade to many Mid-Atlantic blues. Anyone comfortable with Whitetail's Limelight should do fine on Killington's groomed, intermediate terrain. The only exceptions to this rule are ungroomed, natural snow trails and fusion zones (glades).
Darina and I enjoyed Skyeburst and Lower Bear Claw -; an upper intermediate combo that starts off on Skye Peak and ends at the base of Bear. The snow was mostly powder and packed powder but there were some icy spots, especially on the steeper, wind blown headwalls of the trail.
None of the famous double black terrain on Bear Mountain was open. Outer Limits claims to be the steepest, lift-served bump trail in the east, and having seen that trail in it's late April glory, I believe it. However, many local experts prefer the classic, New England double blacks on Killington Peak -; narrower trails like Cascade, and Escapade. As a self-proclaimed advanced intermediate, I was content with the blacks and blues like Skye Lark -; a groomer with a few bumps and a nice, steep, lower headwall. At Killington, some trails change color depending on the terrain. Hence, Skye Lark starts out as blue but turns black towards the end. This can create problems for lower intermediates but confident skiers should have no problem with groomed black terrain at Killington. Anyone who can negotiate Cupp at Snowshoe will be able to conquer most single black runs at Killington.
Twenty-degree weather and cold winds eventually compelled us to seek more protected, lower trails. We ended the day taking three runs on High Road, a lower intermediate run, and riding the less-exposed Northbrook quad. This is a relatively quiet area of the mountain -; perfect for more timid intermediates to play. One great advantage of Killington is that it has slopes with every exposure, allowing one to chase the sun around the mountain during the course of the day -; if that is, you can find it. In Vermont, sun is a luxury reserved primarily for flatlanders. My friend Josh Gray, a Jericho Vermont native, used to make a point of not wearing a jacket when he visited Boston in January. "This is warm weather," he would always argue, "You southerners in Beantown have no idea of the true meaning of cold." He also loved to remind me that Vermont only has two seasons: winter and mud.
That night, we thawed out at the Inn at the Long Trail. The Long Trail is a 265-mile hiking trail that covers the entire length of the State of Vermont, and crosses over some its most famous mountains, including Killington Peak and Mount Mansfield (4,393 feet). The Inn at the Long Trail sits near the confluence of the Long and Appalachian trails. The two trails follow the same route for 95 miles from the Massachusetts border to the Sherburne Pass just north of Pico Peak. Founded in 1938, the inn serves as base for hikers in the summer and for skiers and riders during the colder months. The Inn features a full-service restaurant and a classic Irish pub, complete with live music on weekends. Those looking for four-star amenities might consider some of the more luxurious hotels and lodges near Killington's Snowshed base, but for those seeking a rustic, Vermont-like experience, the Inn at the Long Trail delivers great value for the money.
Our room had a gas fireplace and was just steps from the dining room and pub. We ate both nights at the hotel because we were tired and did not want to drive anywhere. The food proved excellent -; especially the Rubin sandwiches. Those who enjoy Irish beer will also appreciate McGrath's pub. The bartender there, Owen Murphy, not only poured a slow Guinness but more importantly, offered local insights on where to ski. Owen has not missed a single day of skiing the entire season. He implored us to try his favorite ski spot, Pico.
Pico serves up 48 trails on a 1,967-foot vertical. If it were in our region, it would be a huge mountain, but because of its location next to Killington, it rarely gets noticed. Sadly, we did not have enough time to ski Pico on this trip, but if Owen's description is correct, it's an insider's dream -; magnificent terrain and snow without Killington's famous crowds. Pico and Killington share the same owner, the American Ski Company (ASC), and Killington's ticket is good at Pico but not vice versa because Pico's regular ticket is cheaper than Killington's. In the late 1990s, ASC planned to link the two mountains, even going as far as cutting a couple of connector trails, but lack of money and controversies too numerous to mention ultimately foiled the plan. As far as Owen is concerned, this is a good thing because a link from Killington would have "ruined" Pico.
The next day, Darina and I focused on Killington Peak, Snowdon, and Rams Head. Because we were consciously avoiding double blacks, Killington Peak did not offer much terrain for us, but we did enjoy Rime and West Glade. West Glade, a natural snow black, had some nice but manageable bumps on top. Rime was groomed and empty. In the early season, this is one of the first trails to open and is often mobbed but on Monday, barely a soul could be found except one gray bearded snow boarder who was poaching untracked powder along the edges of the run.
One of our favorite areas of Killington ended up being Snowdon. We loved Chute and Bunny Buster. We also appreciated the lack of crowds at the Snowdon quad. At Killington, lifts near lodges tend to be more crowded than more isolated lifts. We encountered 10-15 minute lines on Monday at Snowshed and Ram's Head but hardly a soul at the Skyship Northbrook Station, Bear Mountain, and Snowdon. My wife preferred Snowdon to Rams Head because the terrain felt steeper, but we did appreciate one of Rams Head's trademark trails: the Timberline trail!
Overall, Killington lived up to its reputation of offering some of the best December skiing in the East. In 1.5 days, we only skied about a third of the open terrain at the mountain. Our only hang-up was the complex nature of the trail network. We had to consult the trail map on nearly every run just to be sure that we ended up in the right place. At Killington, the marked connections between areas are almost always green trails, and more often than not, either Great Eastern or Great Northern. For skiers who prefer steeper terrain, having to move between mountains on long, meandering green traverses can get boring. Moreover, these greens often cross more difficult terrain at the bottom of headwalls, forcing skiers on both trails to ski defensively at less than optimum places. Late in the season, alternative crossovers begin to open on natural snow, easing the burden on the two main traverse trails and creating more interesting travel options for advanced skiers.
The drive back from Killington to DC via I-87, I-287, and I-95 took just nine hours. Its relatively short drive from DC makes Killington a nice option for a four-day jaunt. Unlike Stowe, it does not offer a picture post card village at the base, but there are many great hotels, inns, and lodges near the base. Those seeking a quaint village might wish to stay at Woodstock. Not to be confused with Woodstock, New York, the home of the famous music festival, Woodstock Vermont is a place where many New York investment bankers have traded in their penny loafers for Birkenstocks. The town has numerous shopping venues, including three book stores, two art galleries, and three furniture makers. The Woodstock Ski Touring Center offers more than 60 km of groomed trails with trailside dining at the Fireside Lounge. Woodstock is twenty miles from the Killingon resort and also has a small village mountain called Suicide Six (23 trails, 2 double chairs, and a 650 foot vertical).
Rutland is another option. A "real" Vermont town, Rutland has such real world amenities as a McDonalds (yes, they do exist in Vermont) and a handful of car dealerships, but behind its commercial exterior lies an interesting downtown core, complete with shops, restaurants, and B&Bs. Amtrak offers regular train service from DC to Rutland and Killington runs scheduled shuttle busses between the town and the resort, making Rutland a decent base for those not inclined to travel by car. Eventually, ASC intends to build a base village at Snowshed, and elements of that village, such as the Killington Grand Resort Hotel, are already in place. But until this dream comes to fruition, visitors must choose between the roadside convenience of Route 4 and the Killington road or a longer drive to a full-sized town.
Decent weather, low crowds, and a big mountain can make Killington a skier's dream if visited during an off-peak time period. The resort classified Monday as holiday, but most people were at the malls, leaving all that good snow to Darina and myself. Here at DCSki, "home is where the snow is."
Photos by John Sherwood.