Firsthand Report: Hidden Valley
4
Editor's Note: Dave E. from Uniontown, Ohio submitted this Firsthand Report from a trip he made to Pennsylvania's Hidden Valley Resort Dec. 19-21, 2003.
---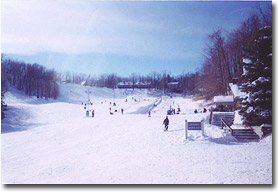 On Dec. 19-21, I made a trip with my two daughters to Hidden Valley Resort. Overall, Hidden Valley turned out to be perfect learning terrain for my girls (ages 14 and 7). Their ski school was great. My 7 year old went to Jr. Ski and had a blast skiing with the other young kids her age. My 14 year old benefited the most, by far. She went from skidding/sliding her way down the greens/easy blues to learning how to pole plant and carve out some nice turns on the blue slopes over on the North side. Her instructor, Joe, was excellent -; very technical, yet patient, and communicated the concepts really well to my daughter -; what more can you ask for? She improved dramatically in the two days we were there.
The "Good": By far the best thing about Hidden Valley was their Jr. Ski School and private instruction. My kids loved it, and both improved immensely in our two days there. My oldest daughter made the leap from advanced beginner to intermediate. Our condo was nice and located close to the North slopes with easy access to the main lift at the bottom of the North slopes. It was also a nice family atmosphere. At no point were we dodging the "party crowd" half tanked up and screaming down the hill. (Hey, I like a good beer or two, just not when I'm skiing with my kids.) Lift lines were very manageable, especially for a weekend. Our longest wait was 2-3 minutes on the Valley side, and we skied directly on the lift on the North slopes with no wait at all. If you are an intermediate skier, stay on the North slopes, which are much less crowded.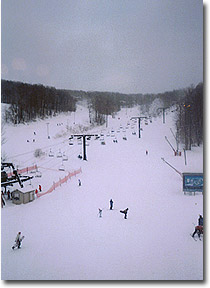 The "Bad": Food at the lodge was pretty bad and expensive (like most places). We opted for dining outside the resort (Oakhurst and Laurel Mountain Inn). The design/layout of the beginner carpet lift was pretty bad. I'm not sure what they were thinking. Lucky for us, my youngest daughter is past all of that. She rides the lifts and had two nice long green runs on the Valley side of the resort that she could ski.
The "Average": Slope grooming could have been much better, but I guess I would still consider it satisfactory. The staff was pretty helpful, but at times they didn't have it all together, especially for it being our first time to their mountain. They were certainly not rude, but it wasn't exceptional service either. Somewhere in the middle. My kids liked the tubing park. It wasn't busy and the runs were adequate.
To sum up, if your priority is on advancing beginner skiers in your family to the intermediate level, Hidden Valley is a good place to do it. I would definitely recommend their ski school.
Photos provided by Dave E.
Dave E. did a good job of describing Hidden Valley. It is a nice place for some relaxed skiing. Minimal crowds and hassle. They do a credible job of snow making and grooming and I have found the conditions during December to be excellent. There are no huge crowds, busses full of group skiers, rampant commercialism or noisy music blasting out of lift pole mounted speakers like other area resorts. It is a pleasant place to ski. As far as challenge, it's lacking, however Imperial and Cobra are decent blue runs and if they ever get the Charger slope open, it has some decent balck pitch. Future expansion is supposed to provide some more challenging terrain. After recently visiting a very crowded Seven Springs, I know why I own realestate at Hidden Valley. A nicer mountain atmosphere (almost like a private club), excellent cross country facilities, uncrowded slopes and excellent snow making. I know most of the folks who write into this web site a think WV is the end all/be all of local skiing. However, Timberline and Canaan ain't that great either (compared to New England and out west). I suggest that you give HV a try, it's a nice relaxed place to ski.
It sounds like a nice place to spend a quiet weekend with the family. Maybe not the most challenging, but definately not the most crowded!
Hey my G/F likes it ... and Nose Dive can be fun! Seven Springs is good too but Hidden Valley has this laid-back attitude you may enjoy.
Hidden Valley was a great place to visit for me, my family and friends. We went several weekends during the 04-05 season. They managed to get the slopes open TWICE in the span of thirty days despite some lousy weather. The snow and grooming were much better than average and we thought most of the prices were in line. The best part was the townhome we rented. It was close enough towalk to the slopes and had a great fireplace with REAL WOOD. The cafeteria food was only fair, but we had dinner at a place called Dundee's that was excellent and close to the main entrance. Overall, we thought Hidden Valley was a good deal (prices and more) and can hardly wait to return this winter.