Can you have a high quality winter vacation experience in Colorado during peak season with no lift lines and excellent affordability? You bet you can, just do as the locals do; lodge in the greater Denver/Boulder metro area and frequent their favorite front range ski areas: Eldora, Loveland, and Winter Park.
My wife and our four children joined me on a trip to Colorado for some snowriding fun during Christmas week 2003. We had a glorious, crowd-free visit at these three distinctive ski areas. Each enjoys unique attributes, which between them offer an outstanding sampling of the terrain, conditions, and character of the Centennial State. Yet all three are positioned conveniently within 70 miles of downtown Denver.
Eldora is an inviting mountain featuring challenging, classic tree-lined runs and great snowmaking ensuring good conditions all season. Loveland offers an expansive contrast with treeless, high alpine terrain in a spectacular open basin. Winter Park is the largest of the three with close to 3,000 acres of ski terrain and enough variety to satisfy all comers, from the most serious bump skiers and cirque-diving snowboarders to the greenest of beginners.
Eldora Mountain Resort
What a great place, secluded high in a lovely evergreen forest. Many of the slopes of Eldora are graced with a Tahoe-like view of nearby Barker Reservoir. It figures that the fitness-crazed college town of Boulder, CO (30 minutes northwest of Denver) would lay claim to one of the most impressive "home" mountains I've seen so close to an urban area. We lavished in two sun-drenched, windless days at Eldora and never parked more than 75 feet from the lodge. We never saw a lift line either. The whole aura of the place was more like Late March Mañana than Hyper Holiday Hustle.
Just 20 miles west of Boulder straight up majestic Canyon Boulevard, Eldora enjoys a 1,600' vertical drop with base and summit elevations of 9,200' and 10,800' respectively. There are a total of 12 lifts. The stats are modest by Colorado standards, but this area skis big. If somehow God had placed it in the East, it would be a giant. Amidst a network of 53 designated trails (680 acres), it must contain a dozen distinctive runs of the length and difficulty (1 mile plus, 1,500' vertical) of mid-Atlantic standout, Cupp Run at Snowshoe, WV.
For my kids first western ski experience, Eldora provided a righteous baptism. We warmed up on the ideal beginner/training area called Little Hawk, which is set aside from the tough stuff, then set out to explore the main mountain consisting of three sections/ridges called Challenge, Indian Peaks and Corona. This terrain contains a mother lode of challenging blue and single black diamond runs.
Still searching for the easiest way down the Challenge Mountain section, at the start of day two at Eldora I led my two youngest kids to a trail called Jolly Jug. With a name like that surely it had to be a mellow eastern-style intermediate warm-up? Not exactly; it contained a long, steep (but groomed) section that clearly redefined the meaning of a blue square run for all of us in Colorado terms. I believe they got the name right on Challenge Mountain.
At Eldora they don't brag much about their snowmaking capacity. Perhaps it's bad form to admit excellence in this skill in Colorado? We Easterner's know better. The fact is, Eldora operates one of the most sophisticated snowmaking systems in the state with close to 100% trail coverage. In the rather snow-lean early season timeframe of our visit, Eldora had the best, most consistent (packed powder) surface conditions of the three ski areas we sampled.
Besides some darn fine tangibles, there's a great intangible quality at Eldora. To innocently interpret a line from an old R.E.M. song, it seems full of shiny, happy people. Management, instructors, lifties, food service and rental personnel all go about their business in a pleasant, helpful, and upbeat manner. Maybe because they know they have it GOOD with terrain, scenery, proximity, affordability, and a routinely low crowd factor that most of us East Coast smog suckers can only dream about.
This joie de vie extends to the patrons of Eldora as well. My son and I rode up the Corona quad chair with Tony and Karen, a pair of veteran season pass holders from Boulder. They enthused on and on about what I was missing in the double black gladed terrain visible off to the far side of the lift. It was the last major area of the resort that remained unopened at the time of my pre-Christmas visit. The West Ridge, Salto, and Moose glades they spoke of are well known to tree skiing experts in the region.
Seeing that this couple had more gray hair than I, their obvious recent familiarity with such challenging terrain was impressive, but I was even more impressed with the devotion they had for their home mountain. They mentioned something about Boulder and Eldora being a lifestyle choice for them and my mind flashed back to rush hour traffic in D.C. I envied the easy access they had to a Shangri la type of a place that one could ski for years and continually find both comfortable and inspiring. By the looks of these two, maybe Eldora's also rejuvenating?
Loveland
I want to avoid a terrible cliché, yet still express what I feel in my heart. I fell in… lust with Loveland. Like most first time visitors to Loveland Ski Area, my family and I immediately hopped on looong chair number 2. Chair 2 and most of the slopes of the primary section of the ski area known as Loveland Basin begin a stone's throw from Interstate 70 and lay just a little more than 50 miles due west of Denver. Initially it seems a bit curious riding a lift that parallels the traffic backing-up to enter the mighty Eisenhower Memorial Tunnel (better them than us), but about halfway up the 1.5-mile ride you enter a high alpine world featuring a gorgeous 270-degree open cirque that must be close to 5 miles in circumference.
All other thoughts are quickly obliterated while confronting this eastern face of the continental divide. It supremely satisfies any flatlander's preconceptions of the Rocky Mountains. This is what you travel half way across the country for and as I took my first chair lift ride with my wife a variation of Dorothy Gale's famous words came to mind, "Kathy, I have a feeling we're not in D.C. anymore."
Virtually this entire magnificent vista is lift-served and includes a number of very manageable top to bottom green and blue runs. In fact, I hope I don't soften their image too much, but Loveland is an intermediate's paradise! Sure, there is double black diamond terrain in the bowls to the east of chair 1 and from countless lines down The Ridge served by chair 9 (the world's highest quad chair topping out at 12,700'), but I can't think of an easier place for a mere mortal snowrider to gain entrée to such breathtaking high altitude, treeless terrain.
Even my timid skiing wife, once she caught her breath, was comfortably thrilled skiing the two-mile green level trail combination of Fire Bowl, Turtle Creek and Tango Road from the 12,000' plus heights of chair 2. All this scenic, easy terrain really hit my family's aptitude sweet spot and made everybody a high alpine hero.
Not all of Loveland is treeless. One afternoon while the kids were on a break I took a solitary dip into the powdery and not too difficult glades above Forest Meadow in the area between chairs 6 and 1. I spied more advanced gladed terrain while skiing some moderate bumps on the south-facing Scrub trail under chair 4. The bottom half of most runs at Loveland are tree-lined and the transition zone provides numerous great opportunities all across the basin for the curious to hone their tree dodging skills.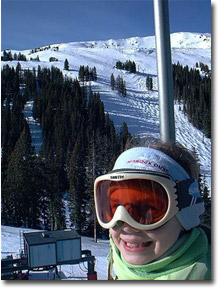 Our two days at Loveland delivered more ideal kids weather; mostly sunny, not a breath of wind, and daytime temps in the low 30s (although it felt milder due to the low humidity and intense sun). There was not a hint of a liftline here either. I spoke for a moment with a patroller named Jesse and he relayed that the sunshine and doldrums were indicative of a less than banner early season snow crop. Chairs 8 and 9, which feature much of the black diamond terrain at Loveland, were not yet open for my Christmas week visit. Still, we were left with four major chairs (and several minor lifts) climbing up to various heights across a wide swath of the basin wall, each with verticals of 1,000 to 1,500 feet. My kids had few complaints about the mostly packed powder conditions, excellent by eastern standards. Snowmakers had clearly been at work on many key trails and Loveland's elevation is high enough for it to always be considered a good early and late season bet in Colorado.
The official stats on Loveland: 2,100' of lift-served vertical drop (10,600' to 12,700'), more if you climb; 77 trails, 1,265 acres; 10 lifts. Most of the skiing transpires between about 11,000 and 12,500 feet, so bring your lungs, but don't worry about lunch. They have a large and efficient dining facility close to the main lift base that served as home away from home for my family. I can attest that it's also convenient for Type A skiing personalities who want to grab something like a Loveland turkey and cheese deli wrap to eat on the lift when there's just too much fun going on to stop for a proper lunch.
Winter Park Resort
Winter Park is big time. The day my three teenagers accompanied me on the spectacular road trip over 11,300 foot Berthoud Pass, I told them that this would be their final exam in Intro to Colorado Skiing, 101. More of a destination resort than Eldora and Loveland, yet still only 70 miles from Denver and drawing many locals, the nearly 3,000 acres of Winter Park demand the sort of terrain and lift management skills that cause even grizzled skiing turistas to break out the trail map -; often. I call that adventure skiing with a real element of exploration; the kind of stuff that can bond even teenagers to their elders.
Winter Park has a 3,000' vertical drop (9,000' base, 12,000 summit), 21 lifts, long runs up to 5 miles in length, and enough variety to develop an interesting bipolar reputation as both a great learning mountain and an expert's paradise (i.e., Mary Jane and Vasquez Cirque). Besides the two aforementioned expert areas, there are three other more intermediate friendly sections: Winter Park proper, Vasquez Ridge and an above timberline area called Parsenn Bowl.
Vasquez Cirque and the Parsenn Bowl were not open for our late December visit. Still, I figured we'd need to be on a manic high to get a representative sample of this humongous place in just one day. Also, I was real curious to test a major Colorado resort on the day after Christmas. I knew the terrain would be awesome, but how well could the mountain absorb crowds? How would the quality of the ski experience compare to the two wonderfullly low-volume ski areas we had just visited?
We arrived at primetime, around 9 a.m., and immediately noticed a well-organized drop-off and parking set-up. No more parking just footsteps from the lifts like earlier in the week, but we easily took advantage of the convenient short-term drop off zone to unload gear and passengers. Afterwards I parked the car and caught a quick shuttle bus from the distant free day lot.
Next we encountered a battery of high-speed lifts the likes of which we had not seen all week. Winter Park has eight express quads in all. The Zephyr Express quad and the other lifts out of the main Winter Park base area gobbled up the swarm of morning snowriders posthaste. Riding Zephyr, we noticed below us the first of many "special skiers" we would observe on the slopes that day. Site of the National Sports Center for the Disabled since 1970, Winter Park may have the most prestigious and popular disabled skier program in the world!
Initially we hit the gentle runs around the Olympia Express chair. There were some ideal cruising trails here like March Hare, but skier traffic was a just a bit heavy. We soon migrated to nearby Vasquez Ridge where there were less people, great blue runs, and a warm Colorado sun. We met big Dan from Denver here at the rest stop at the base of the Pioneer Express quad. Dan skis Winter Park a lot. He said it's like this often on Vasquez Ridge and for these reasons it's his favorite section of the mountain. I might have to agree, and I particularly enjoyed a wide, tilted ballroom of a run in this area called Sundance.
We finally saw our first true lift line of the week at around 11 a.m. as we boarded the High Lonesome Express quad chair to head for the backside of the Mary Jane section of the mountain. For the record we never waited more than about one minute in a lift line at Winter Park on December 26. Skiing near the Sunnyside chair, we enjoyed the pretty Edelweiss run and the relatively benign Wildwood Glades. By then it was after noon and time to begin our planned return to the front face of Winter Park via Corona Way and The Corridor. Upon completion of this 30-minute tour/trek, we rode up the Zephyr Express for a late lunch break at Winter Park's beautiful mountaintop Sunspot restaurant.
Ironically we arrived at Sunspot just as the sun departed and a snow squall set in. For the next 45 minutes, we dined in the comfort of our elegant lunch spot at 10,700' while three inches of new powder fell on the upper slopes of the ski area. When the snow stopped, we finished our lunch and tried some new loose pow for dessert. But dense clouds remained and after awhile, we headed for better visibility on the lower front of the mountain in the vicinity of Snoasis (another major on-mountain restaurant). This area included mostly green terrain and is the location of Winter Park's large and renowned learning slopes.
Around 3 p.m. I suggested that we head back to higher ground and make Hughes Run our finale. The necessary return drive over cloud-shrouded Berthoud pass was weighing in the back of my mind. Hughes is one of Winter Park's classic runs and descends about 1,700' of vertical in about 1.25 miles. We had seen some incredibly skilled disabled skiers training here earlier in the day. Paraplegics, amputees, sight impaired, mentally challenged, you name it; they were still out there by the dozens, skiing, riding and racing their buns off.
Hughes has an unusual marking as a blue trail with a black diamond inside the blue square. It's also a busy place cutting down the heart of the front of the mountain to the main base. Despite the squall, by this time of day a lot of the best powder was scraped off. In the East there'd be nothing blue about it, except maybe an intermediate's hurt feelings at being coerced to give it a try. It was a challenge for my kids, but all the way down my rallying cry was "if the special skiers can do it, you guys can too." Not sure if I'll get away with that next time, but on this day it seemed to work and when we made it to the bottom we knew we'd completed a week of big time Colorado skiing.
Extra Details
Accommodations-wise the highlight of our trip was a stay at the new Boulder Outlook Hotel (www.boulderoutlook.com). Located just across the street from Colorado University, this affordably priced 162-room former Ramada Inn colorfully captures the spirit of Boulder's active outdoor lifestyle. The recently remodeled hotel features two indoor climbing walls (thoroughly conquered by my younger kids), an elaborate indoor pool, hot tub, fitness center, and a complimentary breakfast bar with views of the Flatiron Mountains that will perk you up faster than a cup of Columbian Roast. The Boulder Outlook "adventure concierge" will eagerly hook you into the huge variety of sports and recreation providers in the area, including Eldora Mountain Resort.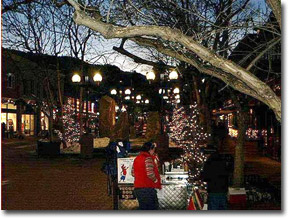 Another non-skiing highlight was the dinner and nighttime stroll we enjoyed at Boulder's Pearl Street Mall, a Georgetown-like district (and most definitely not a cookie-cutter indoor shopping mall) with several blocks of great restaurants, bars, and shops all decked out in their Holiday finery during our visit. Christmas, by the way, is virtually off-season in Boulder with the thousands of Colorado University students away on semester break. At other times I'm sure Pearl Street would be a fine singles après-ski haunt.
Oxygen-wise I found Eldora to be a great area to schedule on the front end of our trip. The relatively moderate summit elevation enabled me to more comfortably acclimatize to high Colorado terrain. The name of their notable children's program is one of the cutest around, the Eldorables. They also have a significant Nordic ski center.
I could easily spend an entire week at Loveland under "all terrain open" conditions. It must be nice to live in a state where such a huge place is considered a "smaller" mountain. No doubt, however, the very high elevation at Loveland is something to take into account for older out-of-state visitors and for them it might make a great scenic finale after skiing and acclimatizing at lower resorts. I saw a number of fine skiers on older skinny, pre-parabolic skis here and elsewhere during our trip and I enjoyed the fact that front range ski areas are frequented by real people, many of whom get to ski/ride almost daily.
Winter Park would be good for a week or a winter of snowriding. It has a great mix of energetic locals (with the programs and flavor they bring) and numerous destination visitors. The ski area is actually owned by the city of Denver as a "winter park," and in recent years has been skillfully operated by the Intrawest Corporation, which also owns the mid-Atlantic's Snowshoe Mountain Resort. The citizens of every city should be so fortunate to own a winter sports asset like this.
There is great affordability across the board for vacationers in the competitive local Denver ski market. In the October/November time frame there were many early bird deals on the internet for multiday lift ticket packs at Eldora, Loveland and Winter Park, ranging from 3 days for $39 to 4 days for $99 depending on the ski area and the timing of your visit. Many other bargains abound, including discount cards and discount pre-purchased ticket offers from local retailers. Equipment rentals are also widely available at competitive prices. My son used rental ski blades for the first time and enjoyed a breakthrough in parallel form on this trip.
Our front range formula for a ski vacation turned up some interesting conclusions. Who would have thunk it, but the same ski areas that satisfy local hotshots looking for budget thrills are also good for a mellow family bunch looking for low stress! And, how about a fulfilling Colorado ski week while never once passing through the Eisenhower Memorial Tunnel (and facing the increasingly daunting Interstate 70 traffic there and beyond)? Eldora, Loveland and Winter Park may be rivals in a highly competitive Denver ski market, but the wonderful diversity and character presented by each makes for a natural front range assortment pack offering out of town visitors much of what is best about the state of Colorado.
Photos by Jim Kenney.