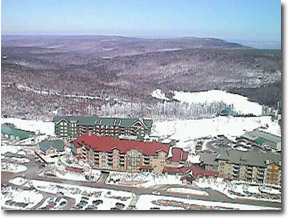 On December 19, 2003, West Virginia's Snowshoe Mountain Resort celebrated its 30th birthday. On December 19, 1974, Snowshoe opened with nine trails and three lifts. Today, Snowshoe boasts 57 trails, 14 lifts and two terrain parks, and an entire mountaintop community consisting of lodging, shops, and restaurants.
Snowshoe was originally developed by Thomas "Doc" Brigham, an entrepreneur that saw the potential of the area for winter sports. Working out of Elkins, he made a trek 45 miles each day to the rugged, undeveloped area as the resort's development began. The first season offered limited amenities for visitors.
"Shaver's Center was the center of life here the first winter," relays Tex Ritter, Snowshoe's Director of Mountain Operations. "Guests would sleep on picnic tables or the floor of Shaver's."
In 1974, French Olympian Jean Claude Kelley was brought to Snowshoe as a consultant in the development of Cupp Run, now one of Snowshoe's most popular trails. In 1992, Snowshoe acquired Silver Creek, a smaller resort just down the road. In 1995, Snowshoe was purchased by the Intrawest Corporation, which became famous for developing resorts such as Whistler-Blackcomb.
Today, "Intrawest is building and expanding Doc Brigham's vision," said Steve Rice, now serving as eastern vice president of Intrawest after earlier serving as President of Snowshoe.
Photo provided by Snowshoe Mountain Resort.
There are no reader comments on this article yet.