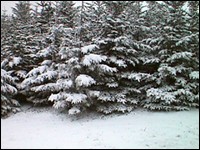 The first snowflakes of the season have fallen on top of West Virginia's Snowshoe Mountain Resort, providing a taste of the upcoming ski and snowboarding season. Wednesday night, temperatures in the 20's mixed with precipitation to produce a 2" dusting of snow over Snowshoe Mountain.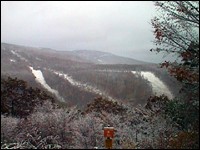 Winter arrives early at Snowshoe, which enjoys an elevation over 4,800 feet. The resort plans to initiate snowmaking operations in early November, weather permitting, and is shooting for an opening date of Friday, November 13. Snowshoe received 202" of natural snow last winter.
Several significant changes were made at Snowshoe over the summer. Snowshoe added a new high-speed chairlift to serve the 1,500-foot vertical Cupp Run, and cut a new trail neighboring Cupp Run, Shay's Revenge. Shay's Revenge is 1.5 miles long and has a 55 percent pitch, making it the steepest trail in the southeast.
Photos provided by Snowshoe Mountain Resort.
There are no reader comments on this article yet.