Firsthand Account: Mammoth Mountain, California
2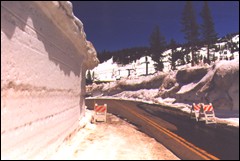 The ski season was over before it started for several resorts closest to D.C. this year, but nature had no reservation against dumping a huge amount of snow on California's Mammoth Mountain resort. This isn't something new, of course: each year, Mammoth rides into the month of May with a base depth well over 100 inches. (That's not a type-o - just study the picture to the left, which shows a canyon of snow surrounding a road.) Mammoth usually stays open until the Fourth of July. Even then, there's often plenty of snow left, but by July even die-hard skiers are ready to hang the skis up.
DCSki's official die-hard skier, in a recent cross-country road trip, went well out of his way to visit Mammoth, to see firsthand what it's like to ski in June.
First things first: Mammoth is pretty much in the middle of nowhere. Mammoth is located in east-central Cailfornia, in the Sierra mountain range. By plane, the best way to get to Mammoth is to fly into Reno, Nevada and drive several hours south. A more difficult way, undertaken by DCSki's Editor, is to drive directly from Maryland to California (occasionally stopping in Utah for mountain biking, Las Vegas for "gaming," the now-politically-correct term for gambling, etc.) If you plan to make the drive to Mammoth from Maryland, be sure to fill up your tank with gas (it's a long drive) and try to imagine that states such as Missouri and Kansas are more exciting than they really are. (They're not.)
Not far from Mammoth lies Death Valley, the hottest section of the country, with temperatures regularly exceeding 100 in the spring. What a difference elevation can make. Whereas the lowest elevation in the country is found in Death Valley (below sea level), Mammoth Mountain rises out of the Sierras above 10,000 feet. That high elevation is largely responsible for Mammoth's ability to attract and keep snow well into spring. There was little snow even a few miles from the base of Mammoth, but the road leading up to the base is quickly complimented with evidence of countless heavy snowstorms. The most recent storm? On May 29, 6 inches of new snow fell on the mountain.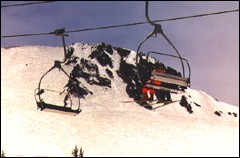 Two days after that "dusting," I was skiing at Mammoth. Several lifts were running at the main base of the mountain, although a large section of Mammoth was closed, including a Disney-inspired "people mover" the transports visitors from an auxiliary base area to the main base area. Even though a small percentage of the lifts were running, this left countless acres of open terrain to explore, and lift lines were practically non-existent.
It's wise to cover exposed skin with suntan lotion when you ski in the winter, but particularly important during the spring and summer. I applied a liberal amount of suntan lotion to every imaginable place on my face, but received a bad sunburn anyway - on the top of my head and the inside of my ears!
Although there was plenty of snow on the ground, Mammoth cannot escape the effects of spring skiing: colder temperatures at night that warm quite a bit during the day. In the morning, the trails were somewhat icy and slick, although this was equivalent to a good day on the east coast. The trails had been groomed overnight and a snow cat continued to groom the trails throughout the morning. To my surprise, this snow cat had a salt reservoir attached and was spreading salt on top of the snow to soften it! This seemed like an excellent idea, and I wondered why east coast resorts didn't use the trick to combat icy conditions. Then I realized that Mammoth can afford to spread salt with a 12 foot base; if east coast resorts tried it, it might melt the entire base and leave confused and disgruntled skiers standing in a puddle of water and mud, not unlike the most recent ski season here.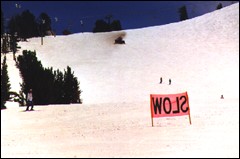 As the sun beat down on the snow (and my head), it got quite warm, and we found ourselves wishing we were in t-shirts and shorts. (Not suprisingly, several skiers were skiing in t-shirts and shorts. I hope they were using suntan lotion.) The snow began to soften up, and for a short period conditions were ideal before becoming a little too soft. Locals are fond of skiing in the morning and switching to other activities, such as mountain biking at lower elevations, in the afternoon.
Even with this freeze-thaw cycle, it didn't appear that the snow was in any hurry to melt, and there will surely be a large base of snow for some time to come. Mammoth Mountain will be open for skiing until the Fourth of July this year, and usually re-opens in early November. That's a pretty long season.
Useful fact: A chicken sandwich at Mammoth is cheaper than a hot dog at Vail. Hey, we do cutting-edge research here at DCSki.
It was clear that Mammoth had already settled down for the ski season; limited facilities and lifts were open, and all of the skiers and snowboarders were laid back, enjoying the sun as much as the skiing. Even so, the skiing was fantastic and prices were significantly discounted.
The terrain at Mammoth is expansive, and some seriously challenging trails (or "cliffs," as I would prefer to call them) tempt extreme skiers at the top of the mountain. (Thankfully, more leisurely ways down the top of the mountain are also offered, allowing advanced-but-not-crazy skiers like me to remain in the genetic pool.) Mammoth Mountain is actually a volcano, and on some trails you can smell sulfur rising from deep below the ground.
So, if you feel a sudden urge to go skiing in the next month, it's not too late, and you don't have to go to a different hemisphere. The skiing in Mammoth is great practically any time of the year.
These days you would have to morgage your house to drive across country...ahh 1998 when gas was under $1.25 a gallon boy those where the days!
Ain't that the truth.

I could also drive all through the night and not get a sore back from driving hours on end.