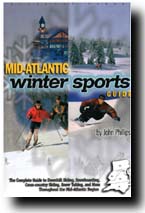 The Mid-Atlantic Winter Sports Guide, written by John Phillips and published by Beachway Press last fall, is the first book to focus exclusively on Mid-Atlantic ski areas. This thorough book describes alpine and cross-country skiing in Pennsylvania, Maryland, West Virginia, Virginia, and North Carolina. 42 alpine ski resorts are described, as well as 52 places to cross-country ski.
The book includes profiles of each ski resort, including information such as mountain statistics, history, trail profiles, directions, and prices for the 1997-98 ski season. Black and white pictures of many resorts are also included.
If you want a handy reference that covers Mid-Atlantic skiing, this is the book to get. Most national ski guides only include the largest Mid-Atlantic resorts, but Phillips' guide covers resorts as small as North Carolina's Appalachian Ski Mountain, which has a 365 foot vertical. A handy map on the front jacket cover marks the spot of all Mid-Atlantic ski resorts, and a mileage chart is included.
The guide also includes detailed information for cross-country skiers, including descriptions and contact information for many state parks.
You can order this book on-line for $19.95 from Amazon.com by clicking here. (Note: DCSki receives a small commission from Amazon.com for orders placed directly via this link.)
There are no reader comments on this article yet.