You may have noticed there were less updates to DCSki during the past week, and for good reason. I was, er, busily performing research for DCSki by skiing the slopes of Vail, Colorado, one of the largest and most popular ski resorts in North America.
Boy, oh boy. It's going to be hard to ski on the east coast again. Over seven miles wide, with over 4,600 acres of perfect packed-powder terrain, Vail is a skier's dream.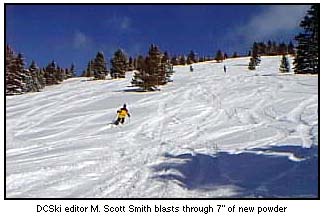 The trip began as several friends and I converged on the resort from various parts of the country - Baltimore, Philadelphia, Boston, and Detroit. All of us were scheduled to fly directly into Vail/Eagle airport (located in the mountains approximately half an hour from the resort), but Mother Nature had a different plan.
"Good afternoon," said the pilot somewhere over Colorado. "Sorry I haven't had a chance to talk to you yet, but it's been a bit hectic here in the cockpit. We'll be starting our descent shortly for … Denver."
The pilot went on to explain that Vail/Eagle airport had temporarily closed due to "adverse weather conditions," and that we would be spending some time on the runway at Denver International Airport waiting for the storm to pass - or, failing that, securing a bus to make the 2.5 hour drive to Vail from Denver.
After a couple hours on the tarmac, we were cleared for takeoff and began a circuitous route to Vail/Eagle, delicately weaving our way around choppy air. After a bumpy flight, we stepped off the airplane and onto ground quite a few thousand feet higher than we were used to.
Well, almost all of us. Our tripmate from Detroit, also diverted to Denver, was scheduled to ride a bus up I-70 into Vail that evening. A 17" dumping of snow east of Vail would set off an avalanche, closing I-70 for over 24 hours as road crews tried to clear away the snow. Those on the bus - including our friend - would become trapped in the mountains and forced to spend the night in a middle school, set up as a makeshift shelter by the Red Cross. Not an ideal way to start a ski vacation, but he would make it to Vail the following evening, missing only one day of skiing.
Sunday morning, a clear blue sky attracted weary travelers out of their condos and onto the slopes. Vail recently added a 12-person gondola, but the line was long so we opted to take one of Vail's 10 high-speed quads, located right next to the gondola but lacking a line.
After climbing several thousand feet, we arrived at Eagle's Nest, a newly-added facility at the top of the mountain that contains several restaurants and nighttime activities such as ice skating and tubing. (After the slopes close, anyone can ride the gondola up for free. It shuts down around midnight.) A carpet of freshly-groomed corduroy greeted us, and we headed towards Game Creek Bowl, one of Vail's seven "back bowls."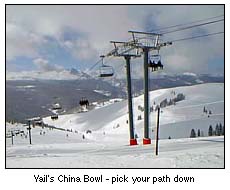 Vail's front side is mighty impressive, but the back side is incredible. Bowls such as Game Creek, Sun Down and Sun Up, and Tea Cup offer wide-open skiing and phenomenal views. You can pick your path down the mountain, choosing terrain as challenging as you like. (Want really steep slopes, with some cliffs to jump? You can find them, although we strategically avoided extreme skiing, preferring to preserve the integrity of our limbs.)
Treeless skiing yields to patches of evergreens in the back bowls, and we were particularly fond of China Bowl - so much that we spent the bulk of two days (both powder days) exploring China Bowl.
To call Vail "huge" is an understatement. Many of the defined slopes are wider than the width of all of the slopes at local resorts combined. And you needn't limit yourself to the defined slopes - virtually all of the terrain at Vail is fair game, if you're willing to venture off the beaten path. (There's plenty of snow on and off the defined slopes.)
Each night and frequently during the day, armies of snow cats massage the snow into perfect corduroy. Other trails are left alone, allowing moguls to form.
Wide, intermediate cruisers beckon skiers and boarders - our favorites included Avanti and Simba. Steep, black diamonds offered a challenge, but excellent packed powder conditions made them forgiving and easily skiable. (Later in the day, some icy spots developed, but not enough to complain about.)
An old Colorado saying suggests that if you don't like the weather, wait five minutes. Colorado gets over 300 days of sunshine a year - and when the sun's not shining at Vail in the winter, it's probably snowing. During our visit, Vail received over a foot of fresh snow, spread across three days. Vail can expect to receive a couple hundred more inches of snow before the season is over. (They get an average of over 300 inches of snow per year.)
There's more to Vail than skiing. The eating is pretty good, too. There are several dining spots on the mountain, and none are cheap. A cheeseburger, soda, and fries at Two Elk Lodge cost around a dozen bucks, while a simple hot dog at the Dog Haus cost as much as two Value Meals at McDonalds. (But the view makes it worth it.) Fittingly, a Chinese food stand greets skiers and boarders at the bottom of China Bowl.
We spent one day skiing at Beaver Creek. Beaver Creek, a new and very well-designed ski resort, offers some great terrain and virtually no crowds.
Crowds at Vail varied; lines could get very long at some lifts while other lifts had no lines. Vail has strategically placed signs around the resort containing lift names and lights next to the names - a red light means the lift is closed; yellow means the lift maze is full. Lifts with green lights are generally the place to be.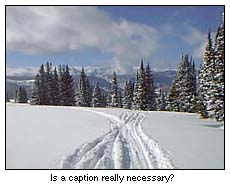 Our favorite dinnertime option was up at Eagle's Nest. An upscale buffet - for only $12.95 per person (a real bargain!) - offers all-you-can-eat salads, entrees, carved meat, and delicious desserts, complimented with live music. Most restaurants at Vail were somewhat pricey, although you could find good food for a reasonable cost.
A free shuttle bus transports visitors around the base area of Vail; for $2.00, a bus will transport skiers and boarders to Beaver Creek. (A Vail lift ticket is good at Beaver Creek, Breckenridge, and Keystone.)
We stayed at the Vail International Condominiums, a short walk from the Lionshead gondola. We stocked the refrigerator by taking a bus ride to a nearby Safeway; taking the bus was free, but not convenient - we spent over three hours getting a couple bags of groceries.
Vail's base area (including Lionshead and Vail Village) includes dozens of stores. Unless you're Bill Gates, you'll be window shopping at a few, but you can find some good bargains on t-shirts and other souvenirs.
Vail's views aren't the only thing that is breathtaking - its base elevation of 8,120 feet is also quite literally breathtaking. Sea level dwellers often suffer effects of altitude sickness when visiting high elevations. Common symptoms include dizziness, shortness of breath, nausea, and headaches. Extreme cases of altitude sickness can be life-threatening. We tried to ward off the effects of altitude sickness by drinking lots of water (which is also good since it's dry - it's easy to become dehydrated), avoiding alcohol, and taking an occasional Tylenol. We also applied sunscreen religiously each morning - it is easy to sunburn at a high elevation, surrounded by bright white snow.
Colorado resorts such as Vail offer skiing that is incomparable to what you'll find on the east coast. Rain never falls in the winter - only dry powder. (The snow "squeaks" as you walk on it.) Having grown up in Colorado, I always look forward to returning for visits. Unfortunately, it usually takes a week or two before I feel motivated to ski again on the east coast!
There are no reader comments on this article yet.