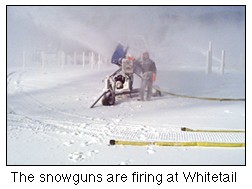 Thanks to the coldest temperatures of the season, Ski Roundtop and Whitetail Ski Resort plan to re-open this morning after successfully making snow around the clock the past several days. Temperatures Monday climbed into the 60's, melting any base the two areas had left, but the two resorts were able to fire up the snowguns later this week and make several feet of new snow.
Ski Roundtop will re-open this morning at 9 a.m., and will be open until 10 p.m. Minuteman, Fife & Drum, Lafayettes Leap, the Half Pipe, and the Discovery Area will be open. Base depth should exceed 10-22 inches.
Whitetail will re-open this morning at 8:30 a.m., with skiing and boarding on beginners Velvet, Almost Home, Snow Park, and Stalker. Base depth will exceed 12-40 inches with groomed packed powder conditions.
Both resorts plan to be open through the weekend. Whitetail will close Monday but will re-open later next week. Temperatures for the next five days should be conducive to snowmaking, at least at night.
This winter will go down in the records as being, well, bizarre. In the meantime, enjoy the first taste of winter in the D.C. area.
Photo provided by Whitetail Resort.
There are no reader comments on this article yet.