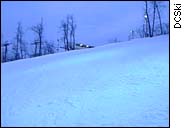 Relatively warm temperatures and heavy skier traffic this past weekend helped to turn Whitetail's slopes into one big 7-11 Slurpee late in the day on Monday - but without the brain freeze. (I suppose "springlike conditions" is a more appropriate term; the resort's official snow condition report described surface conditions as "packed powder," although loose granular would have been more accurate for the day and evening session.)
Nonetheless, the snow began to firm up as the sun set, resulting in very enjoyable skiing. As is often the case on weekday evenings, there were no crowds to speak of at Whitetail. In fact, the average number of people on the Whitetail Express quad chairlift at any given time was about 10, and you could make it all the way down Angel Drop without seeing another person.
All of the beginner trails are open, but very few intermediates and virtually no experts are open. A solid week of below-freezing temperatures would greatly help out resorts within a 2-hour drive of D.C.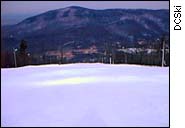 The unseasonably warm temperatures this winter season continue to take their toll. Some rocks began to poke up through intermediates Angel Drop/Home Run, and Snow Dancer was closed for the evening session due to completely bare sections. Whitetail may be able to patch up the bare spots on Snow Dancer for Tuesday's session with some grooming, but there isn't much base left to work with. Angel Drop and the beginner slopes should survive, and conditions should be quite good, especially early in the morning.
Whitetail has been trying to open expert slopes Bold Decision and Exhibition, but they have not built up a sufficient base, and may not be able to resume snowmaking until later this week.
It hasn't been much of a season so far - and the season's at least halfway over. On the bright side, Punxsutawney Phil saw his shadow Monday, which means there will be 6 more weeks of winter. Let's hope Phil is right so area resorts can build up a base that will last well into March.
There are no reader comments on this article yet.