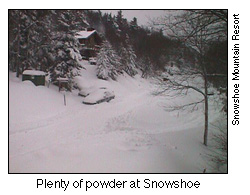 While rain fell in the D.C. area, West Virginia's Snowshoe Mountain Resort once again received significant snowfall - its third major storm of the season. By Wednesday morning, the resort found itself digging out of over 20 inches of fresh new powder. The snow continued to fall Wednesday. So far this season, the resort has received over 130 inches of natural powder - only eight inches less than the resort received during all of last season. Snowshoe's strategic location and high elevation have given it conditions this season to make other resorts envious.
"We have the most open terrain in the Mid-Atlantic and Southeast Regions with 53 slopes and trails open (98%) at the Snowshoe and Silver Creek areas," said Snowshoe's Joe Stevens. The resort's snowmaking team has also been busy, making snow around the clock to boost the resort's base depth to 34-72 inches. Conditions are groomed powder.
Snowshoe's conditions this season have not gone unnoticed by skiers and snowboarders. During the Martin Luther King weekend, Snowshoe received 12% more skier visits than in any weekend in the resort's 24 year history. With today's significant snowfall, this weekend looks to be a popular one for Snowshoe as well.
There are no reader comments on this article yet.