I skied with my 6- and 8-year olds on Sunday, December 27, 2020 at West Virginia's Timberline Mountain Resort. We have Ikon passes and in past years, our skiing is usually a mix of weekends at Snowshoe, a couple of day trips to Whitetail, and then usually two trips per year out west.
I had skied at Timberline Mountain years ago, and wanted to give them some business to support the new ownership. Additionally, we were looking for someplace that wouldn't be as crowded (we don't normally ski during Christmas break).
As tends to happen with little kids, we got a later than ideal start, leaving Northern Virginia at 7 a.m. and arriving at 10 sharp. There was lots of snow on the drive, and the roads from Davis to Timberline Mountain were snow packed. The trees were covered in snow, and the whole thing felt very alpine. The day was bluebird, with temps in the low-to-mid 30s.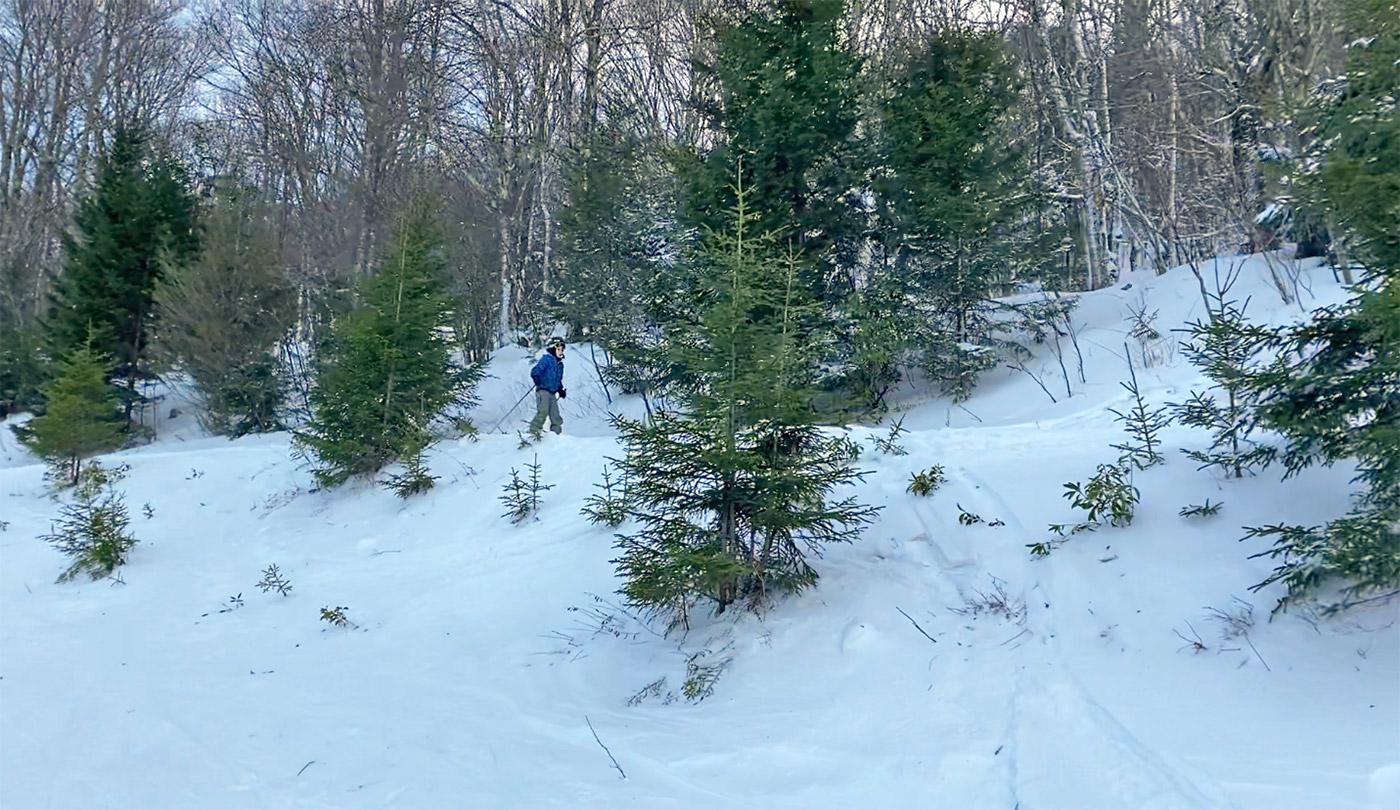 The parking lot was crowded and full, and we were directed to park on a maintenance road above it. I noticed lots of New York and New Jersey license plates in the lot - I think many Vermont resorts are pretty washed out right now.
We had bought tickets in advance, which indicated we could go directly to the lift. This turned out not to be the case, as we needed RFID cards. The line to get these cards stretched across the front of the building and up to the magic carpet. While the wait was 45 minutes, the resort did send employees out with free Jimmy Dean breakfast sandwiches, which I thought was a nice gesture. Still, if the goal was to avoid the zoo that Pennsylvania's Liberty Mountain and Whitetail Resorts are on holiday weekends, this was no better, and really made me miss the direct-to-lift convenience of our Ikon passes.
Another disadvantage of Timberline vs the closer resorts is they only have 2 outside ticket windows, so many guests had to go inside to get their tickets. While the RFID cards can be reloaded online, this will be an issue for anyone's first visit. To avoid it in the future, I'd suggest getting there earlier.
Another thing I noticed while standing in line was that they were spreading gravel over the ice with a mini skid loader near the base area, which I thought was smart to reduce falls. Signs of a well run operation. They had many, many employees monitoring the line, but I suspect they're limited by point of sale devices to issue the RFID cards any faster.
We walked through the lodge, which is still unpainted drywall (it looks like construction is ongoing), and out to the new 6-pack chairlift, where we were greeted with another massive line, about the size of a normal Saturday Ballhooter line or a bad Powderidge lift line at Snowshoe Mountain Resort. We chose the left side, and the wait was 25 minutes. At this point, the kids were pretty frustrated, and my daughter remarked that Timberline was about 10% Timber and 90% line.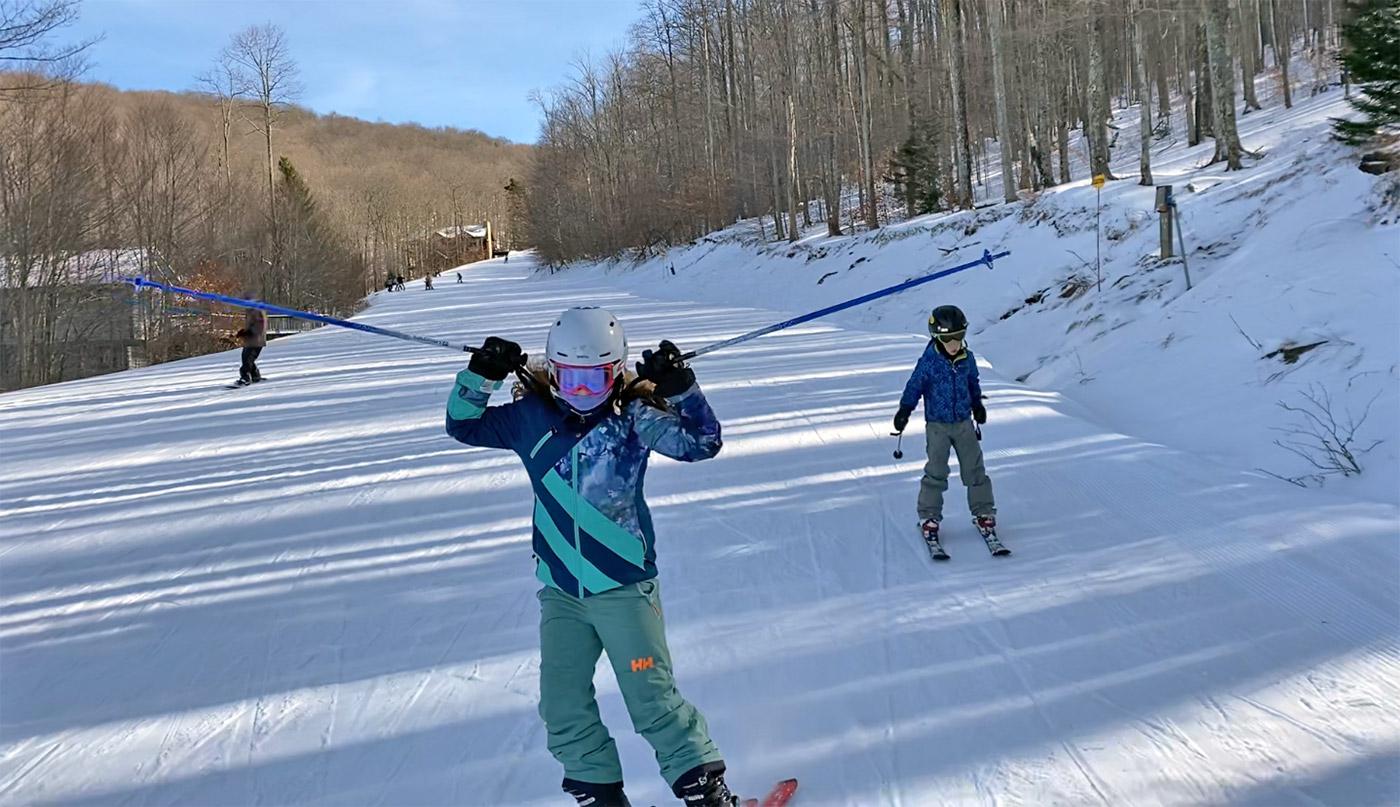 I noticed a couple of things while waiting. First, while the crowd was large (larger than I have seen at Whitetail's main lift, ever), the 6-pack moves it well. Second, the RFID passes, which we have been accustomed to for 30 years skiing in Europe and out west, are really nice. Manually scanning bar codes at Snowshoe feels positively archaic. Third, the girl directing traffic was amazing, both friendly and efficient. Unlike Snowshoe, they were asking if groups of 2 or less would combine. Most said yes, with a few saying no. I don't think it should be optional on weekends. Either be willing to combine, or don't visit. Fourth, and most importantly, there were four lines. Three on the lodge side, one on the other side. The left and middle line on the lodge side combined at the lift, while the right didn't. That meant the right line moved literally twice as fast as the middle and left…
By the time we got to the top, we had been at the resort for 2 hours, and it was noon. We skied down Dew Drop as our first run, and found it just ok. Coverage was good, snow was decent, but the run was somewhat uninteresting. The kids thought it felt like more of a green than a blue. The run was fairly narrow, with your typical east coast out-of-control skiers and boarders, which made me nervous (for the kids) given how crowded it was.
Coming from Dew Drop, we were on the opposite side of the line, and like Snowshoe's Ballhooter, that side went much faster (10 min). For the rest of the day, we avoided the two lines that combined, and wait times were a steady 10 minutes all day. I would pick someone that entered one of the two lines that combined to watch, and they were never more than halfway when we boarded the lift.
Our second run was Salamander, which the kids really liked. It is a long green, with extensive gladed skiing off the sides, which the kids loved. The glades were a little bare in spots, but the kids didn't care.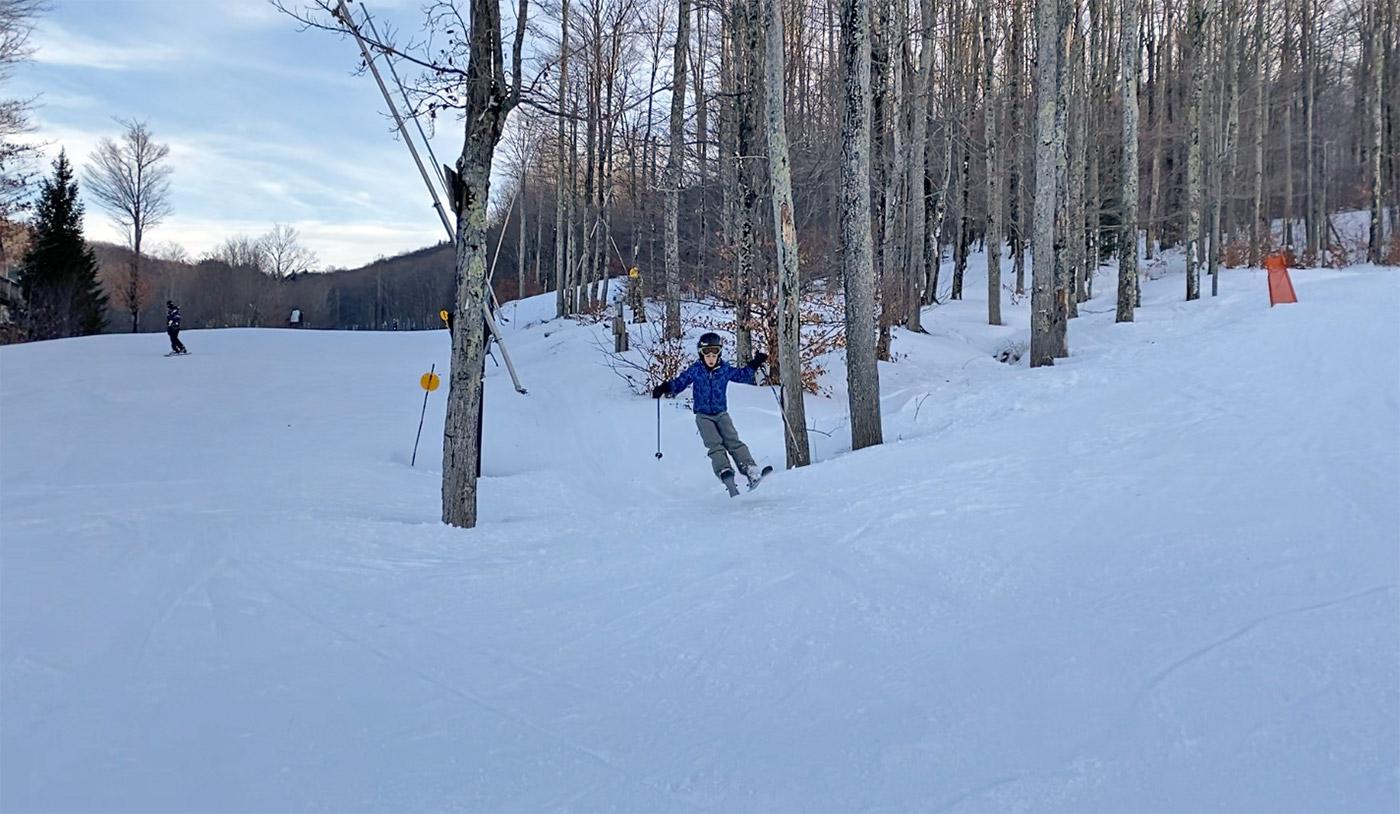 Third run was White Lightning, which we all liked, but was at the edge of the 6 y/o's abilities. This had the poorest coverage (lots of rocks on skier's right), but was otherwise great. The 6 y/o was able to ski it mostly parallel, maybe falling twice per run, but it was good practice for him.
The only other run that was open was Off the Wall, which I assumed was out of the ability level of the 6 y/o, so we never skied it. There were massive whales on Thunderstruck and enough snow to ski it, but it was roped off with hoses dragged across much of it. Hopefully it will be open any day now.
We skied Thundersnow a couple of times, but the run is so short it feels like more of a connector. We never did ride the double, which was so short (400 feet?) as to be unappealing. It did close for about 30 minutes due to what looked like a serious accident at the top (potential neck injury unloading).
The two runs of choice were Salamander and White Lightning, which were polar opposites, but equally fun for the kids. Highlights of the day were the weather (beautiful), the employees (all very pleasant), and the 6-pack chair (fast!). Opportunities would be a better blue run (which Whitetail and Snowshoe have in spades), more variety, and shorter lift lines. 10 minutes sounds short, but is actually a pretty long wait, all things considered.
Other notes are that the food service was not fully running, but had some items (pizza, bread sticks, and pretzels), all for a very fair price. Outside seating was packed (no surprise), so we just picnicked on the snow, which worked fine. Restrooms are accessible from outside the lodge, which is nice.
Mask use was good but not great, and enforcement was minimal. I would estimate 10% of people wore no mask in line, and I only heard comments from employees twice all day. Each time, the person put one on when asked, but looked around like "there are 12 other people in this line not wearing masks either!" Snowshoe is clearly leading the way here with better mask use and enforcement.
I don't know if / when we will return. Snowshoe offers a much larger resort with more variety for about an extra hour drive each way, plus it is on the Ikon Pass. In normal times, we would have the Primo pass add-on, which negates Snowshoe's lines. The Western Territory at SNowshoe offers equivalent on-piste skiing with 50% more vertical and a similar high speed lift.
Whitetail offers, in my opinion, better intermediate terrain, with nearly as much vertical and an equivalent high speed lift. If Whitetail has good conditions, I would probably opt for that for a day trip to cut the drive in half. For an expert, though, Timberline is superior with more expert terrain served by a faster lift with much more vertical.
I found Timberline Mountain to be well run, and suspect it has a bright future. How nice would it be if they could expand the resort?